Travel to Sado with "Sea Airplane" Jetfoil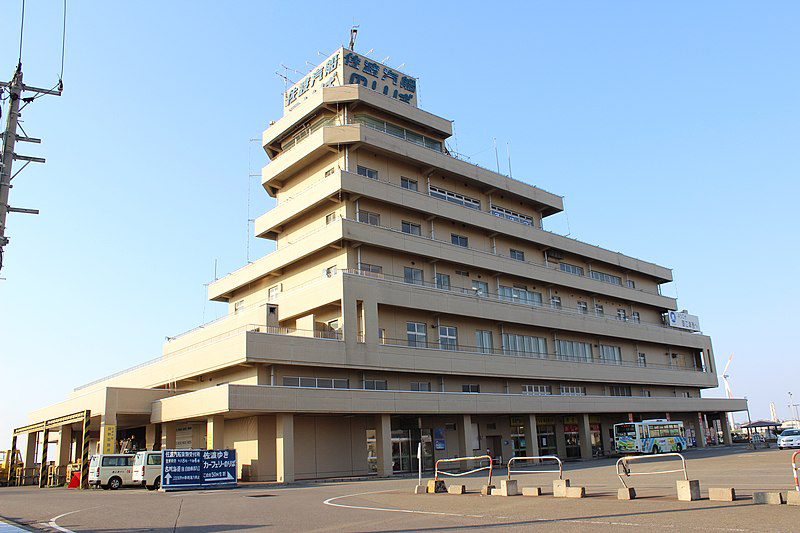 To travel from the main island to Sado, take the Sado Kisen. There are two routes connecting Naoetsu Port and Ogi Port, and Niigata Port and Ryotsu Port. This trip was about 75 minutes from Naoetsu Port, and I took a jetfoil to Ogi Port.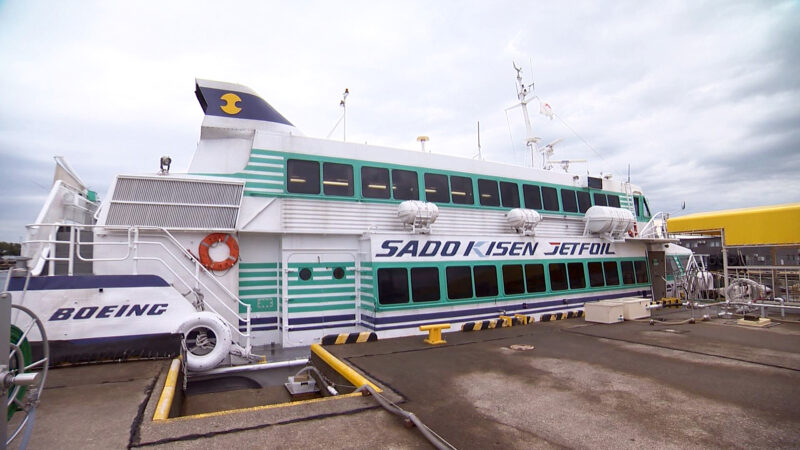 Jetfoil is called a "sea plane" and uses hydrofoils to raise the hull to the surface of the sea. Even in rough waves of 3.5 meters, it can run at super high speeds of 80 km / h.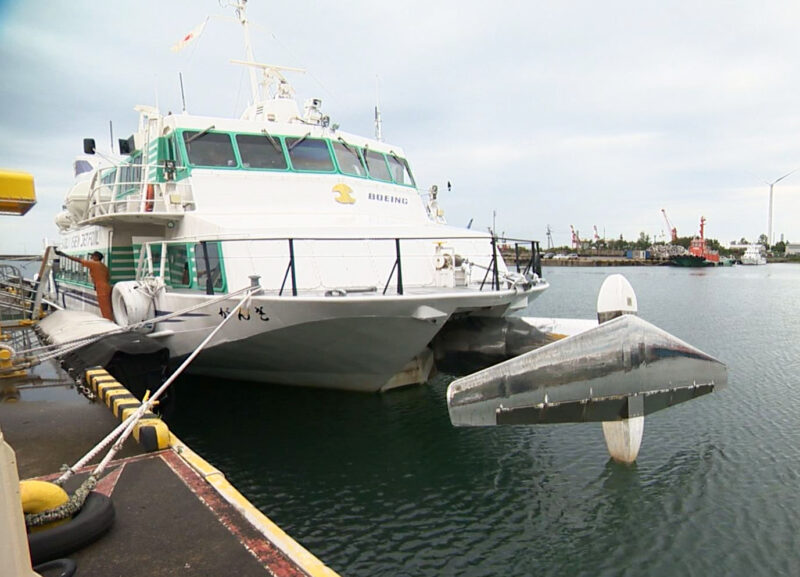 In the photo above, the hydrofoil is protruding in front of the ship.
It is in front of and behind the ship. It is under the ship (below the sea level) while sailing, and as the speed increases, the hull rises from the sea surface. Since the resistance of seawater is low and it is not easily affected by waves, ultra-high speed is possible. Moreover, it does not shake. I'm happy for those who are worried about seasickness. By the way, the Jetfoil is a ship developed by Boeing, which is known for manufacturing airplanes.
Introducing the inside of the ship.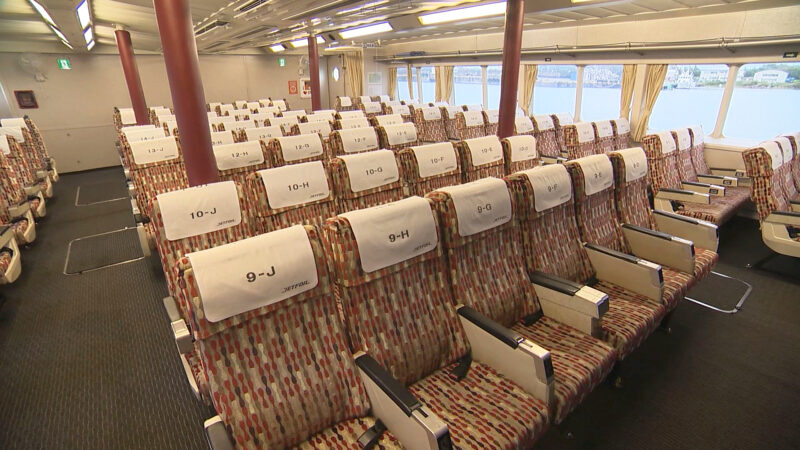 The ship has two floors and has 250 seats on the first and second floors. Currently, it operates with about 80% and 200 seats to prevent new coronavirus infections.
Jetfoil Naoetsu Port-Ogi Port
≪Fee for boarding the ship (tax included) ≫
■ Adults: 6900 yen one way / 12140 yen round trip
■ Elementary school students and younger: 3460 yen one way / 6080 yen round trip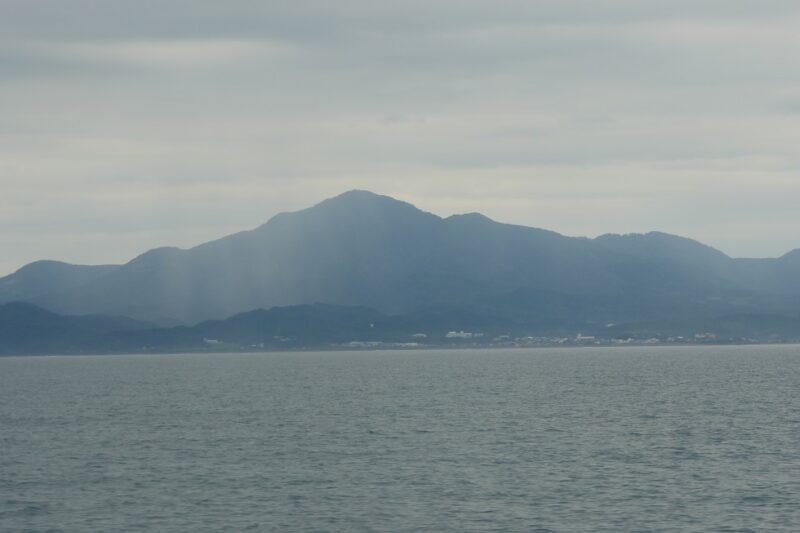 Yoneyama seen at the time of departure
While sailing, I also want to pay attention to the scenery seen from the window of the ship. Land that gradually moves away at the time of departure. After a while, the ocean continues forever. Please enjoy the view unique to a cruise for a while.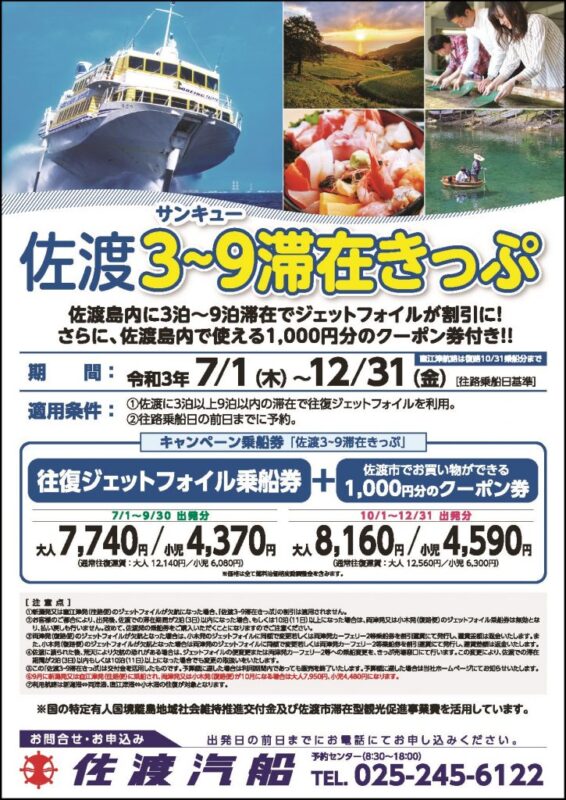 Currently, Sado Kisen is selling a great-value plan "Sado 3-9 (Thank You) Stay Ticket". If you stay in Sado Island for 3 nights 4 days or more and 9 nights 10 days or less, the round-trip jetfoil boarding fee will be reduced by about 4400 yen per adult, and you will also receive a coupon for 1000 yen that can be used in Sado City. Please enjoy a cruise to Sado on a Sado Kisen.
Click here for more information ⇒ Sado Kisen "Sado 3-9(Thank you) Stay Ticket" is now on sale!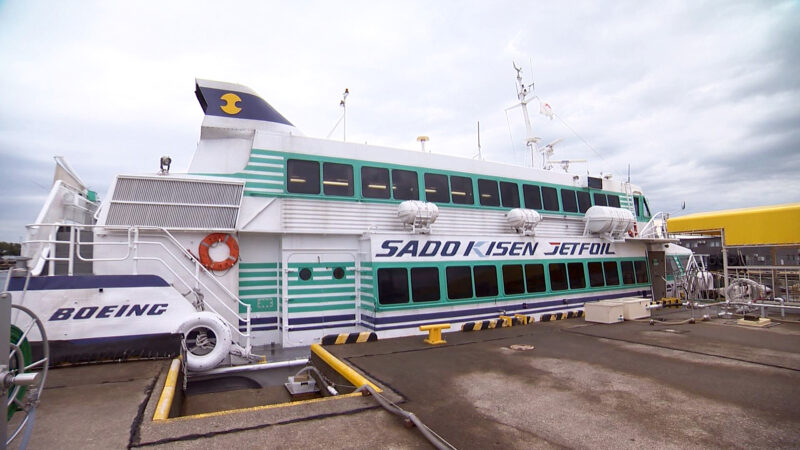 Sado has a low temperature in summer and a high temperature in winter compared to the mainland of Niigata, making it a comfortable climate. It is full of charm such as ingredients filled with the blessings of the island, historical heritage, and traditional culture. After arriving at Ogi Port, we will introduce you to the sightseeing spots around Ogi.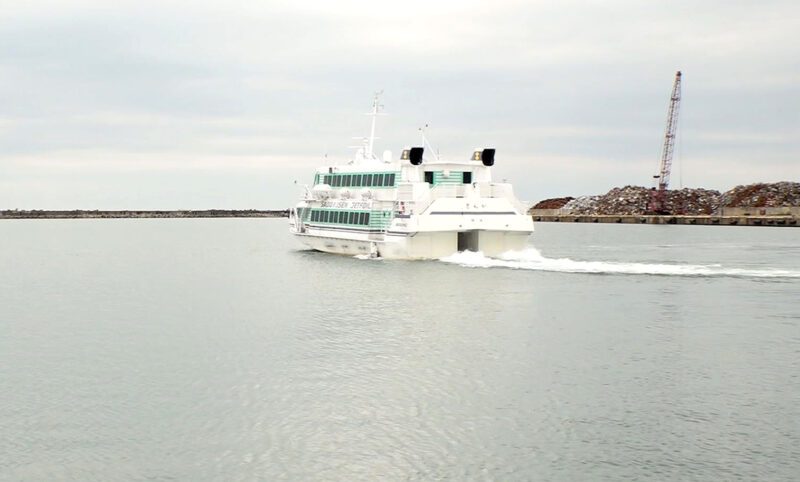 ---
JCV's life information program "Sumaru one". The broadcast from September 5th to September 11th is a special edition "Sado Journey! -Part 1-" jointly planned by Sado City, Sado Kisen, Sado Television, and Joetsu Cable Vision. We will deliver Sado's charms to the after-corona! In the first part, we will travel to the South Sado area.
【Related article】
■ Sado trip! ②  Kodo members are instructing! Sado Taiko Experience Exchange Center "Tatakoukan"
■ Sado trip! ③  Craft cola "Kihachiya Goro Cafe" in a historical building
■ Sado trip! ④ Take a walk through "Shukunegi Village" by rental cycle ♬
■ Sado trip! ⑤ The blessings of Sado are packed Making the finest rice balls"Meotoiwa Sightseeing"
■ Sado trip! ⑥ "Phantom Taiyaki" "Fresh Space Yorankaya" made by a local mother
■ Sado trip! ⑦ It's like a Hollywood movie⁉ Fantasy experience with magic glasses "Island Mirage"
■ Sado trip! ⑧ Very delicious dessert "Camembert soft" "Miruku Pot (Sado Dairy Industry)"
Naoetsu Port Sado Kisen Ferry Terminal