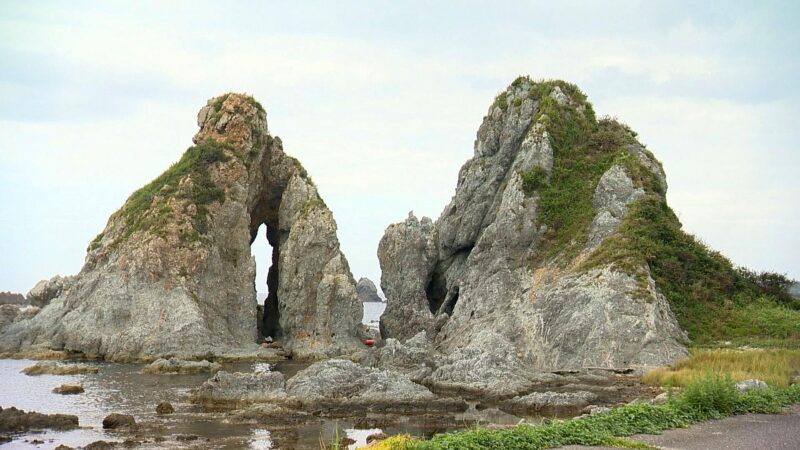 The Wife rock (left) 23.1 meters  The Husband rock (right) 22.6 meters
This is the "Meoto-iwa" (meaning "couple" and "rock") on the Nanaura coast in the Aikawa area of Sado city.  Meoto-iwa is a symbol of the Nanaura coast, and it is a scenic spot where the rocks are said to bring luck in finding a partner.
According to the Japanese ancient book "Kojiki(Record of Ancient Matters)", these rocks represent the two original creator gods of Japan.  Izanagi-no-mikoto, and his wife Izanami-no-mikoto, gave birth to numerous gods.  They also gave birth to a number of islands. It's said that Sado is one of their children.  They created Meoto-iwa, which means "A Couple Rock", as their hiding place on the earth.  It is said that it that they hid from the heavenly god and took a rest after giving birth, and the later islands are said to have been born from this Meoto-iwa.
The right side is the husband's rock and the left side is the wife's rock.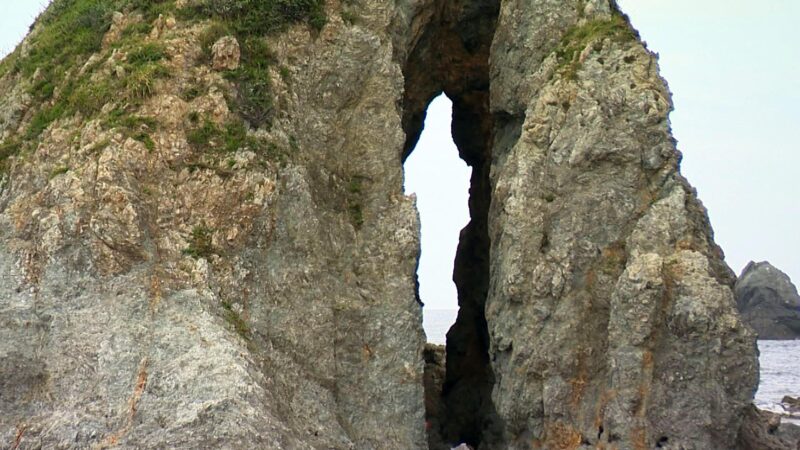 If you look closely at the female rock, there is a fissure whose outline appears to be that of a female silhouette.  It's mysterious.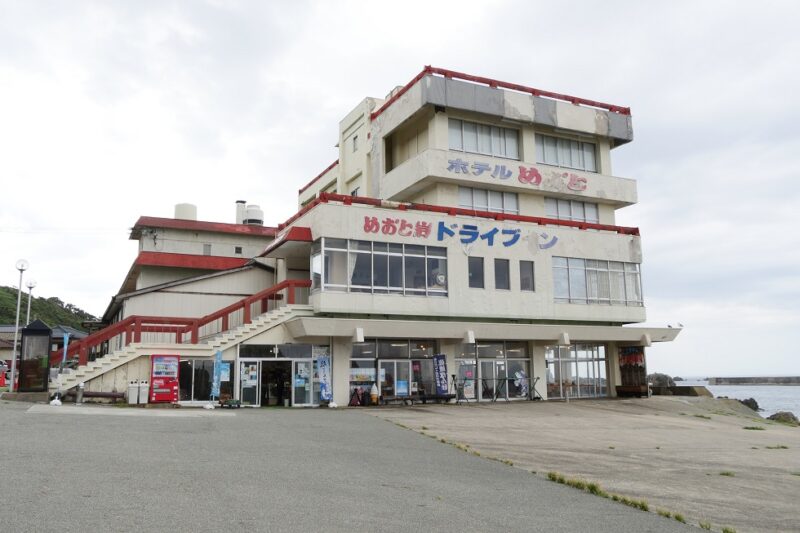 If you visit here, you should definitely stop by the adjacent roadside restaurant.  You can enjoy the experience of making delicious rice balls using rice from Sado.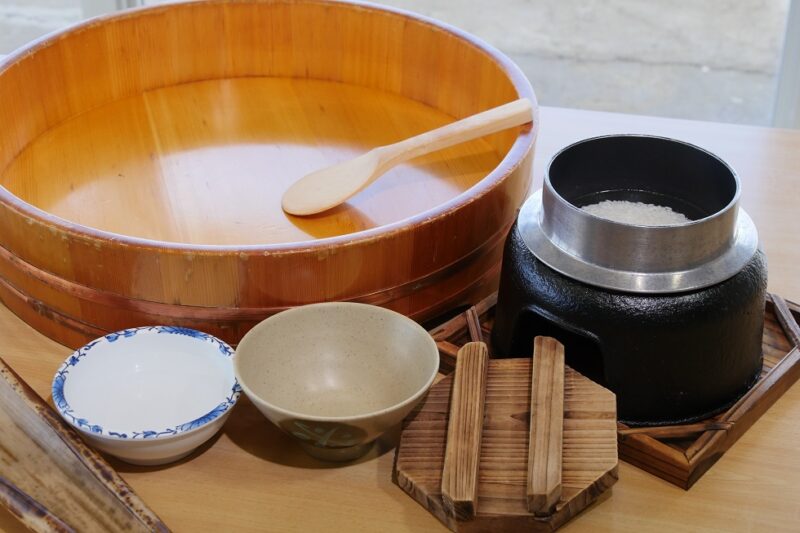 Best rice ball making experience 1,700 yen (tax included)
The rice used for rice balls is Sado's Toki certified rice.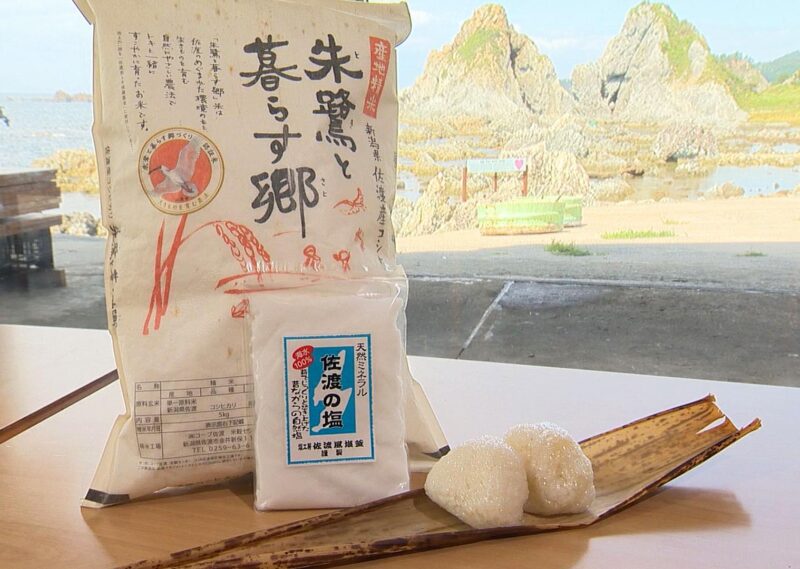 Toki (Japanese Crested Ibis) certified rice is rice is made in paddy fields where pesticides and chemical fertilizers are reduced, so that Toki can use the land as a feeding ground in a nature-friendly environment.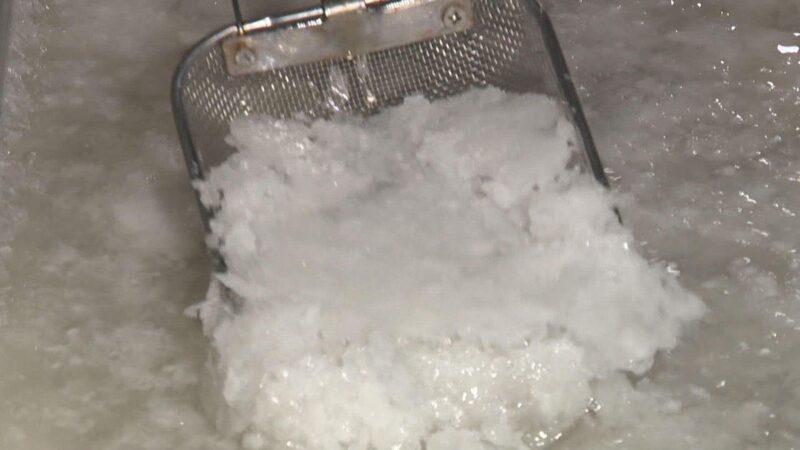 While cooking rice, you can also experience extracting salt from seawater, which is indispensable for rice balls.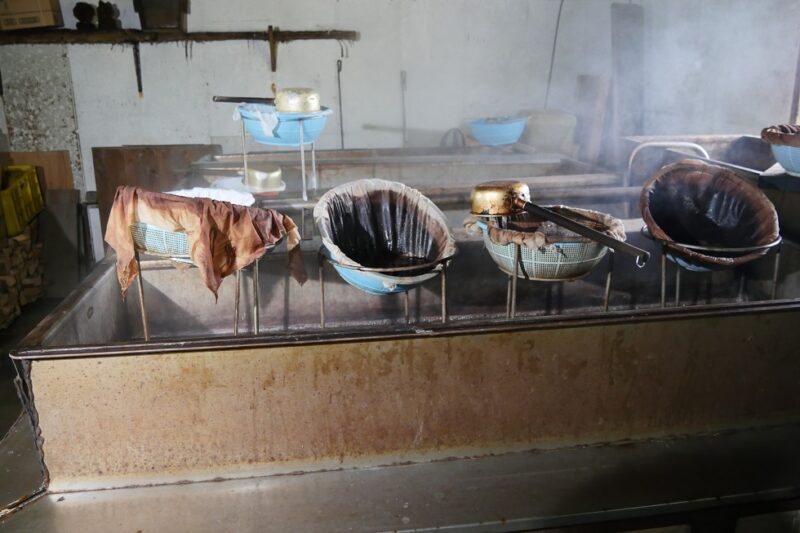 The mineral-rich Sado seawater is pumped up and boiled to evaporate the water.  You can experience chopping the wood used to start the fire.  The drawn seawater is filtered at the adjacent workshop before boiling.  It is boiled for 10 hours to remove the water and only the salt remains.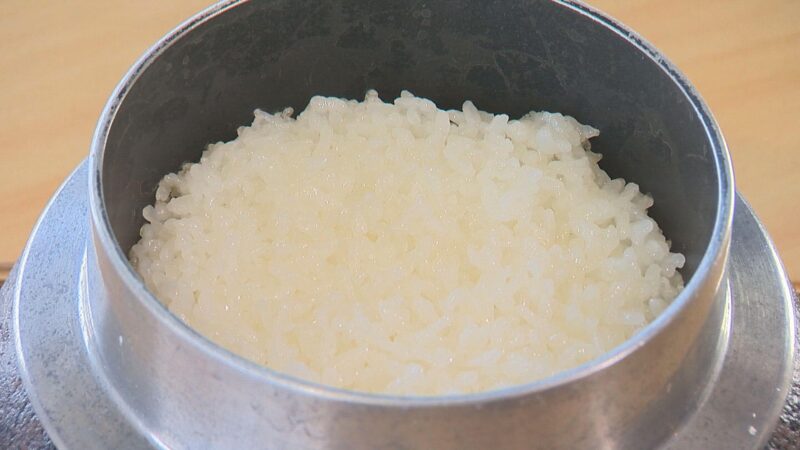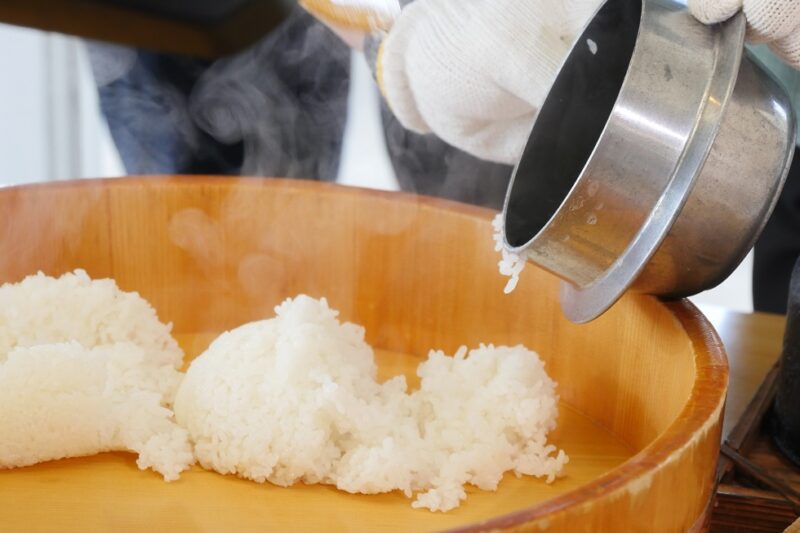 It is common to make salted plain rice balls by putting salt on both hands and then forming the rice into shape.  But here, first the cooked rice is mixed with salt and then made into a rice ball.  By doing so, Sado's rice and Sado's salt complement each other's taste.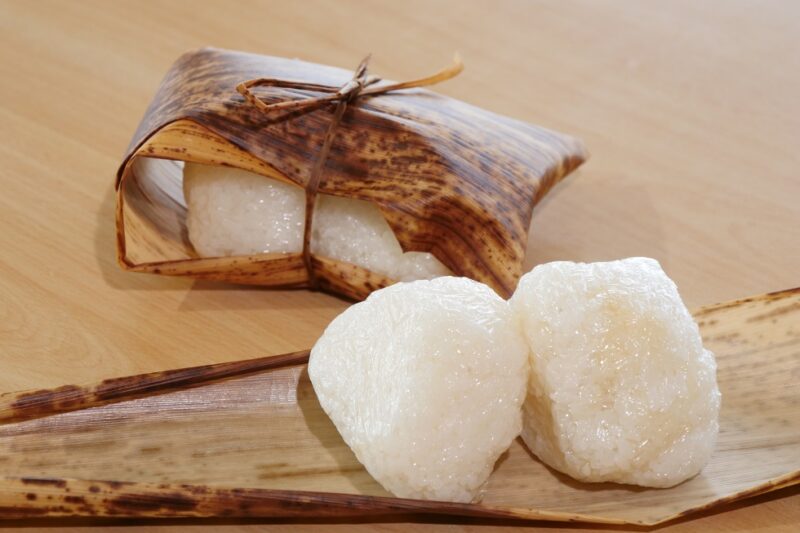 Once you have decided how much salt you want to add to the rice, use a plastic wrap to hold it.  The finished rice ball is completed by wrapping it with bamboo skin, and tying it with a string that is also handmade from bamboo skin.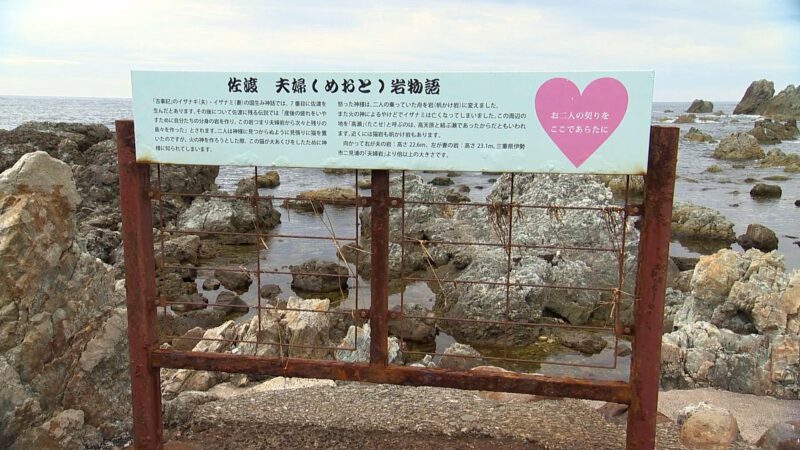 You will make two bamboo-skin strings, one for your rice balls, and the other for you to tie to the god of matchmaking outside the roadside restaurant.  Tie a string while thinking about the relationship you want to connect.  It is said that the wish will be fulfilled when this string is naturally untied.
Eat your own rice balls while enjoying the sea breeze.  You can have a special time.
Moreover, you can enjoy another experience at this roadside restaurant.
That is the Sado Kinginzan(Gold and Silver Mine) Emaki(scroll paintings) experience.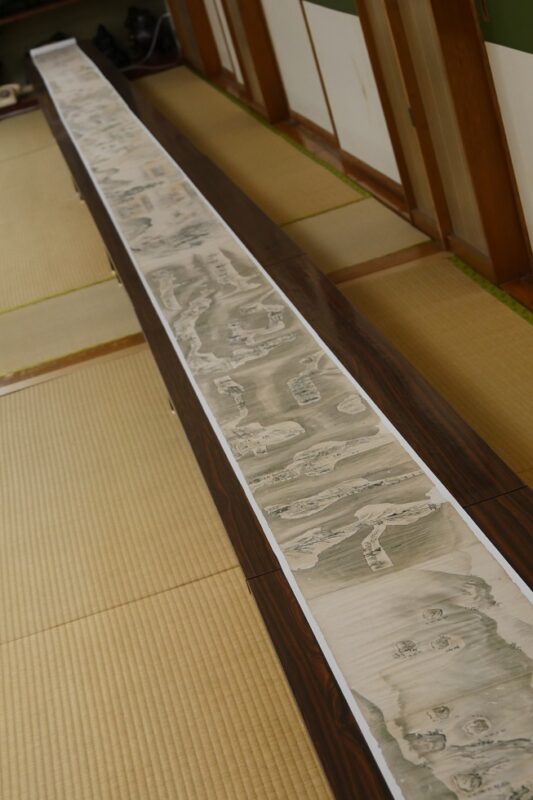 Experience the Sado Kinginzan Emaki!
Adults 3,000 yen, children 2,000 yen (tax included)

The Sado Kinginzan Emaki is a scroll describing the daily routine of workers in the Sado Kinzan(Gold Mine) during the Edo period.  It is designated as a cultural heritage object in Sado City.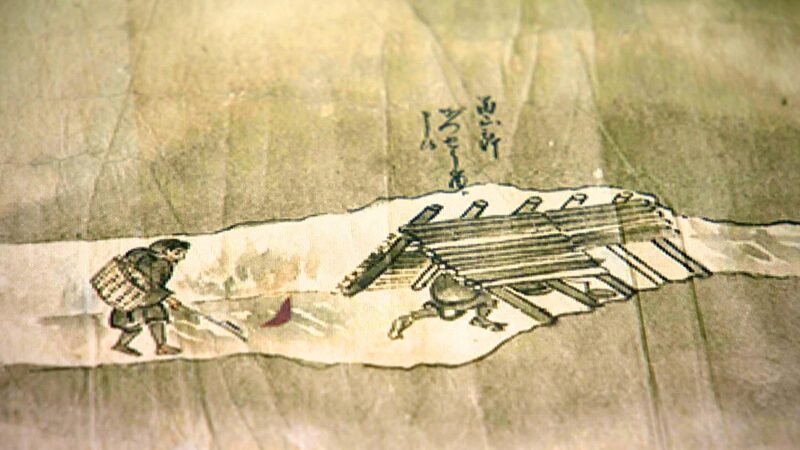 You can experience the work of a person who carried out the ore as it appears on the picture scroll.  After watching the video to learn about the situation at that time, you put on the straw sandals and put the weight of 1 or 2 kg of the ore in a cloth bag called Kamas and carry it on your back.  You can challenge up to a weight of 8 kg.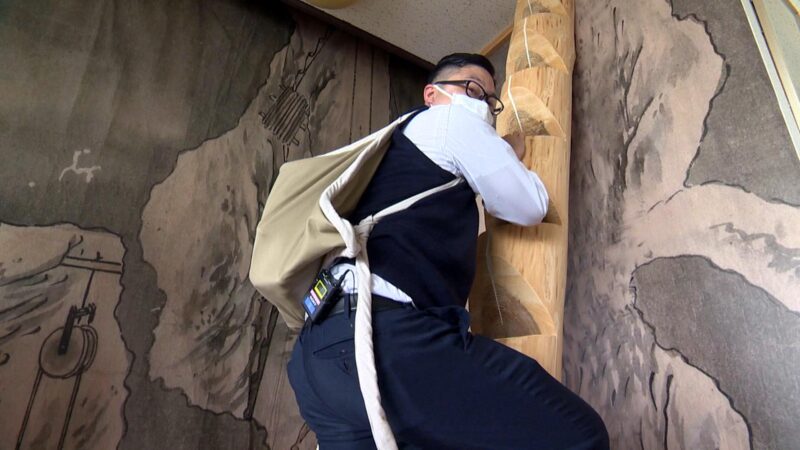 Carry a weight on your back, and hold a stick that looks like a light in one hand.  Then venture into a mock tunnel to get a feel for the working environment.  By doing so, you can gain some appreciation for the difficulty of working in the mine at that time.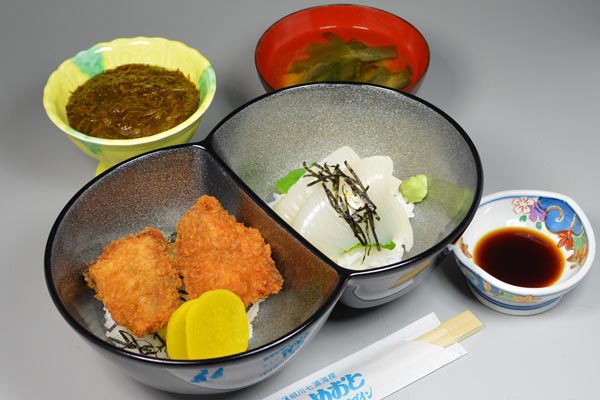 Gensan-don (Buri cutlet on rice + squid sashimi on rice)
In this experience, you can have the privilege of eating a special "Gensan-don" for lunch.  This is a luxurious set meal that includes a rice bowl using Sado's specialty yellowtail and squid sashimi.
You can enjoy delicious food unique to Sado while feeling the history and thinking about that era.  You can spend a blissful time!
---
JCV's life information program "Smile one".  The broadcast from September 12th to September 18th is a special edition "Sado Journey! -Part 2" jointly planned by Sado City, Sado Kisen, Sado Television, and Joetsu Cable Vision.  We will deliver Sado's charms for you to enjoy as the corona virus pandemic settles down!  In the second part, we will travel to the Kuninaka area and the Aikawa area.
* The program can be viewed by premium members of Joetsu Myoko Town Information.
【Related article】
■ Sado trip! ① 75-minute cruise on a high-speed boat, Jetfoil, "Sado Kisen"
■ Sado trip! ② Surprising and emotional sound!  Sado Island Taiko Centre "Tatakoukan"
■ Sado trip! ③ Craft Cola in a historic building, "Kihachiya Goro Cafe"
■ Sado trip! ④ Take a ride through "Shukunegi Village" by rental cycle ♬
■ Sado trip! ⑥ "Rare Taiyaki" is made by local moms, "Fresh Space Yorankaya" 
■ Sado trip! ⑦ It's like a Hollywood movie⁉  Fantasy experience with magic glasses "ISLAND MIRRORGE"
■ Sado trip! ⑧ Very delicious dessert "Camembert soft" "Milk Pot (Sado Nyugyo: Dairy company)"

Meotoiwa Drive In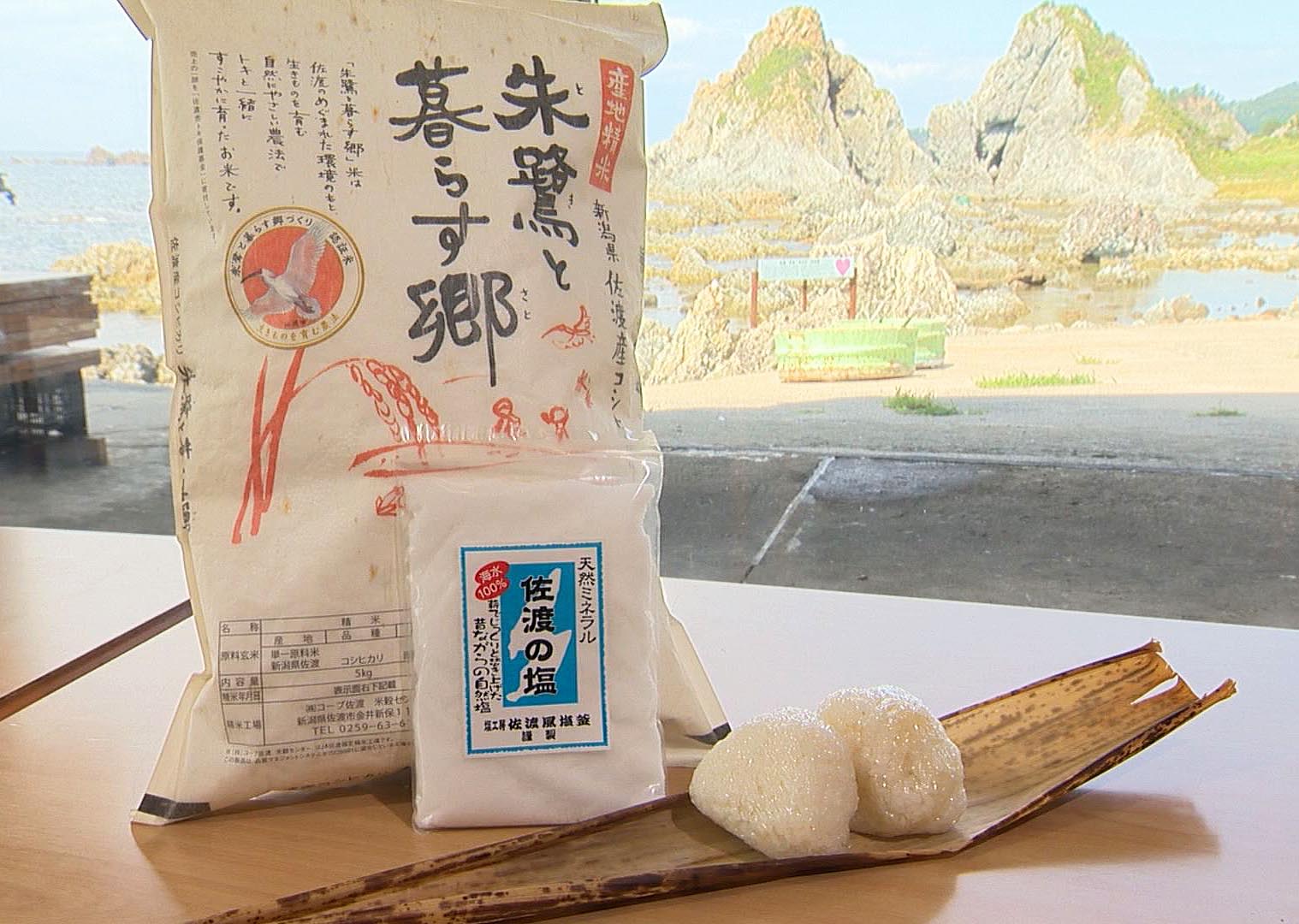 ■ Business hours: 8: 00-17: 00 ■ Regular holidays: Open daily
Address: 1267-5 Takase, Sado City, Niigata Prefecture
Tel: 0259-76-2511