"Stork", the bird that carries happiness!
On Sunday, August 22nd, it was confirmed that two storks were spotted flying over rice fields in Sanwa Ward, Joetsu City. The storks are an endangered species, and they are also designated as a Japanese National Special Natural Monument.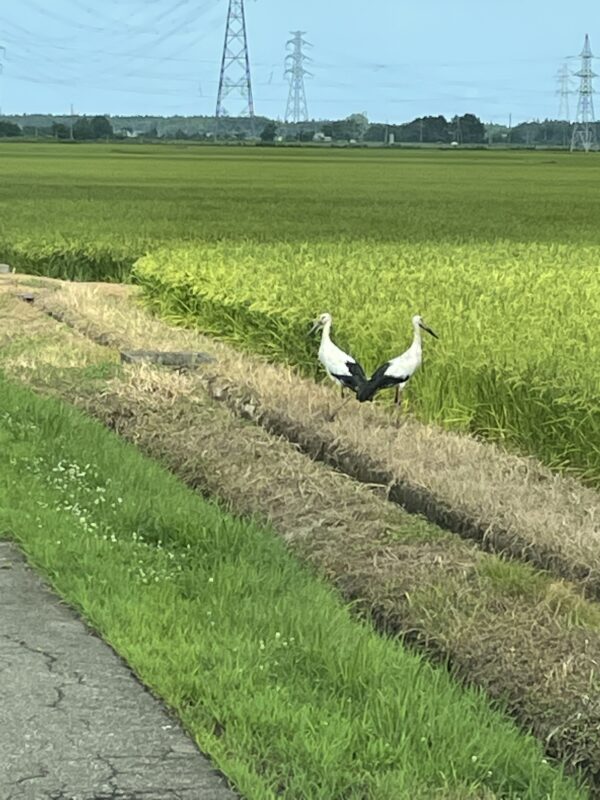 August 22nd (Sun) Koshiyanagi, Sanwa Ward, Joetsu-shi
These are the storks photographed in a rice field in Koshiyanagi, Sanwa Ward, Joetsu City.  At around 9:30 am on August 22nd (Sun), Mr. Kazumi Ikeda, who lives in Koshiyanagi, found the two birds while on his tractor doing farm work. He photographed them with his smartphone.  According to Mr. Ikeda, the two storks were in a rice field with some herons.  He was surprised to find that two birds were larger and longer than the other herons. He thought that they might be storks, and so he took the picture.  The two birds did not fly away even when they noticed Mr Ikeda, and they stayed still for a while.  In addition, Mr. Ikeda witnessed a stork again, nearby, on Tuesday, 24th.
According to Mr. Katsuyuki Nagai, director of the Joetsu Science Museum, the two birds in the photo are definitely storks.  However, there is no clear difference between males and females, so it is not possible to tell whether the two birds were a mating pair just from the photo.
Mr. Katsuyuki Nagai, Director of Joetsu Science Museum
"I myself have seen storks in the rice fields of Higashikubiki.  I feel that the opportunities to see storks are increasing.  I think that natural breeding is going well and stork numbers are increasing nationwide."
Mr. Kazumi Ikeda
"I had heard that storks had flown around here before.  I didn't expect to see them, so I was surprised. Now I have met the storks, I hope I will have some good fortune."
Storks also arrived in this area in March of this year.  Around the same time, storks were spotted in Katata, Ogata Ward.
Storks are an endangered species, and it is said that there are only about 2,000 storks in the Far East.   Storks were commonly seen everywhere in Japan during the Edo period(1600〜1868), but disappeared from Japan by 1971 due to overhunting and a decrease in wetlands.  Since then, Hyogo Prefecture and others have been working on conservation, breeding, and releasing of birds as part of a wildlife conservation and restoration project.
According to the Hyogo Park of the Oriental White Stork, there are 257 storks that can be identified living in the wild as of the end of July.  As of August last year, the arrival of storks has been confirmed in 47 prefectures and 485 municipalities nationwide, including Hokkaido and Okinawa.
According to Ms. Maka Ito of Hyogo Park of the Oriental White Stork, it is important to have an environment where food is available throughout the year.  If the storks recognize a good feeding ground, they will stay there in the long-term. Males and females may also use these sites for breeding.
<Number of sightings in Niigata Prefecture>
2017  3 cases
2018  6 cases
2019  3 cases
2020  10 cases
2021  14 cases
Related article (Joetsu Myoko Town Information March 2021):The endangered "Stork" has arrived in the rice fields of Sanwa Ward!