Camp at the amusement park! The hot field opens again this year
The camp area "Myoko Sunshine Camp" was established in September last year at the amusement park "Myoko Sunshineland" in Nakago-Ward, Joetsu City, Niigata Prefecture. Although it was closed during the winter, the camp area has been expanded and will be powered up to open on Wednesday, April 28th.
"Myoko Sunshine Camp" is a full-scale camp area established with the support of "Captain Stag" in Sanjo City, which handles a comprehensive brand of outdoor and leisure products. It was opened last year in the grass area of the amusement park.
The camp area will be expanded from this year. The freak area in the E zone, the center area in the F zone, and the Kanransha area in the G zone have been newly established. The total area of the area is about 2,500㎡, and reservations are accepted for a maximum of 14 groups per day.
In addition, we are planning a nighttime production that cannot be experienced at other campsites, such as lighting up the Ferris wheel in the near future.
As with last year, you can rent the latest set of "Captain Stag" camping goods as well as regular camping with camping equipment and ingredients.
There is also a plan that includes BBQ ingredients, so you can enjoy camping empty-handed. There is a dog run in the camp area, and you can stay with your dog.
In addition, such benefits ……
The plan to rent a set of camping equipment includes a bathing fee for the observation bath at the attached Sunshine Hotel and a ride fee for the Ferris wheel at night where you can enjoy the spectacular starry sky.
If you add an optional fee, you can enjoy cycling with an electrically power assisted bicycle. There is also a set fee for using a bicycle and playing golf empty-handed at the golf short course (Kurumigaoka).
Please see the special website for details on how to apply.
Camping accommodation fee (all tax included)
■ Camping equipment + BBQ ingredients + Ferris wheel ride + Hotel public bath + Breakfast
Adults (junior high school students and above) 1 person 9900 yen, children (3 years old and above and elementary school students and below) 1 person 6500 yen
■ Camping equipment set + Ferris wheel ride + Hotel public bath
Adults (junior high school students and above) 1 person 5500 yen, children (3 years old and above and elementary school students and below) 1 person 3500 yen
■ Place + Ferris wheel ride
Adults (junior high school students and above) 3000 yen, children (3 years old and above and elementary school students and below) 1,500 yen
Myoko Sunshine Camp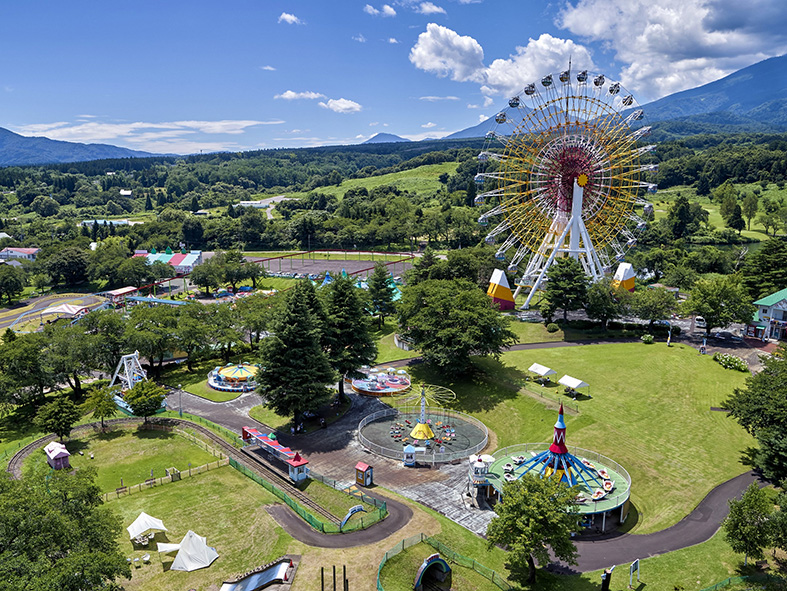 Address: 846-1 Eguchi, Nakagoku-ku, Joetsu-shi, Niigata
Tel: 0255-74-2421
Access: <Car> 5 minutes from the Nakago IC on the Joshinetsu Expressway
URL: https://www.myokosunshine.co.jp/