An original Tetsuin stamp and only one Tetsuin bag in the world are now available!
The local railway "Hokuetsu Express" that connects Minami Uonuma City and Joetsu City in Niigata Prefecture will sell the New Year's Tetsuin book and the original Tetsuin book bag at Tokamachi Station (Tokamachi City, Niigata Prefecture) for the New Year only.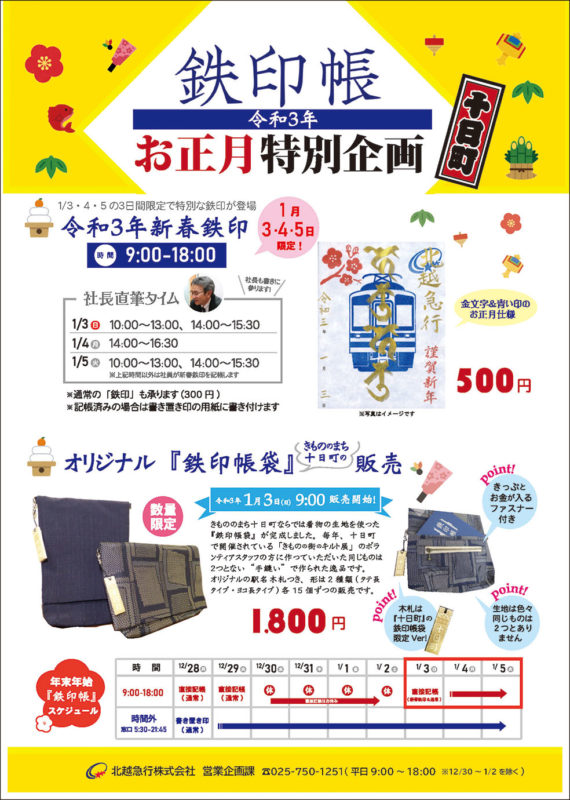 Tetsuin are stamps issued by 40 local railway companies nationwide.It is gaining popularity all over the country as it is something that you can enjoy collecting by recording it in a Tetsuin book like a red stamp book.
This will be the first Hokuhoku Line to sell original Tetsuin since the Tetsuin started nationwide in July this year.The sale period is limited to 3 days from January 3rd (Sun) to 5th (Tue).A gorgeous New Year's special specification of "gold letters + blue stamps" instead of the usual "ink letters + red stamps".At the fixed time during the period, President Koike of Hokuetsu Express will write the book by hand.
In addition, the Tetsuin bag that can store the Tetsuin book will be on sale only on January 3 (Sun).Using the kimono fabric unique to "Kimono Town Tokamachi", the volunteer staff of the "Kimono Town Quilt Exhibition" held every year in Tokamachi hand-sewn it, and each one is unique.There are two types, vertical length type and horizontal length type, and 15 pieces each are sold.It will end as soon as it is sold out.
It is a valuable Tetsuin and Tetsuin book bag that can only be obtained at this opportunity.
New Year Tetsuin
■ Period: January 3rd (Sun) to 5th (Tue), 2021
■ Time: 9: 00-18: 00
* President's autograph time:
January 3rd (Sun) 10: 00-13: 00, 14: 00-15: 30
January 4th (Monday) 14: 00-16: 30
Tuesday, January 5th, 10: 00-13: 00, 14: 00-15: 30
■ Location: Tokamachi Station (Tokamachi City, Niigata Prefecture)
■ Fee: New Year's specifications with gold letters and blue marks 500 yen
* Regular "Tetsuin" is also available (300 yen)
Original Tetsuin bag sale
■ Date: January 3, 2021 (Sun) 9:00 release
■ Location: Tokamachi Station (Tokamachi City, Niigata Prefecture)
■ Price: 1,800 yen
* Limited quantity, with zipper for tickets and money, with original station name wooden tag
■ Inquiries: ℡025-750-1251 (Hokuetsu Express Co., Ltd .: Weekdays 9: 00-18: 00)
* Excluding December 30th (Wednesday) -January 2nd (Saturday)
Official homepage ⇒ https://hokuhoku.co.jp/