One of the heaviest snowfall areas in Japan High-quality powder attracts skiers! December 25 – April 2
Akakura Onsen Ski Resort" is located adjacent to the Akakura hot spring resort in Myoko City.Spread out at the foot of the Myoko Plateau are big slopes with an abundance of high-quality snow that attracts attention from overseas.100% natural snow,it is also known for one of the heaviest snowfalls in Japan,Powder snow on non-pressured trails attracts skiers.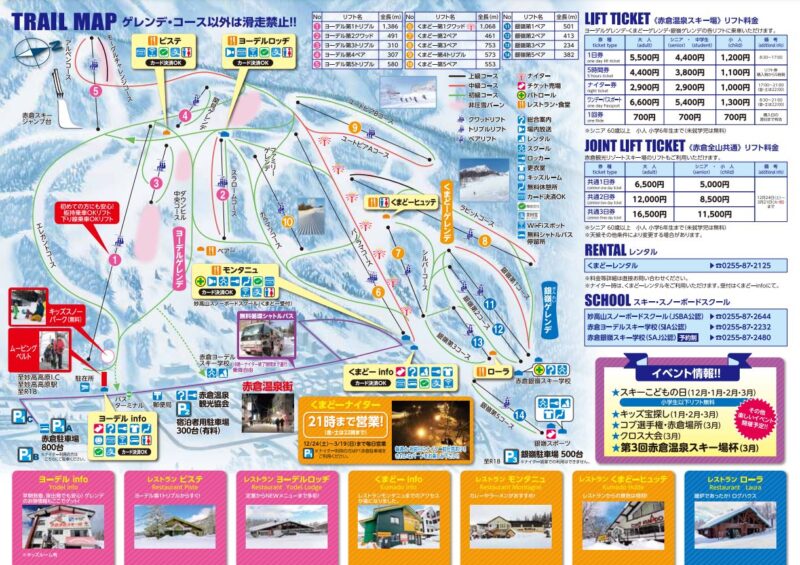 There are a total of 17 courses on the spacious slopes, and everyone from beginners to advanced skiers can enjoy skiing on courses suited to their level.There are many wide and gentle slopes that can be enjoyed by first-timers and families.(Beginner 50%, Intermediate 40%, Upper 10%)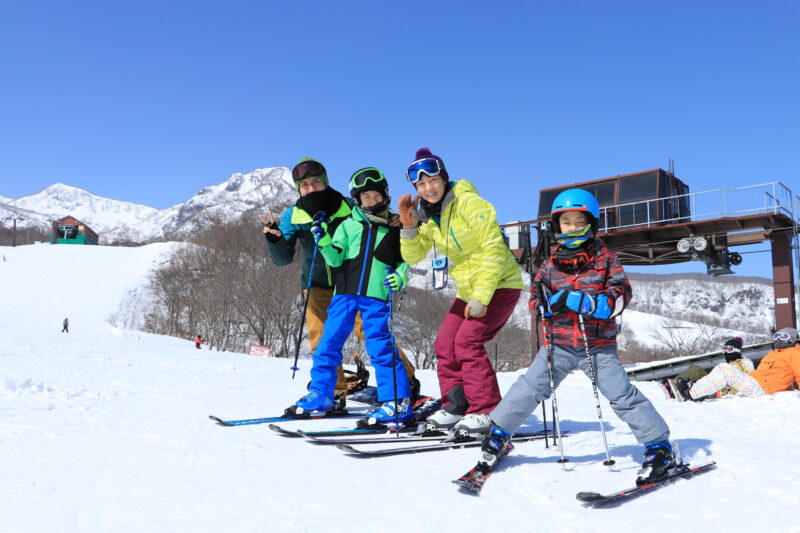 There are also a variety of services for families. In addition, a lift ticket for elementary school students can be purchased for 1,200 yen, and there is a special kids' park with sledding slopes made of hardened snow, plastic slides, seesaws, and other equipment.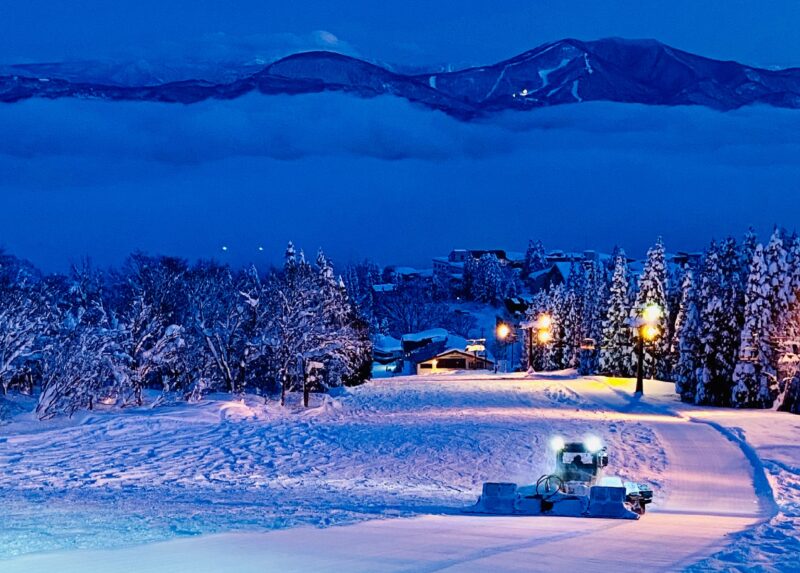 It is also the only ski resort in the Myoko area that is open for night skiing every day.Hours of operation are from 5 p.m. to 9 p.m. and until 10 p.m. on Fridays and Saturdays.In addition, every Saturday and the day before national holidays, pre-pressure snow is applied before night skiing, so you can enjoy the same clean snow as you did first thing in the morning.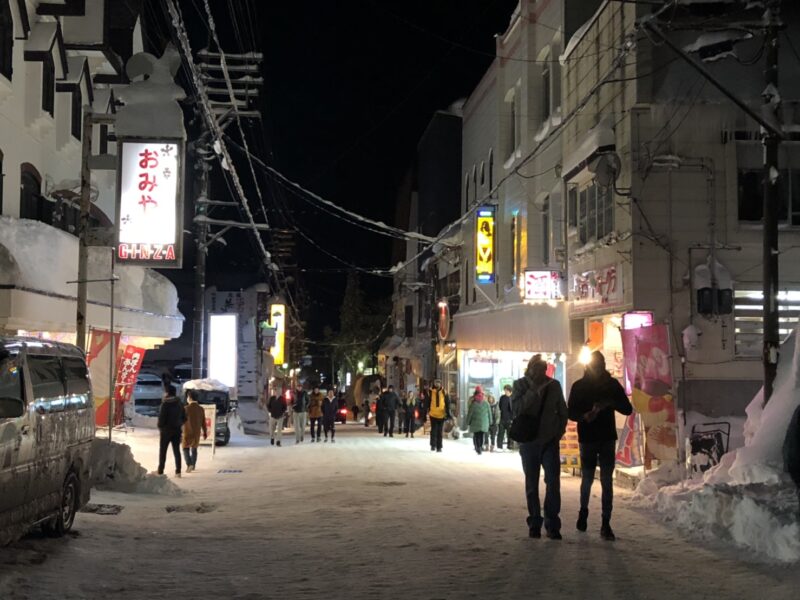 The resort is a stay-and-go winter resort where you can enjoy both skiing and hot springs in a rich natural setting, a feature unique to hot spring resorts.There are many inns, restaurants, and hot springs in the vicinity of the ski resort, making it an attractive place to enjoy a fulfilling après-ski experience.
Related article:Sightseeing on Foot – Myoko and Hot Springs
[Video] Joetsu & Myoko Ski Resort Introduction "Akakura Onsen Ski Area"
Data



■Address:Akakura Onsen, Myoko City, Niigata Prefecture
■Business period:Sunday, December 25, 2022 – Sunday, April 2, 2023 / Night operation Saturday, December 24 – Sunday, March 19, 2023
■Opening hours:8:30 a.m. to 5:00 p.m. / Night skiing: 5:00 p.m. to 9:00 p.m.(open until 22:00 on Fridays and Saturdays)
【Usage fees】
■One-day pass:Adults 5500 yen / Seniors and junior high school students 4400 yen / Elementary school students 1200 yen
■5-hour ticket:Adults 4400 yen / Seniors and junior high school students 3800 yen / Elementary school students 1100 yen
■Night game ticket:Adults 2900 yen/Senior and junior high school students 2900 yen/Elementary school students 1000 yen
※Free for preschool children・Seniors are over 60 years old
【Rental Fee】
■Ski or snowboard set (boards and boots):Adults 4000 yen/Children (6th grade and under) 3500 yen
■waste set:3000 yen
Ski Children's Day Privilege
■Includes:Free Lift
■Target:Elementary school students and under
■Dates:Third Sunday of the month from December to March
AKAKURA ONSEN SKI AREA