It's a rally of handicrafts! Please warmth
※Click here for more information on Sege work
There is a small district called Hiramaru in the mountainous area of Myoko City, Niigata Prefecture. The traditional craft "Sege work" is made here. This year too, the making of the zodiac "cattle" next year has reached its peak toward the New Year.
It is a member of the NPO "Hiramaru Sege work Preservation Society" that makes Sege work. The making of the zodiac "cow" began in July of this year. There are two types of cows, one with a bale and one with a cart. Since there are no craftsmen to be taught in making, it is said that past works were dismantled and the procedure was confirmed.
Sedge work in the Hiramaru area began in 1958. There were about 200 makers in the 1965's at its peak, but the number of makers is decreasing year by year due to the aging of the population, and the last craftsman retired last year.Under such circumstances, the NPO Hiramaru Sedge Crafts Preservation Society inherited the technique six years ago, saying that this tradition should not be extinguished.
Deputy Director Shibano said, "I started to get involved in Sedge crafts and I was convinced that there was no other wonderful technique. "
There are two ways to make sedge work. There are two types, one is to cut the sedge while making a shape by hitting it into a fibrous form, and the other is to knit the sedge. The cow we are making now is a knitting type, which is the first initiative for the preservation society.
Mr. Shibano enthusiastically said, "The most complicated and difficult thing in the zodiac is the cow. I am making it while struggling." "I am prepared to go around the zodiac and continue for 12 years."
About 100 cows will be made, including orders from regular customers. The price is 15,000 yen (tax included) with a bale and 18,000 yen (tax included) with a cart. A reservation is required to purchase. You can also learn about the history of Sedge work and observe the works at the Hiramaru Sedge work creation hall. For more information, please contact the Hiramaru Sedge Craft Preservation Society.
Hiramaru Sedge Crafts Museum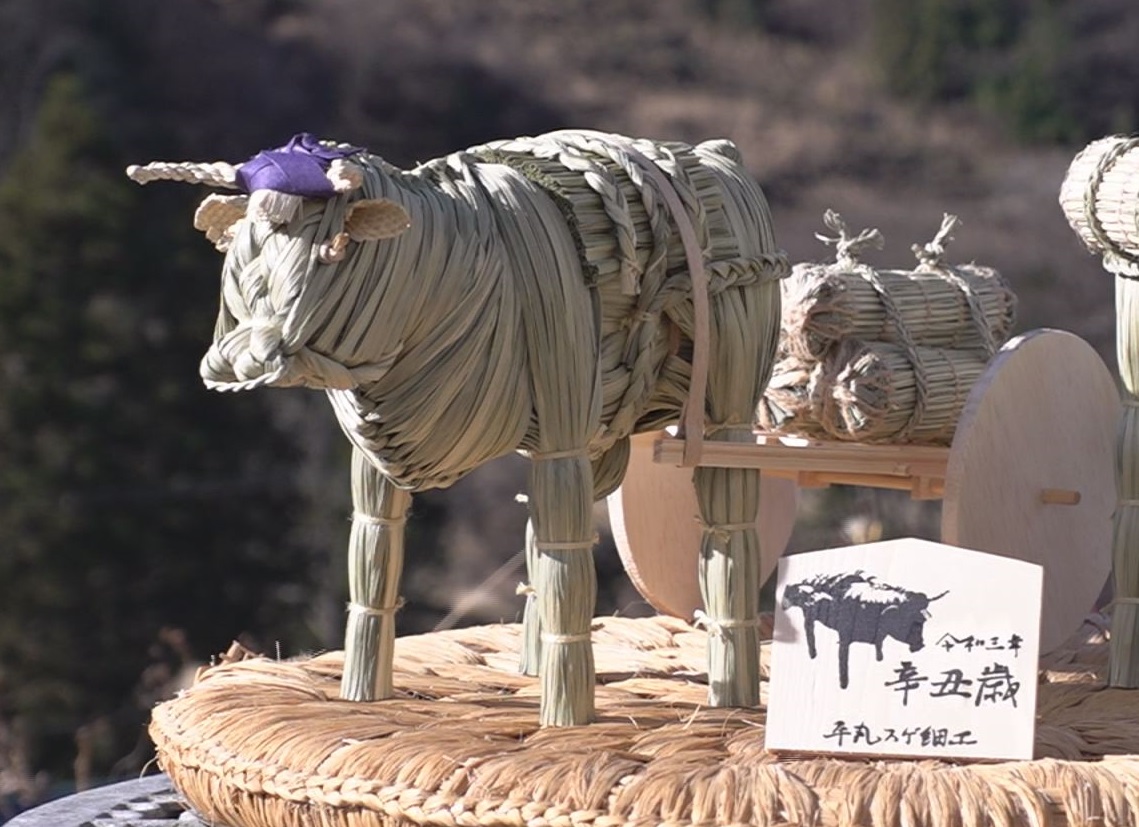 Address: 2759 Kamihiramaru, Myoko City, Niigata Prefecture
Tel: 090-3548-7370(Shibano)
Access: <Car> 35 minutes by car from Joetsu Myoko Station on the Hokuriku Shinkansen