Go To Station!
A commemorative event "Railway Festival" will be held around Itoigawa Station in Niigata Prefecture on Saturday, October 17th.  This event celebrates the 5th anniversary of the opening of the Hokuriku Shinkansen and Echigo Tokimeki Railway.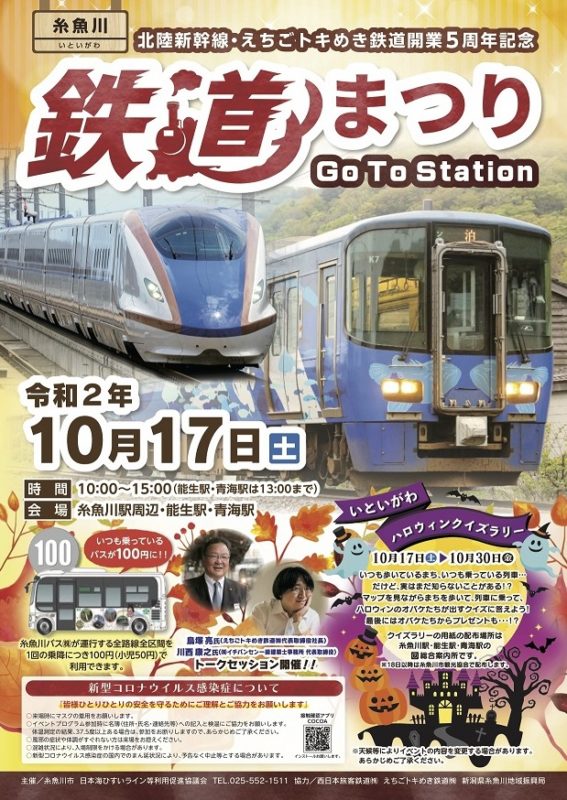 The "Railway Festival" was originally scheduled to be held in March, but it was postponed due to the effects of COVID-19. It will be held simultaneously at three venues around Itoigawa Station, Nou Station, and Omi Station this fall.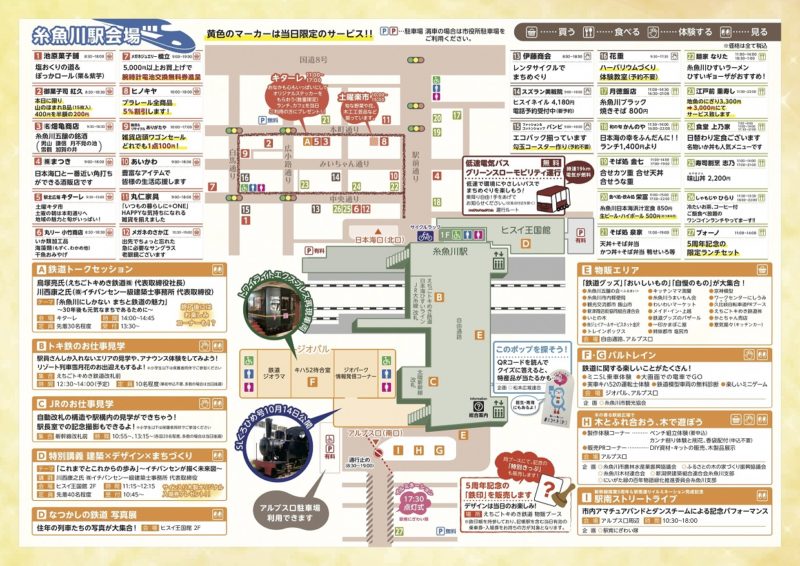 At the main Itoigawa Station venue, a talk session will be held by Mr. Akira Torizuka, President of Echigo Tokimeki Railway Co. Ltd. and Mr. Yasuyuki Kawanishi, President of Ichibansen Senior Registered Architect Office, which was in charge of the design of the Setsugekka train.  In addition, various events will be held, such as a product sales area full of delicious gourmet food, a work tour by railway staff, a railway photo exhibition, a mini steam locomotive ride experience, a woodworking experience, and a street live performance.  In addition to the station premises, there will be special events at each shop in front of Itoigawa Station on the day of the event.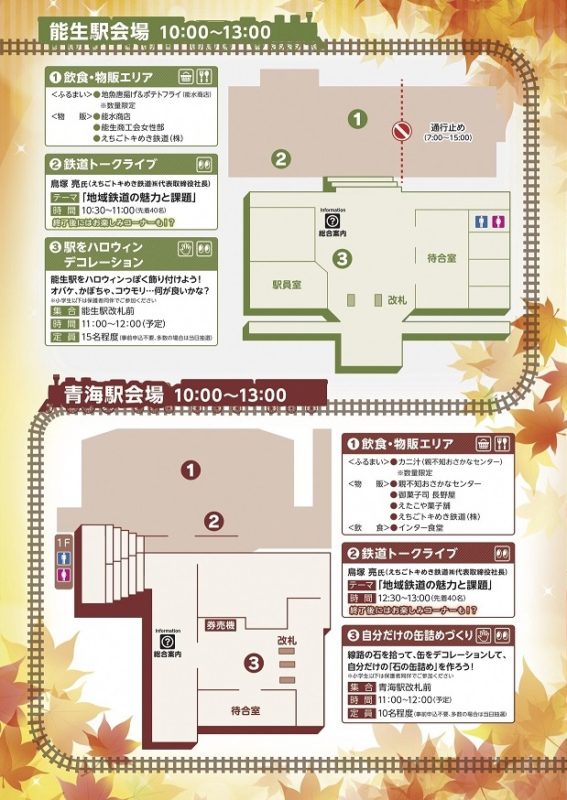 At the Nou station venue, in addition to a live talk by President Torizuka, around the ticket gate it will be made a little darker and be decorated for Halloween.  At the Omi venue, in addition to a talk show by President Torizuka, there will be a craft event, "Making your own cans" by stuffing stones actually picked up on the railroad tracks.
The organizer said, "we planned fun events that make use of the characteristics of each station, it's not only at the Itoigawa station venue, but also Halloween decorations at the Nou venue, and making canned stones at the Omi venue.  Please spend an autumn day enjoying the railway.  Fireworks will be released simultaneously at the three venues from 10 o'clock on the day."
The "Itoigawa Halloween Quiz Rally" will also be held from October 17th (Sat) to 30th (Fri) to coincide with the festival.  This is an event that involves taking a train, or walking around the city of Itoigawa to answer quizzes located at the designated points.  You can get a map for this rally event at Itoigawa Station, Nou Station, and Omi Station.  Why don't you join in as well?
Railroad festival
■ Date: October 17th (Sat) 10: 00-15: 00 (Nou Station and Aomi Station until 13:00)
■ Venue: Itoigawa Station, Nou Station, Omi Station
[Itoigawa Station]
10: 00-Fireworks launch
10: 00-15: 00 Product sales area (free passage / Alps exit), nostalgic railway photo exhibition (Jade Kingdom Hall 2F), Paltrain (Geopal / Alps exit), let's interact with trees, play with trees (Alps exit)
10: 30-18: 00 Station South Street Live (around the Alps exit)
10: 55 ~ ・ 13: 15 ~ JR work tour (meeting at the Shinkansen ticket gate, about 20 people each time)
12:30-14:00: Work tour of Tokitetsu(meeting at the ticket gate of Echigo Tokimeki Railway, about 10 people)
14: 00-14: 45 Railway talk session (first 30 people) Akira Torizuka (President of Echigo Tokimeki Railway Co., Ltd.), Yasuyuki Kawanishi (President of Ichibansen Senior Registered Architect Office)


[Nou venue]
10: 00-Fireworks launch
10: 00-13: 00 Food and beverage / product sales area
10: 30-11: 00 Railway Talk Live (first 40 people) Akira Torizuka (President and CEO of Echigo Tokimeki Railway Co., Ltd.)
11: 00-12: 00 Halloween decoration at the station (about 15 people)
[Oumi Station venue]
10: 00-Fireworks launch
10: 00-13: 00 Food and beverage / product sales area
11: 00-12: 00 Making your own canned food (meeting at theOumi ticket gate, about 10 people)
12: 30-13: 00 Railway Talk Live (first 40 people) Akira Torizuka (President and CEO of Echigo Tokimeki Railway Co., Ltd.)
■ Inquiries: ℡025-552-1511 (Itoigawa City Nihonkai-Hisui Line Utilization Promotion Council)
https://www.city.itoigawa.lg.jp/item/27511.htm#moduleid8026