One of the three Major Canyons in Japan, with Incredible Scenic Spots!
Today we're introducing a popular tourist spot in Tokamachi City, part of snow country that you'll definitely want to visit and which will look great on Instagram!  Many people are familiar with this place because it is increasingly covered by TV and print media, as well as on social media, so we'd like to introduce Kiyotsu Gorge in Tokamachi City, Niigata Prefecture.
Along with Kurobe Gorge in Toyama and Osugi Valley in Mie, the valley along the Kiyotsu River is known as one of Japan's three largest canyons. The V-shaped rock cliffs that surround the clear stream and its magnificent landscape are overwhelming, yet at the same time are impressive and healing.
The characteristic rock that creates the V-shaped canyon are the 4-6 sided geometrical columns of stone. These columns were formed when the lava that flowed out from a volcanic eruption cooled and solidified.
Because of the beauty of these columns, Kiyotsukyo was designated as a "natural monument" in 1942, and was designated as Joshinetsu Kogen National Park in 1949.
The Kiyotsu Gorge Tunnel has a total length of 750m and was designed to let you enjoy the nature of Kiyotsu Gorge safely and securely.  In 2018, the tunnel was renewed by adding artwork to the tunnel.  These days, it is attracting attention as an Instagram-worthy spot.
Once entering the tunnel, people can feel the cool air.  The sun never shines in the tunnel, and the cool breeze from the clear stream is constantly drifting in.  The outside temperature was 32℃ on this day as well, but the inside of the tunnel stayed between 21-24 ℃, like a natural air conditioner!
This is the second of several vantage points in the tunnel.  What is the big silver three-dimensional object!?  It must be some kind of art…
Actually, this is a restroom.  Originally, it was made as part of an art installation but was later added to the tunnel.  You can see the scenery while using the restroom!  Please visit to see what kind of scenery it is.
When you go through the tunnel, at the end you will come to the "panorama station." The beauty of the canyon that spreads out in front of you is quite impressive!
The water mirror at your feet shows an inverted view of the canyon, creating a fantastic art space, as if people were floating on the surface of the water.  It is a familiar place even on Instagram that you should try to see for yourself. In addition to the hot springs in the surrounding area, this is an excellent starting point for vistiting the Echigo-Tsumari Art field.
Kiyotsu Gorge Tunnel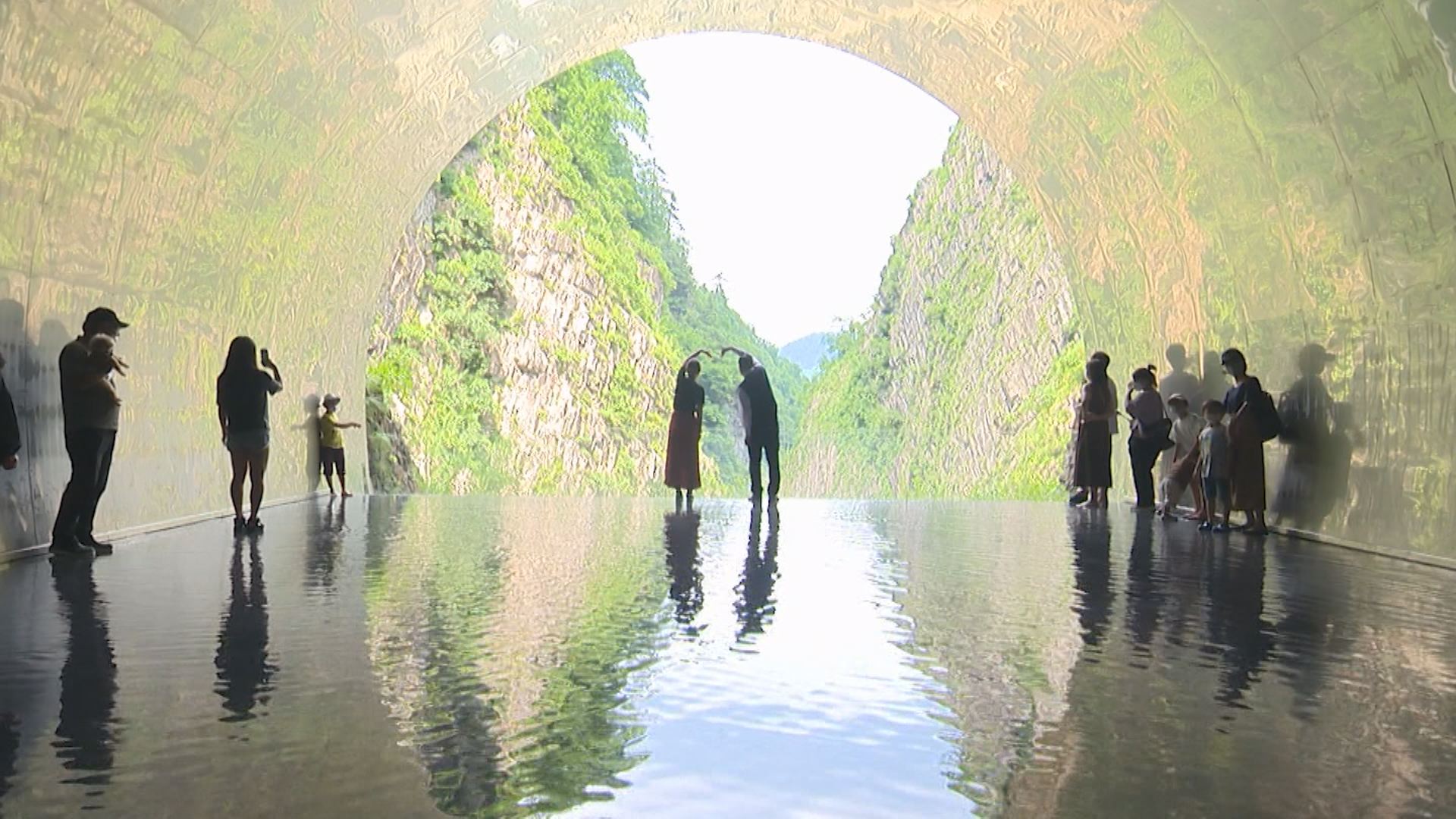 ■ Entrance fee: Adults ¥800 yen Children ¥400 yen ■Open: 8:30-17:00 (last entry 16:30)
Address: 2126 Koide, Tokamachi City, Niigata Prefecture 949-8433
Tel: 025-763-4800
Access: About 25 minutes from Kanetsu Expressway Shiozawa/Ishiuchi IC on National Route 353
URL: https://nakasato-kiyotsu.com/