Beginners and experts alike are welcome!
The "Jyonnobi Camp Meeting" will be held for the first time at the Ooike Ikoinoinomori Campground in Kubiki Ward, Joetsu City, on Friday, March 23 (national holiday), to discuss the boom in outdoor camping and discuss the love of camping in nature over a barbecue.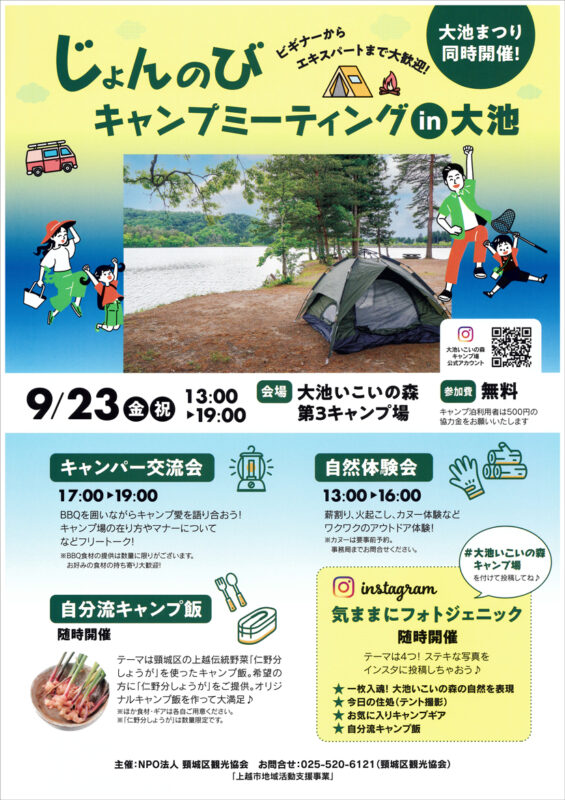 Ooike Ikoinomori has a 3.3-kilometer-long large pond and a 2.5-kilometer-long small pond with a well-maintained walking trail. There are three campgrounds by the Ooike Pond, which are popular as campgrounds where visitors can enjoy nature itself. In recent years, the number of visitors from outside the city and prefecture has been increasing.
Ooike Ikoinomori Forest
Camping site
This first-ever event was planned by the Kiki Tourism Association, a non-profit organization, to provide a place to discuss how campgrounds should be and what it means to be a camper, while getting in touch with nature. This is a casual social event where participants can not only talk, but also enjoy chopping wood, making a fire, canoeing, and more.
Ninobu Ginger
In addition, there will be tastings of dishes using Ninobu ginger, a traditional vegetable of Kubiki Ward, introduction of camp rice and camping equipment, and "rice cooked in a rice bran kettle" made from rice husks. The Ooike Festival will also be held on the same day. Please use the shuttle bus to get to the festival, as parking in the surrounding areas will be crowded.
Hiroshi Sotsuka, Kubiki Ward Tourism Association
This is the first time we are holding this event, so please feel free to come."
johnnobi camp meeting in ooike
■Held: Friday, September 23 (national holiday)
■Time: 13:00-19:00
■Venue: Ooike Ikoinomori No.3 Campsite
Participation: Free of charge (¥500 is required for overnight camping use)
■Inquiries: TEL025-520-6121 (Kubiki Ward Tourist Association)
■Home Page: https://www.kanko-kubiki.jp/ (Kubiki Ward Tourist Association)
Nature Experience Group
Wood-chopping, fire-making, canoeing, etc.
■Time: 13:00-16:00
*Reservations for canoeing must be made in advance.

Camper Exchange Party
We will talk about campsites and manners over barbecue.
■Time 17:00-19:00
*The number of barbecue ingredients provided is limited. You are welcome to bring your own food.
Camp Meal in My Own Way
The theme is camp meals using Ninobun ginger, a traditional vegetable of Kubiki Ward. We will provide Ninobun ginger to those who wish to try it. Try your hand at making your own camp rice!
Time: Open at any time
Please bring your own ingredients and tools. The quantity of Ninobun Ginger is limited.
Photojournalism at your leisure
Take a photo from one of the four themes and post it on Instagram with "#Oike Ikoinomori Campsite".
・One photo at a time! Express the nature of Ooike Ikoinomori Forest
・Today's dwelling place (tent photo)
・Your favorite camping gear
・Your favorite camping gear ・My own style of camp food
■Instagram:@kubiki_oike
Ooike Ikoi no Mori
---