Small renovated cafe in a village at 450m altitude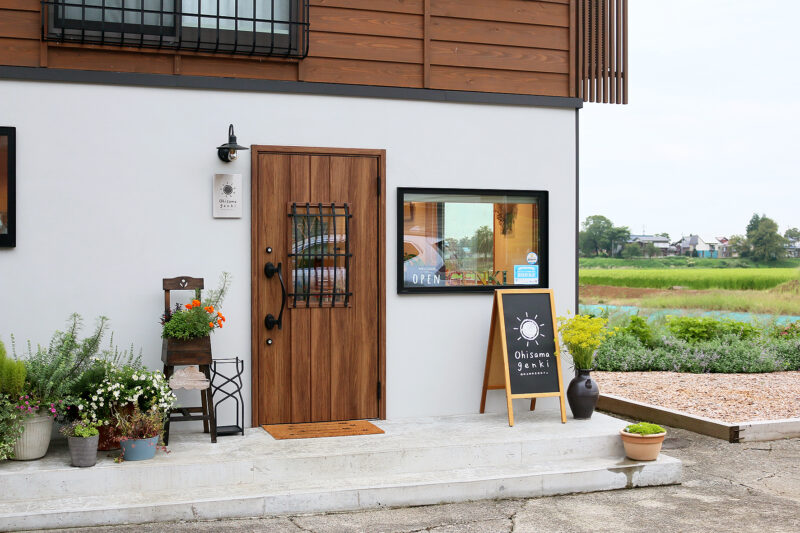 Ryugakubo, a spring in Tsunan Town, Naka-uonuma County, Niigata Prefecture, is one of the 100 best water sources in Japan.It is also a tourist spot visited by many people from inside and outside of the prefecture. Not far from there, in a nearby village, is a cute-looking cafe called "Ohisama genki," a small cafe on top of a mountain.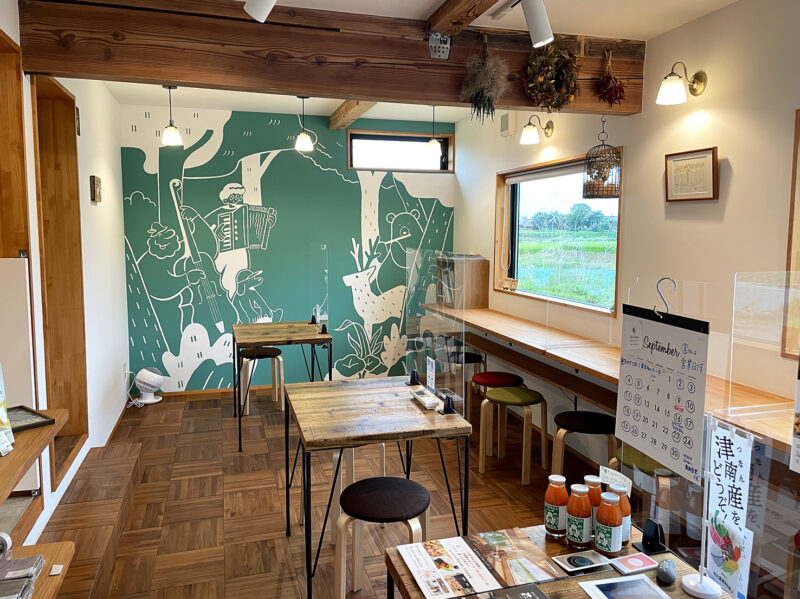 When you open the entrance door, the interior of the restaurant is a clean and cute space. There are seven seats at the counter and two tables for two people.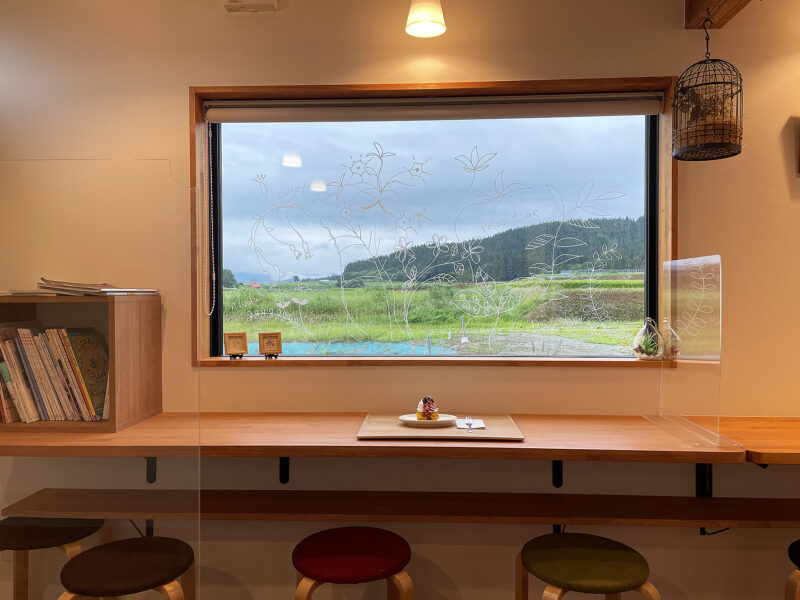 The counter seating area has two large windows through which one can view the fields, forests, and mountains stretching out behind it.Many visitors come to enjoy the scenery, which shows different expressions from season to season.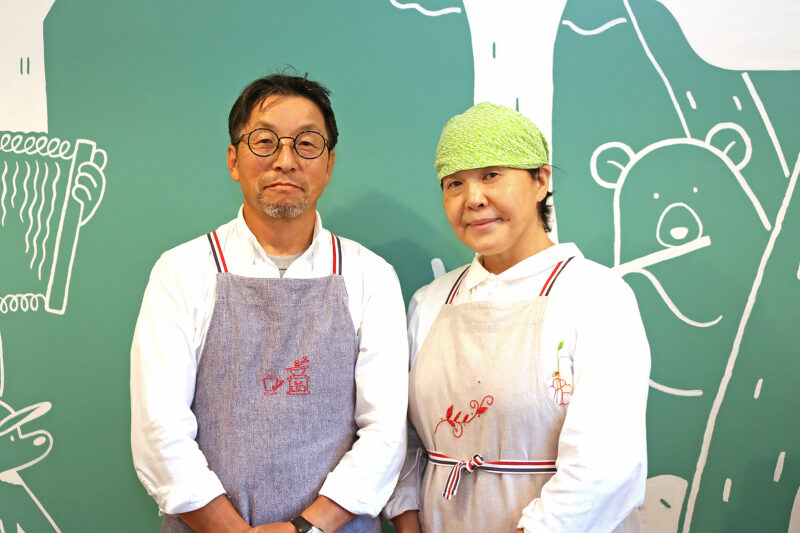 Shinichi Uchiyama, Mitsuko Uchiyama
The store is run by Shinichi and Mitsuko Uchiyama, a married couple.The earthen floor and garage of the couple's old-fashioned home, where they have lived for many years, were renovated and opened as a café last August.We recently celebrated our first anniversary.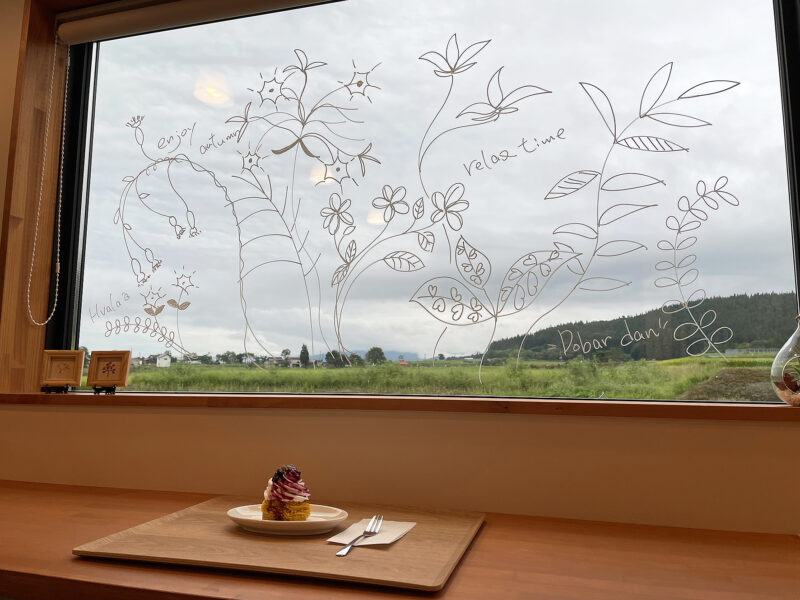 The window illustrations were hand-painted by Mitsuko.He draws a new illustration every month.
The atmosphere of the restaurant is inspired by a Croatian café that Mitsuko visited several years ago.The atmosphere of the farming village he visited in Croatia was very similar to that of Tsunan, so he renovated the house to fit in with that atmosphere.The walls and windows of the restaurant are decorated with illustrations representing regional characteristics and seasons, as they were in the Croatian cafes.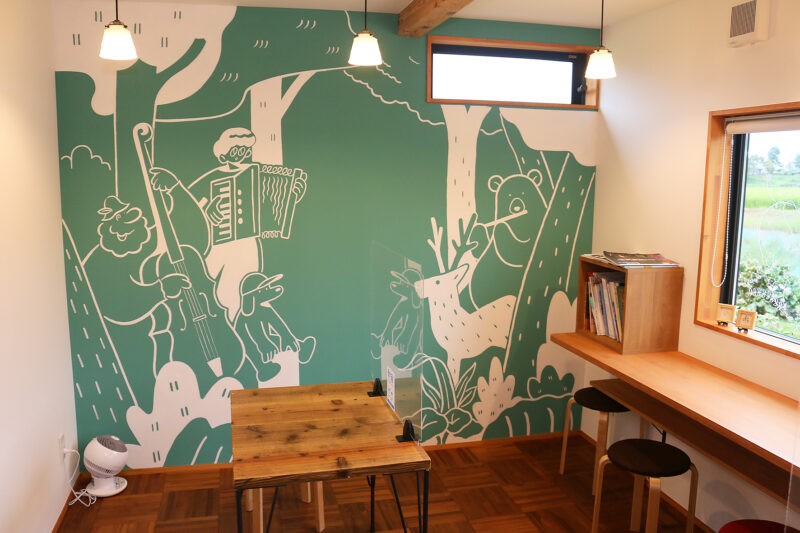 The back wall of the restaurant is covered with vivid illustrations created by "Creator Unit 401," a group of four creators who are graduates of Nagaoka Institute of Design.
Lunch and sweets changing monthly with plenty of Tsunan's blessings
The cuisine is centered on rice grown by the owner and seasonal vegetables grown without pesticides in his own fields.We try to use ingredients from Tsunan as much as possible, such as vegetables not grown at home that are shared with us from neighbors or purchased from local farmers, in an effort to promote local production for local consumption.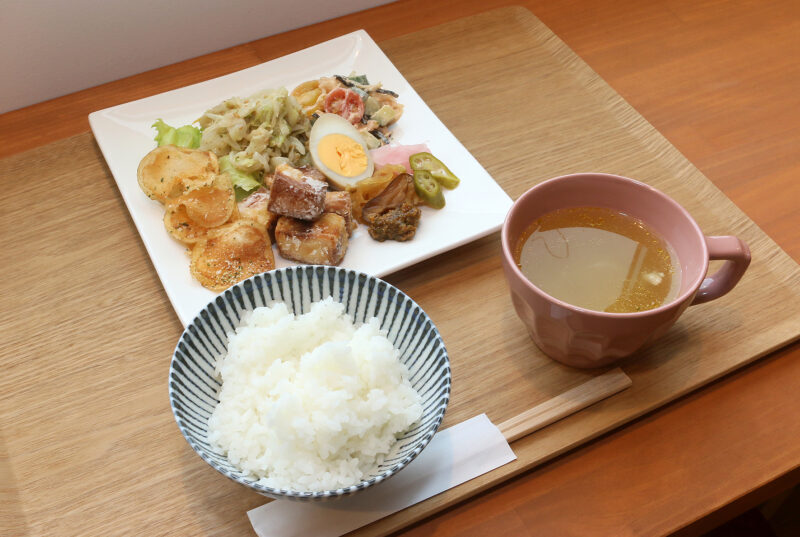 Ohisama Lunch 1200 yen (tax included)
The main dish is Koya-dofu karaage (fried bean curd).
Two types of lunch are available: "Ohisama Lunch," a vegetable-centered veggie lunch, and "Genki Lunch" (1,200 yen, tax included), a main dish with meat or fish.
The main course of the Ohisama Lunch alternates between fried tofu with koya-tofu and fu cutlets, which change monthly.In addition, seven to eight side dishes are served, using seasonal vegetables with a twist.
Genki Lunch offers a variety of dishes that change monthly.September's dish is "Shoyu Koji Spice Curry," but so far we have offered dishes with original arrangements such as "Corn Meatloaf," "Mackerel Hamburger Steak," and "Open Sandwich with Purple Pickles.
Both lunches come with rice, soup, and side dishes in addition to the main dish.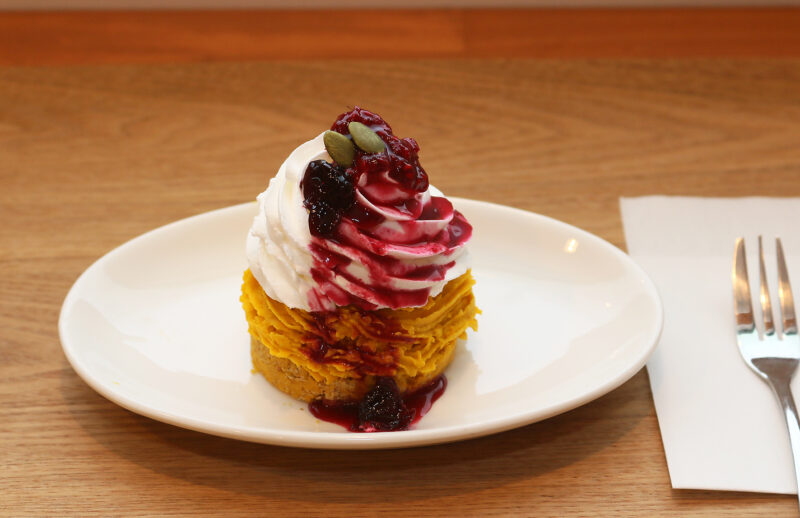 Kabocha Mont Blanc 500 yen (tax included)
Sweets are also offered on a monthly basis.For September, three types are available: "Kabocha Mont Blanc", "Berry Tart" (450 yen), and "Matcha Terrine" (400 yen).
We also offer a selection of drinks that go well with the sweets.Shinichi, who is in charge of drinks, mills coffee beans and hand-drip brews coffee, café lattes and soirattes, carrot juice from farmers in Tsunan, apple juice from Suzaka City, Nagano Prefecture, and sodas made with plum syrup dipped in homemade herbs are also available.
Mitsuko Uchiyama
The name of the restaurant was chosen with the hope that everyone will go outside and bask in the sun and be in good spirits. Please come to our restaurant to relax one day, to recharge your energy one day, to reward yourself one day, or to heal your tired heart. We look forward to serving you. Also, since we are a small store, we are often crowded, and we apologize for any inconvenience this may cause you. When you visit us, please make a reservation to ensure your visit. Best regards.
Ohisama genki A small cafe on the mountain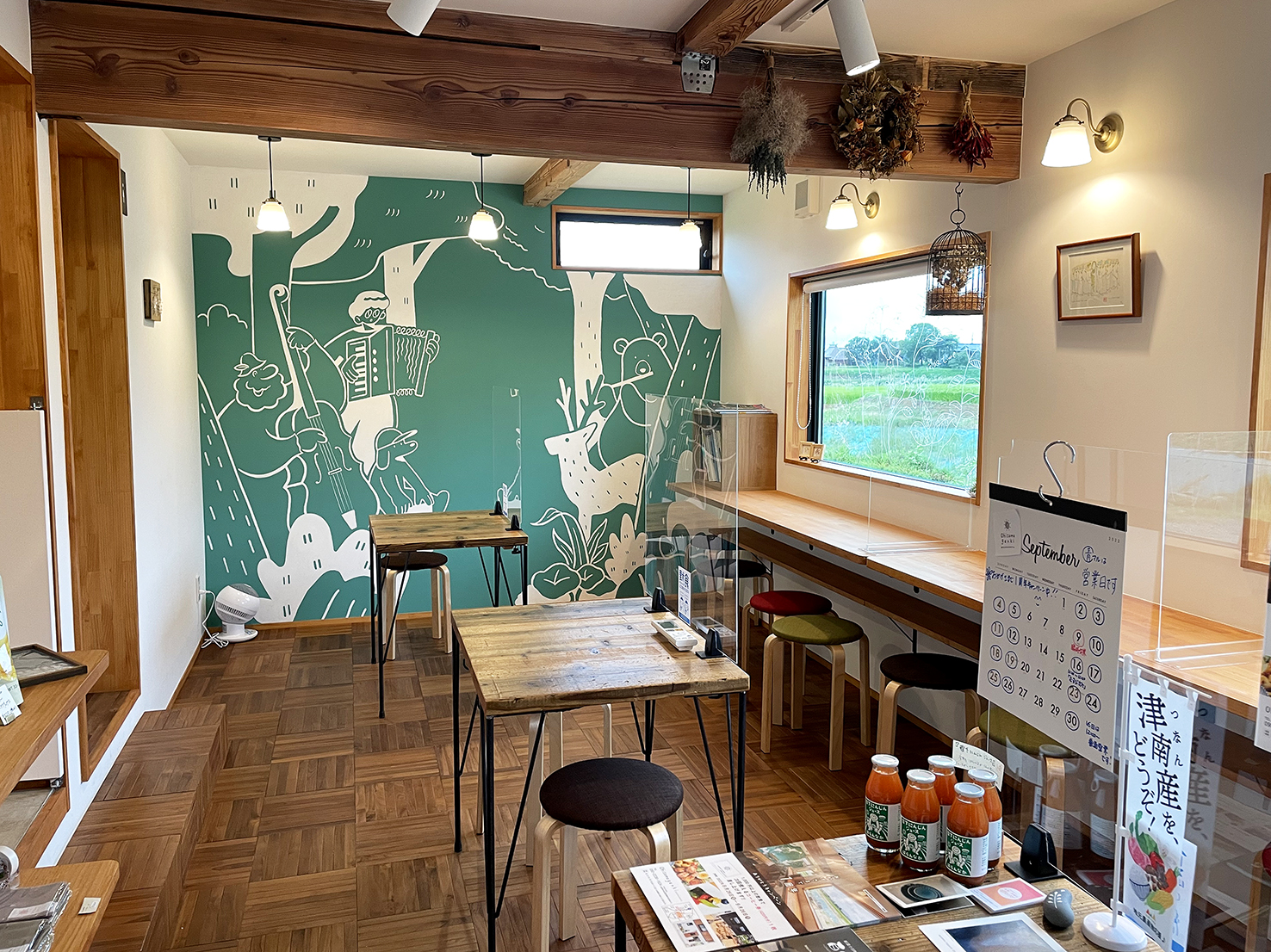 ■Opening hours: 10:00-17:00 ■Closed: Tuesday-Thursday *Closed from around 12/20 to March/April (period may change depending on snow accumulation) ■Instagram: @ohisama__genki ■Facebook: Ohisama genki Small cafe on the mountain ■Parking: 7 cars
Address: 844-2 Taniuchi, Tsunan-cho, Naka-uonuma-gun, Niigata Prefecture
Tel: 090-2236-1634