Developed by students of Marine High School
Ltd., which manufactures and sells products developed by students of Niigata Prefectural Marine High School in Nou, Itoigawa City, Niigata Prefecture, will open an antenna store at Marine Dream Nou, a roadside station along National Route 8, on Saturday, March 16.Pasta and soft-serve ice cream made with their signature fish sauce, "Saigo no Itteki," and other takeout menus featuring local ingredients will also be available.
Nousui Shoten is a private company established in 2018, taking over the production and sale of "Saigo no Itteki" of fish sauce developed at Marine High School, with the desire to use up all the salmon that run up the Nou River without waste.The president of the company is Masafumi Matsumoto, who was a teacher at the time the fish sauce was developed.
To date, the company has produced a variety of products, including its signature product, "Saigo no Itteki," as well as miso-marinated fish, delicacies, dried fish, retort pouch and canned foods, and seasonings, all of which were developed by students at Marine High School and sold online and wholesale.
This time, following the adoption of Marine High School as a "Meister High School Project," a research project of the Ministry of Education, Culture, Sports, Science and Technology in 2021, we decided to open an antenna shop that will also serve as a base for practical learning for our students.
The antenna store was newly built on the west side of the building of Roadside Station Marine Dream Nou.Starting with the logo, the exterior and interior of the restaurant are decorated in a sea-inspired blue color scheme, and plenty of wood is used to create a relaxed atmosphere.
The approximately 80-square-meter store features about 70 items, including marine products, agricultural products, and processed goods from Joetsu and Itoigawa cities, with a focus on products developed by the students of Marine High School.Some of the products are aimed at the younger generation, such as a pudding made with Batabata-tea, a traditional Itoigawa tea, in collaboration with Yukinoka Terrace, and Usuyaki Senbei, a rice cracker made with Niigata Koshihikari rice and seasoned with the last drop or Nodoguro soy sauce.
In preparation for the opening, a takeout menu featuring Saigo no Itteki and local fish was also devised.
Itteki peperoncino 900 yen (tax included)
Fish & Chips (shark, cod, today's fish) 1000 yen (tax included)
Today's fish is market value.
Three types of pasta are available, including the "Itteki Peperoncino," which is simply seasoned with Saigo no Itteki of flavor, the "Kodawari Gokujo Tarako Pasta" (1,100 yen, tax included), and the "Tomato Pasta with Nou Production Snow Crab" (1,300 yen, tax included).In addition, there is "fish and chips," which includes fried shark, cod, and local fish, which is Joetsu's soul food.
Itteki soft (cone/cup) 450 yen (tax included)
This is "Itteki soft," served with a bitter caramel sauce made from Saigo no Itteki.Fresh raw milk from cows raised on Itoigawa's ranch is used to make the soft-serve ice cream, giving it a fluffy, smooth, fresh cream-like texture and a rich flavor that is unique to Itoigawa.
In addition to this, we also offer a unique regional drink menu.The food menu is basically offered as takeout, but there is also an eat-in space with about 10 seats inside the restaurant.
On weekdays, Nousui Shoten staff operates the store, but on Saturdays and Sundays, students from Marine High School may serve customers as part of their sales training.In the future, we plan to hold events where students from Marine High School can tell us about the development of the product and unveil the new product.
Masafumi Matsumoto, President of Nousui Shoten
"The students of Marine High School have developed a menu of food products using local ingredients that are sure to satisfy many people. We hope you will visit our restaurants and enjoy the local atmosphere of Itoigawa and Joetsu. We will also continue our efforts to expose you to new things no matter how many times you visit."
A ceremony will be held at 10:00 a.m. on the opening day, tomorrow, Saturday, 16th.At the same time as the opening at 11:00 a.m., chanko-nabe dishes (limited to 200 servings) using the new "Gottsan Nabe-tsuyu" product scheduled to be released in May will be served.
Store Information
---
Niigata Marine High School Antenna Shop Nousui Shoten
■Address: Roadside Station Marine Dream Nou, 3596-2 Kodomari, Nose, Itoigawa City
■Phone: TEL 025-555-7345
■Opening hours: 9:00-17:00 (extended to 18:00 in summer)
■Closed: 1/1
■Home Page: https://nousui-shoten.com/
■Twitter:@nousui_shouten
■Instagram:@nousui_shop
■Facebook:@nousui.shop 
Related video: "Beyond! #10Nousui Shoten/Saigo no Itteki
Niigata Marine High School Antenna Shop Nousui Shoten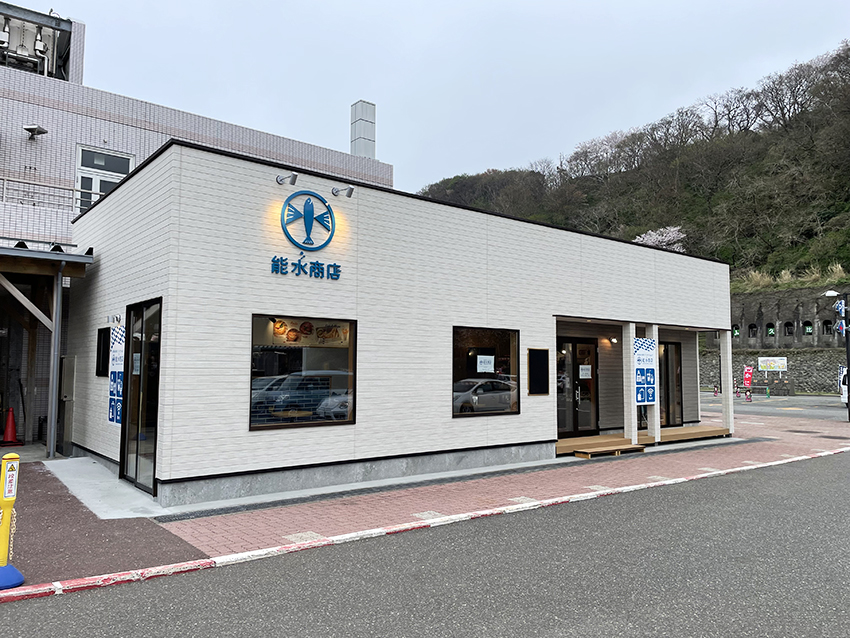 Address: Roadside Station Marine Dream Nou, 3596-2 Kodomari, Nou, Itoigawa City
Tel: 025-555-7345
Access: <Car> 6 minutes drive from Nou IC on Hokuriku Expressway.
URL: https://nousui-shoten.com/