Focusing on camps that have become increasingly popular in recent years, we are doing our best to publicize the campsites that are open in the Joetsu area (Joetsu City, Myoko City, Itoigawa City).  Not only detailed information on each campsite, but also spots recommended by the editorial department will be posted.  It's good to have fun with your family, or to enjoy your time as a solo camper.  Why don't you go out to play in the great outdoors?
Limited to one group per day.  Luxury camp that you can enjoy empty-handed!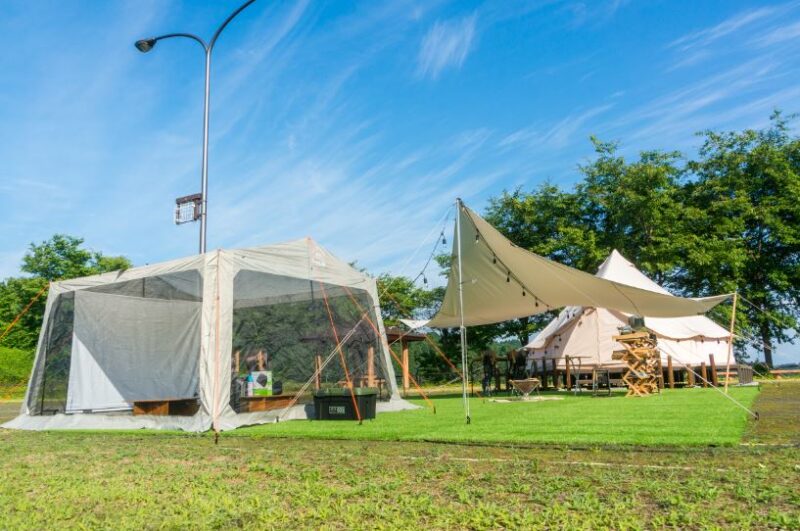 Glamping was started in May this year by the accommodation facility "Eshin no Sato Yasuragi-so" in Itakura-Ward, Joetsu City, Niigata Prefecture.
Glamping is a word which combines "glamorous" and "camping", and it is a luxurious camp where you can enjoy camping without preparing equipment and meals.  The tent is located in a square about 100 meters away from Yasuragi-so, and it can accommodate up to 4 people per day for one group only.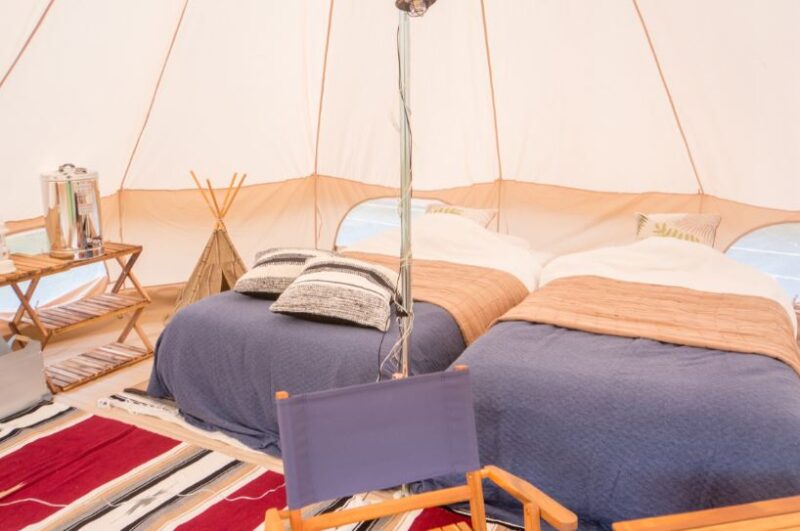 In the tent, there are beds, sofas, refrigerators, cold air fans, and large wireless speakers, so you can listen to music by connecting your smartphone.  It is also equipped with LED candles and LED lanterns.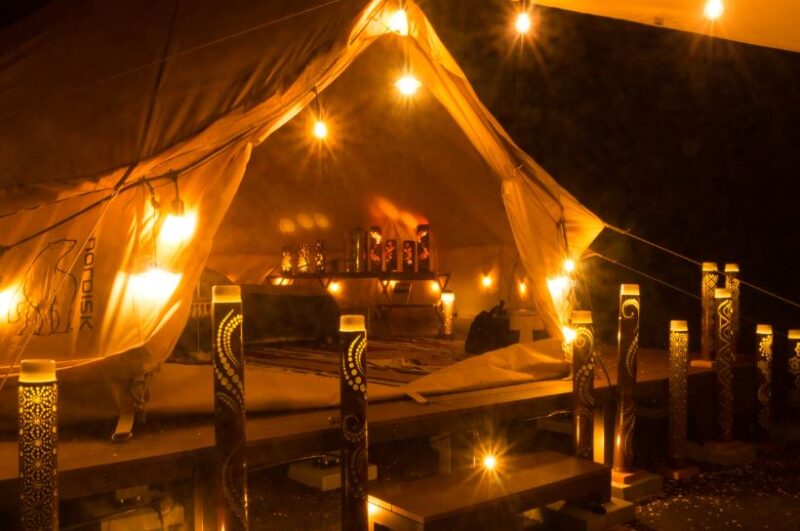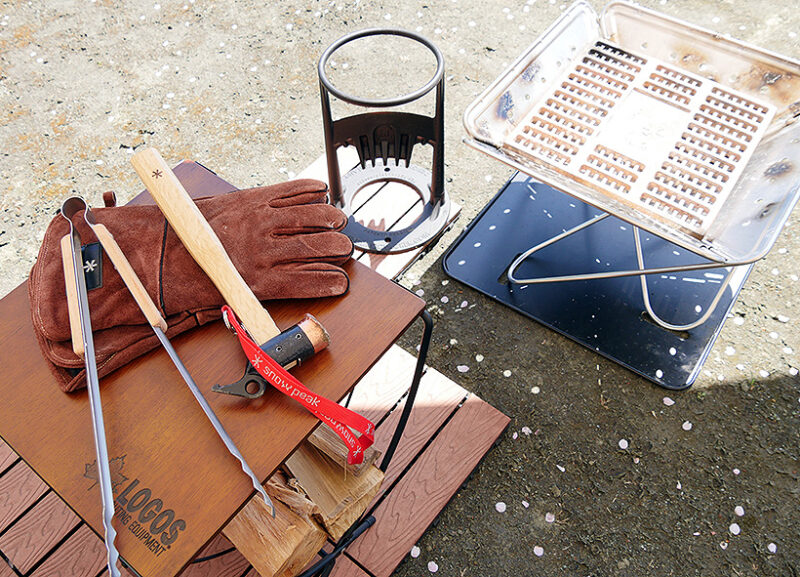 Tables, camping chairs, bonfires, wood splitters, etc. are provided under the tarp set up outside the tent, and users can easily enjoy the outdoor experience while only having to prepare their room clothes and drinks.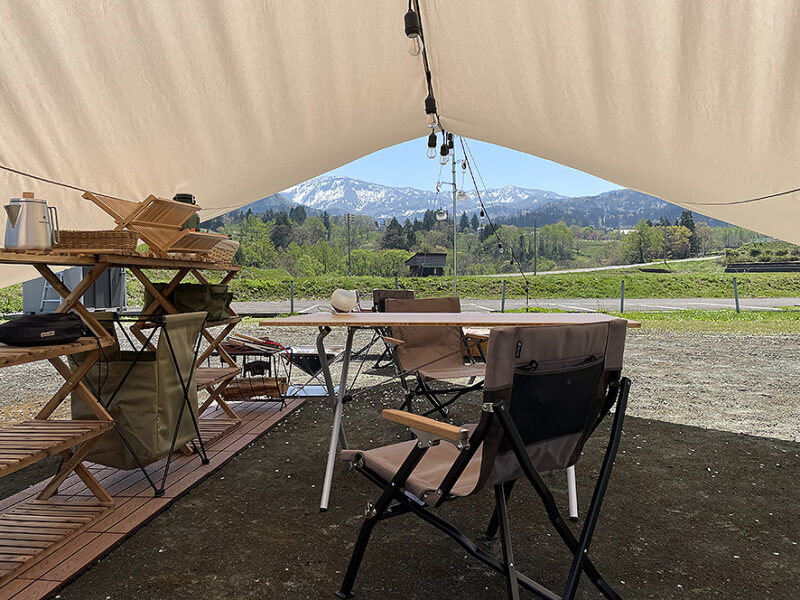 You can also sit on a camp chair and look at Mt. Kurokura and Mt. Nabekura on the prefectural border.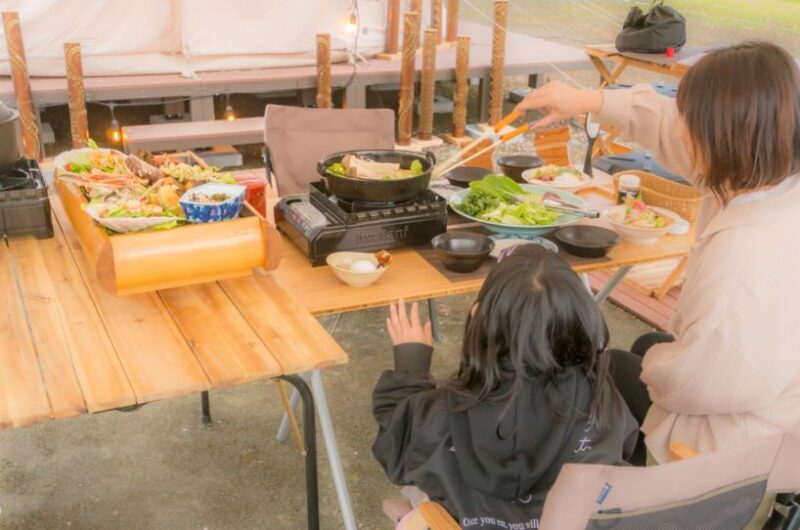 For dinner, you can enjoy dishes made at Yasuragi-so, such as sukiyaki using Echigo beef, roasted nodoguro fish, and assorted sashimi, and rice cooked in a clay pot at the table outside the tent.  For breakfast, a Japanese set meal is served at the Yasuragi-so restaurant.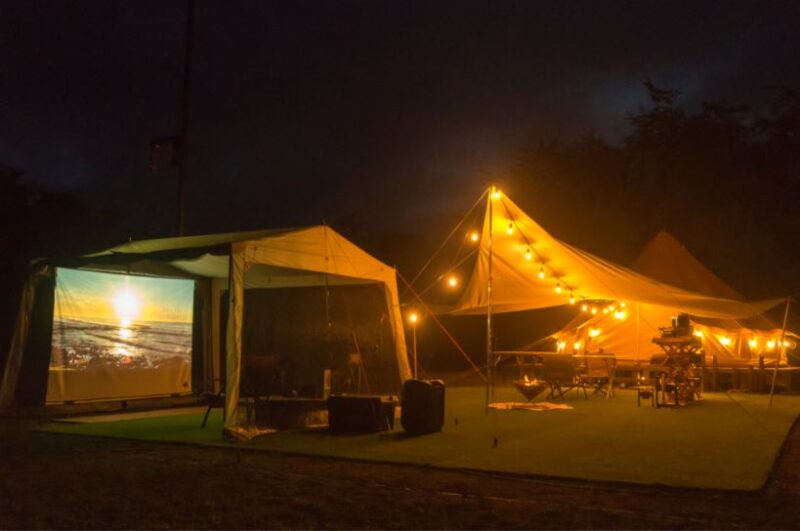 There are also facilities to enjoy at night.  You can watch a DVD / Blu-ray, Amazon Prime, and Youtube on a big screen using an android projector outside the tent.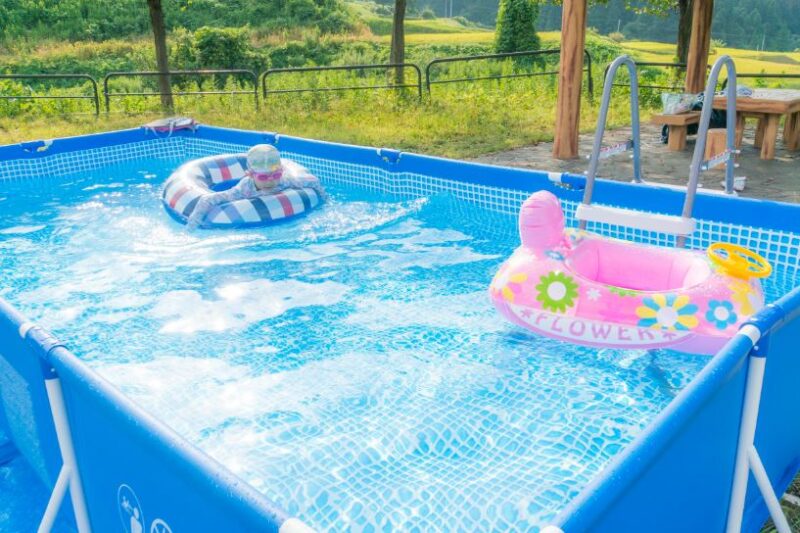 Pool (INTEX 4.5m x 2.2m x 0.8m) * Pool is for ages 4 and up
In addition, a pool will be available only during the summer vacation!  It comes with swimming rings, water guns and floating vests.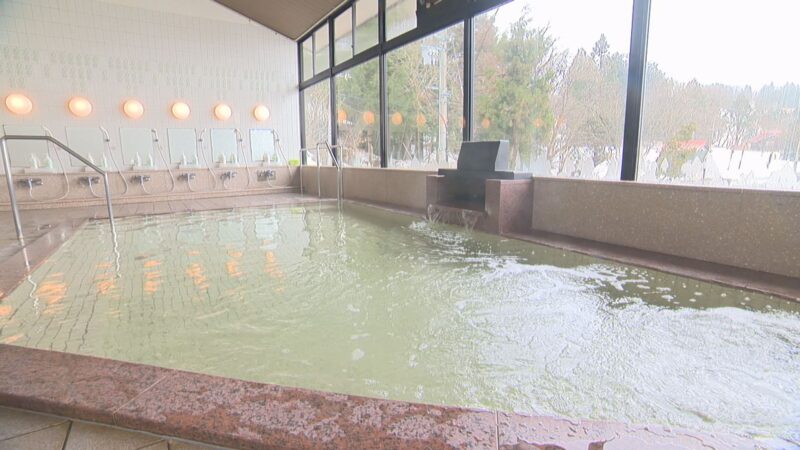 Of course, you can also take a bath in the hot springs of Yasuragi-so, which has two types of hot springs.
Recommended by the editorial department
There are the "Landslide and Avalanche Museum", "Yamaderayakushi", "Enmei Shimizu", etc. near the campsite.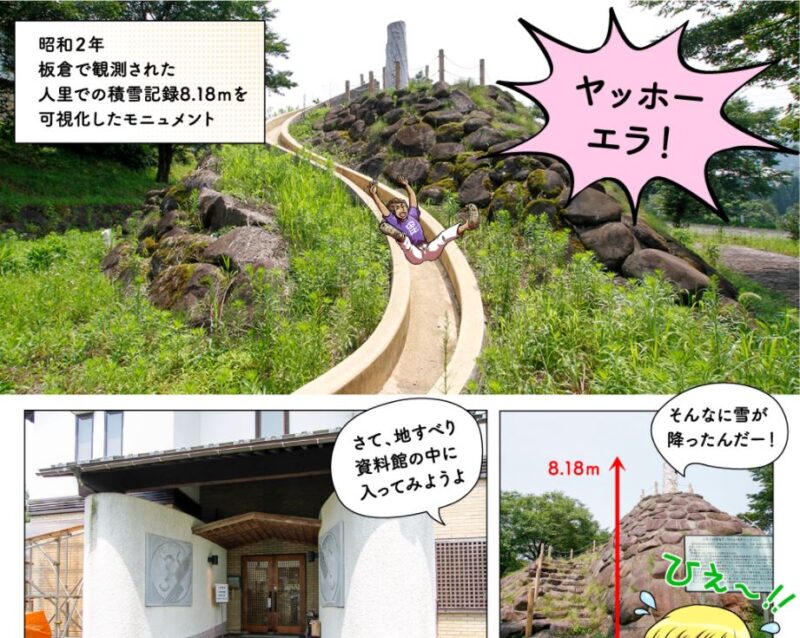 The surrounding stop-off spots are also introduced in the "ITAKURA" edition "Ella and Jimi's walking around the town" on the Yukiguni Journey.   Please take a look here as well.
Eshin no Sato Yasuragi-so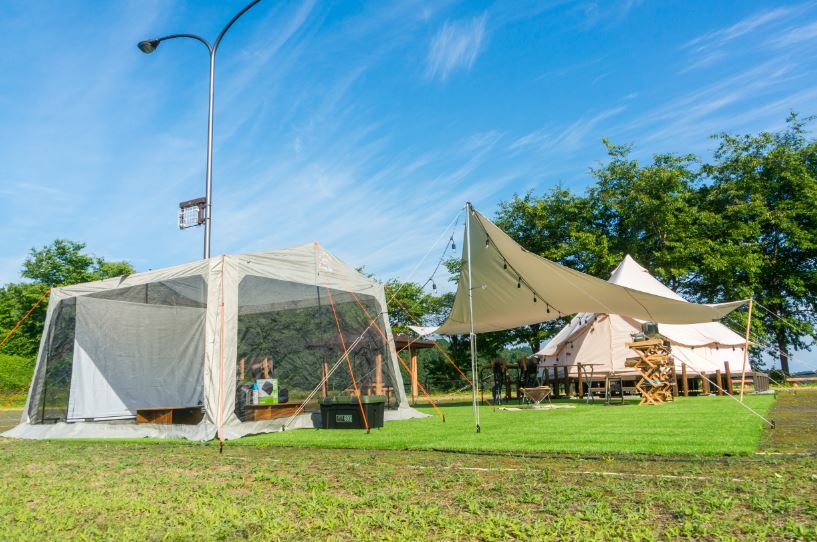 ■Business period: Scheduled from May to early October 2021 * Limited to 1 group per day, 2-4 people available
■Business Hours: Check-in 14:00 / Check-out 10:00
■Parking lot: 4 cars
■Price: 20,000 yen (tax included) per adult * 2,000 yen extra for the day before holidays, Golden Week to the Moss Phlox flowering period, and the summer vacation period (late July to late August) * Elementary school students 70%, infants 50%
Address: 1624-1 Itakura-Ward Kuguno, Joetsu City, Niigata Prefecture
Tel: 0255-78-4833
URL: http://yasuragisou.com/#