The main trail accommodation is open for this season!
This season's accommodation on the Hikarigahara Plateau in Itakura Ward, Joetsu City, where the fresh green of the beech trees is beautiful, will begin on Saturday, June 5th.
Hikarigahara Plateau is located along the ridge of the Sekida Mountains, which run along the border between Niigata and Nagano prefectures at an altitude of 800 to 1100 m.  It is located almost in the middle of the Shinetsu Trail, which stretches for about 80 km.



Green Pal Kogen-so is an accommodation facility along the Shinetsu Trail, which also includes a campsite, which provides additional hiker's accommodation and rest facilities.  Accommodation at Green Pal Kogen-so is 2,350yen for adults (junior high school students and above) without meals.  Elementary school students are 1,230yen.  There are quadruple and 6-person rooms, a break room that can be used free of charge even on a day trip, and a shower room that can be used for 210 yen each time.
The campsite has four bungalows, a cooking building, and a tent site.
Bungalows are 3,060yen per night and tent sites are 1,020yen per night.
View from Hikarigahara Kogen Campsite
Kogen-so and the campsite will be available until October 31st (Sun).  For more information such as reservations, please contact Green Pal Kogen-so.
Information on the Hikarigahara Plateau has been also posted on "Ella and Jimi's Town Walk-Itakura Edition-" on Yukiguni Journey.  Please see it here. ↓ ↓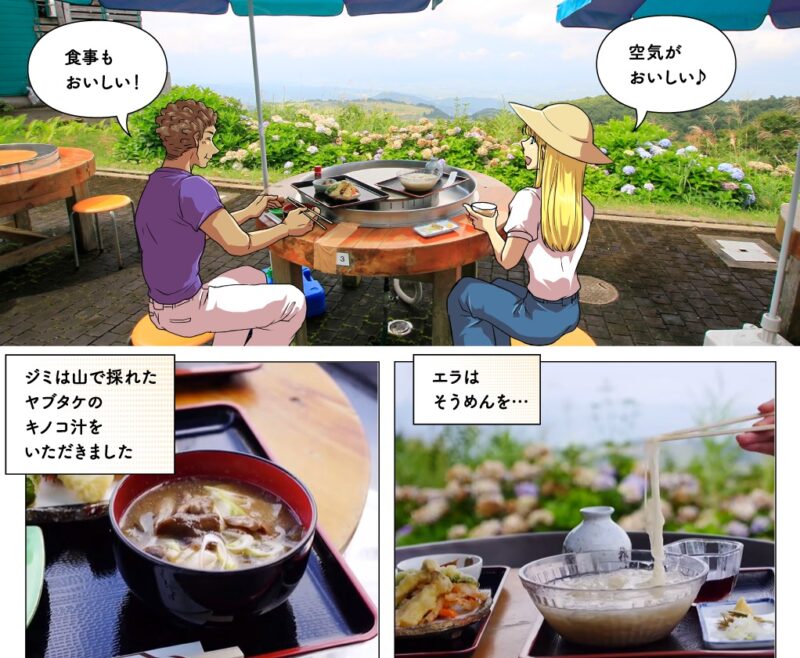 https://www.yukiguni-journey.jp/lp05/
Hikarigahara Kogen Green Pal Kogenso