Let's take a walk and enjoy the flowers!
In the Takada district of Joetsu City, Niigata Prefecture, the "Joetsu Open Garden and Flower Tour", in which opened  their gardens for gardening enthusiasts, began on May 15th.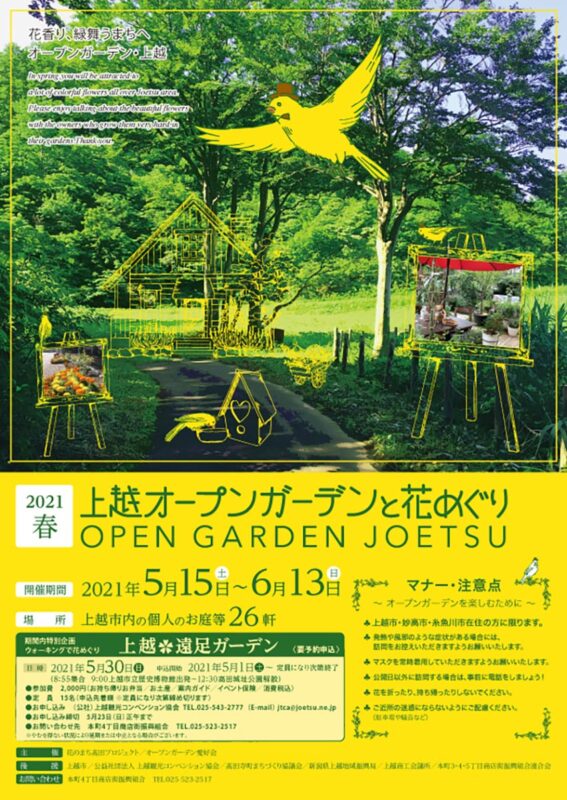 The"Open Garden and Flower Tour" was planned by the local citizen group "Open Garden Lovers Association".  For the 7th time this year, 26 private house gardens have made their gardens available, mainly in the Takada area.  During the period, anyone can enter the gardens and enjoy the flowers freely.
This is the house of Kiichiro Kawase, who is participating for the first time, in Saiwaicho, Joetsu City.  He started gardening while living under the COVID-19 restrictions.  Mr. Kawase says, "The flowers and creatures in the garden develop slowly over time, enhancing their natural beauty.  I have arranged my garden with this in mind"
At Mori Michiko's house near the movie theater "Takada Sekaikan" in 6-chome, Honcho, Joetsu City, Lady Banks' roses have been in full bloom since April.  There are several other types of roses, which will be in full bloom by the end of this month.
Ms. Mori said, "We are planting various kinds of flowers.  The flower blooming are just as beautiful when they are three-quarters in bloom as when they are in full bloom."
At Iwamoto Pharmacy on Honchi-dori, Joetsu City, you can enjoy the flowers behind the store.  Hiroko Iwamoto from the pharmacy said, "People who walk along the Gimyo River say that they are looking forward to seeing them."
Chiyoko Uchiyama of the Open Garden Lovers Association says, "I would like people to feel rejuvenated by the flowers.  It will not be crowded, so please enjoy them at your leisure."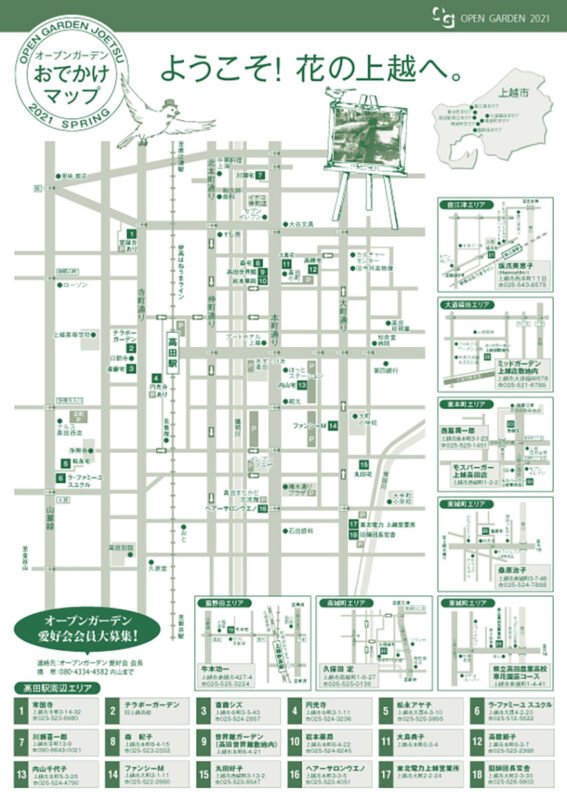 The open garden and flower tour will be held until June 13th(Sun).  During this time, it is only for the residents of Joetsu city, Myoko city, and Itoigawa city.  For more information about the location of the gardens, please contact the Honcho 4-chome Shopping District Promotion Association.