Experience the "Railway Town" in real life!
"Naoetsu D (Dego) 51 (Ichi) Rail Park" where you can board the steam locomotive will open in Azumacho, Joetsu City on the 29th of this week. A preview was held on the 26th.
"Naoetsu D51 Rail Park" will open in a part of the depot to appeal to Naoetsu, the birthplace of railways in Niigata Prefecture. The biggest highlight is the experience of riding the steam locomotive Degoichi.
The general passengers ride on a caboose called a brake van, which has a capacity of two cars and a maximum of 48 people.
Degoichi is operated by air pressure, not by the original steam. The course is 250 meters, about 10 km / h and 3 minutes one way.
In addition, you can see the turntable and fan-shaped vehicle warehouse that have remained since the time of the former Japanese National Railways.

In the fan-shaped garage, the former Japanese National Railways 413 series trains, which are popular with railroad fans, are on display, and you can tour the inside of the train. In addition, there is a goods section.
There is also a corner where you can enjoy mini games using the admission ticket stub.
At this corner, you can make your own canned stones on the railroad tracks at Nihongi Station, which is a popular souvenir.
Naoetsu D51 Rail Park costs 1000 yen for adults and 700 yen for children.
It will be open mainly on Saturdays, Sundays, and holidays from the opening on the 29th of this week to the beginning of December.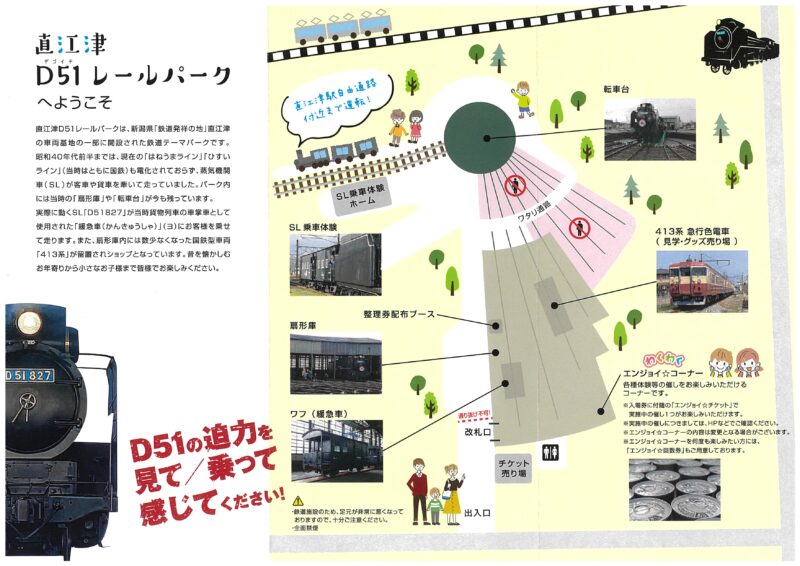 Reservations are required online until the 5th of Golden Week. According to Tokimeki Railway, about 800 people have already made reservations, but there is some margin in the latter half of the period and in the afternoon.
Naoetsu D51 Rail Park
* There is no private parking lot
Address: 1-15 Azumacho, Joetsu City, Niigata Prefecture
Tel: 025-543-7889 (Weekdays 8: 30-17: 30)
Access: Echigo Tokimeki Railway 3 minutes walk from the south exit of Naoetsu Station
URL: https://www.naoetsu-d51-railpark.com/index.html