When you get off the Hokuriku Shinkansen, take a bus to Myoko's proud powder slope!
The Keinan Bus, which runs in Myoko City, Niigata Prefecture, will start operating the "Myoko Kogen Liner" on Saturday, December 26th.It is a fixed-route bus that connects Joetsu Myoko Station, where the Hokuriku Shinkansen departs, and Myoko Kogen, where the main ski resorts of Myoko City are located.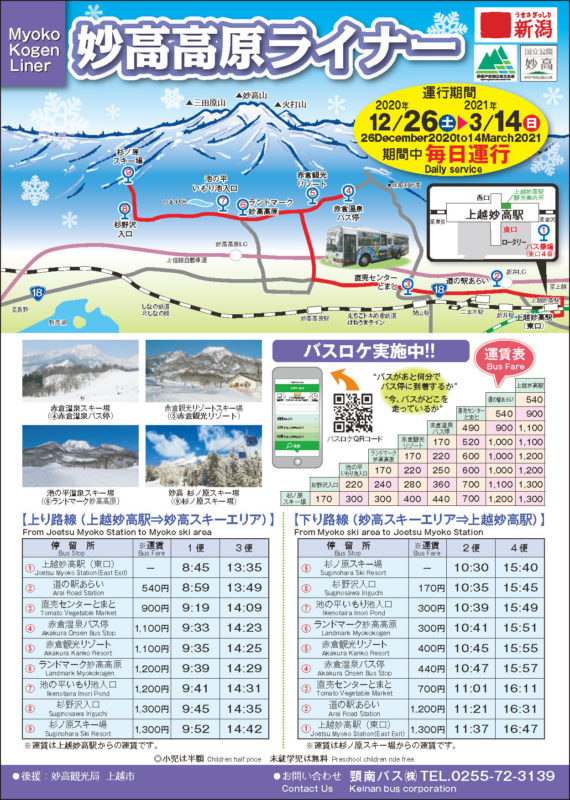 Myoko Kogen Liner is a bus that goes back and forth between Joetsu Myoko Station and Myoko Kogen.In addition to the main ski resorts of Myoko Kogen, it also stops at tourist and commercial facilities such as "Imori Pond" and "Roadside Station Arai".The maximum fare is 1,300 yen one way. Half price for little people and free for preschoolers.
By using the site "Bus Loce", you can check the status of "where the bus is running" and "how many minutes will you arrive" on your smartphone in real time.You can also check the timetable on the bus navigation site.
○ Operating period: Every day from Saturday, December 26, 2020 to Sunday, March 14, 2021
○ Operation route (up route): Joetsu Myoko Station (East Exit) ⇒ Road Station Arai ⇒ Direct Sales Center Tomato ⇒ Akakura Onsen Bus Stop ⇒ Akakura Kanko Resort ⇒ Landmark Myoko Kogen ⇒ Ikenotairaimori Pond Entrance ⇒ Suginosawa Entrance ⇒ Prince Snow Resorts Myoko Suginohara (2 round trips a day)
○ Fare (one way): Up to 1,300 yen (half price for children, free for preschoolers)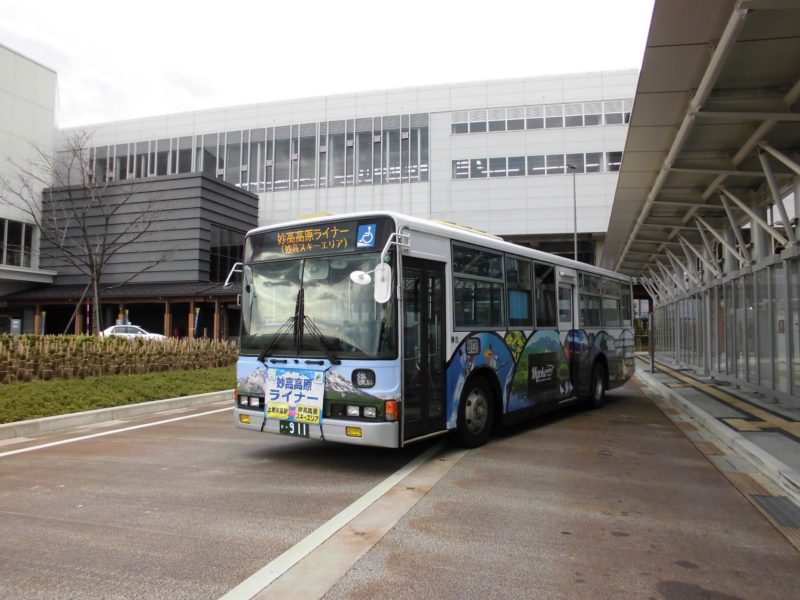 Until last year, the number of flights was 4 round trips a day, but this year the number of flights has been reduced to 2 round trips a day.The reason is that inbound foreign customers cannot be expected due to the spread of the new coronavirus infection.The Keinan Bus says, "Both the upper and lower routes have good connections to the Hokuriku Shinkansen (toward Tokyo), so skiers and tourists visiting from outside the prefecture should definitely use it."
Check the Keinan Bus website for details!
Myoko Kogen Liner
■ Inquiries: Keinan Bus ℡0255-72-3139
http://keinanb