Save up to 3,500 yen on lift tickets with advance purchase of electronic tickets! Use as soon as possible
The "Niigata Ski ONI Discount Campaign" will start on December 24th (Thursday), where lift tickets, rental fees, and snow play experience fees will be significantly discounted for ski resorts in Niigata Prefecture.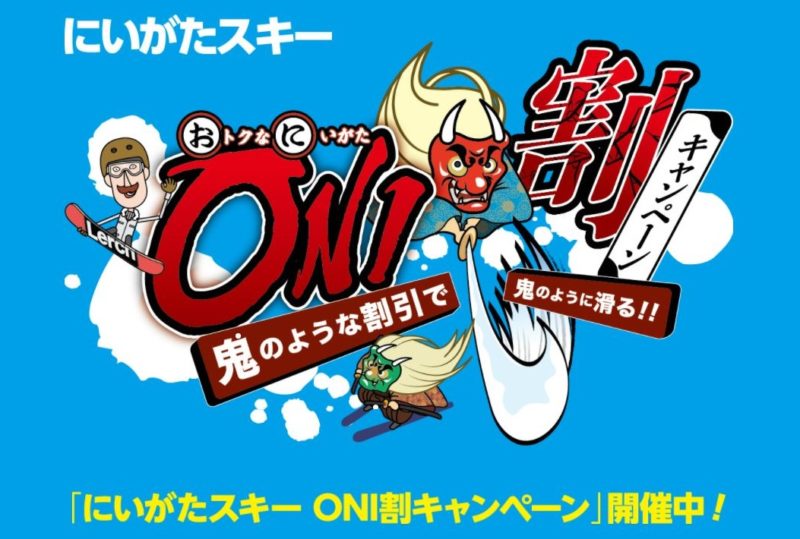 This is one of the emergency measures implemented by Niigata Prefecture to support ski resorts in the prefecture, which are worried about the effects of the corona storm, following the mild winter and light snow last season.If you use the campaign, you can get a discount of up to 3,500 yen for lift tickets (the target number is planned to be about 40,000) and up to 5,500 yen for rental equipment (the target number is planned to be about 8,000).The discount details are as follows.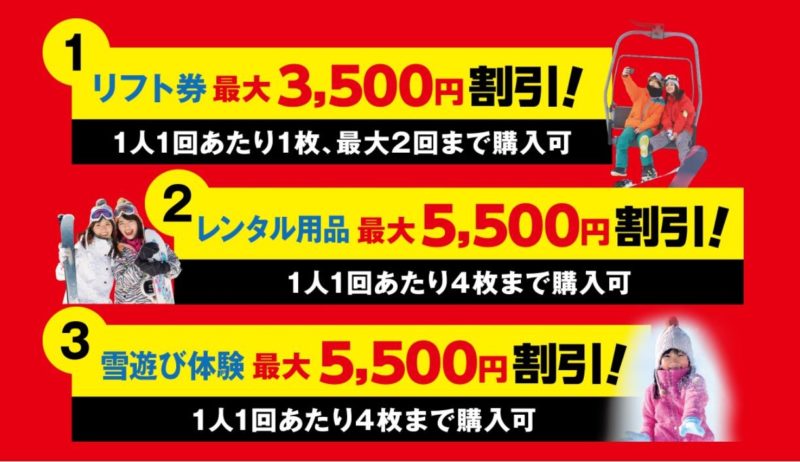 To use the ONI Discount Campaign, you need to apply in advance and purchase an electronic ticket at the purchase site that will open on Thursday, December 24th.
① Access the official website and check if the ski resort you want to use participates in the ONI Discount campaign.
②Access the electronic ticket purchase site "PassMe!" (Membership registration required / free) that will open on the website from the 24th.Apply in advance and make a payment to purchase an electronic ticket (coupon code displayed on the official website is required)
③ Present your electronic ticket at check-in on the day (present your electronic ticket at the reception desk for lift tickets, rental equipment, and snow play experience)
Both the sales period and the usage period are from December 24th (Thursday) to February 28th (Sunday) 2021.Some ski resorts have not participated in the campaign.Not all ski resorts are discounted.Please check the information of participating ski resorts carefully before using.In addition, Niigata Prefecture is issuing an "alarm" regarding the new coronavirus infection.Please refrain from visiting from areas where the infection has spread until January 6, 2021 (Wednesday).
・ The discount amount varies depending on each ski resort.
・ All three types of discounts cannot be used in combination with other discounts.
・ There is a limit on the number of sheets per person.
・ Depending on the snow conditions, the period of use may vary from ski resort to ski resort.
・ Available ski resorts and experience products are limited to those posted on the dedicated site.
・ If the business budget limit is reached even during the period, it will end.
■ Inquiries: ℡0570-000-2287 (Call center dedicated to ONI discount campaign, open all year round from 9:00 to 17:00)
Niigata Ski ONI Discount Campaign Official Website https://niigata-oniwari.jp/