Sake brewery working together with the Aimenkai! New ramen originating from the snow country of Joetsu!
Japanese ramen is popular among noodle lovers all around the world.  Niigata Prefecture, a snowy country, is a well-known for the quality of its ramen, and many famous stores compete to be the best.
Among them, there is a ramen that has been attracting attention in Joetsu City. It is "Yukimuro Sakekasu Ramen" and it is made using ingredients stored and aged in a yukimuro (snow cabin).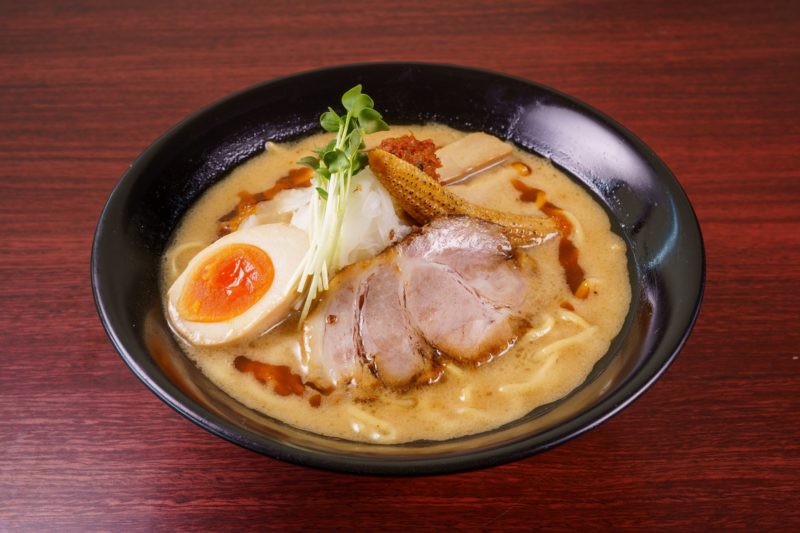 The photograph is an image
"Aimenkai", a group established by some ramen stores in Joetsu City, developed the broth using Sakekasu (the leftovers from the sake fermentation process) to create a ramen unique to the Snow Country of Joetsu.  It is made from locally sourced ingredients and is currently offered in 18 ramen shops in Joetsu City.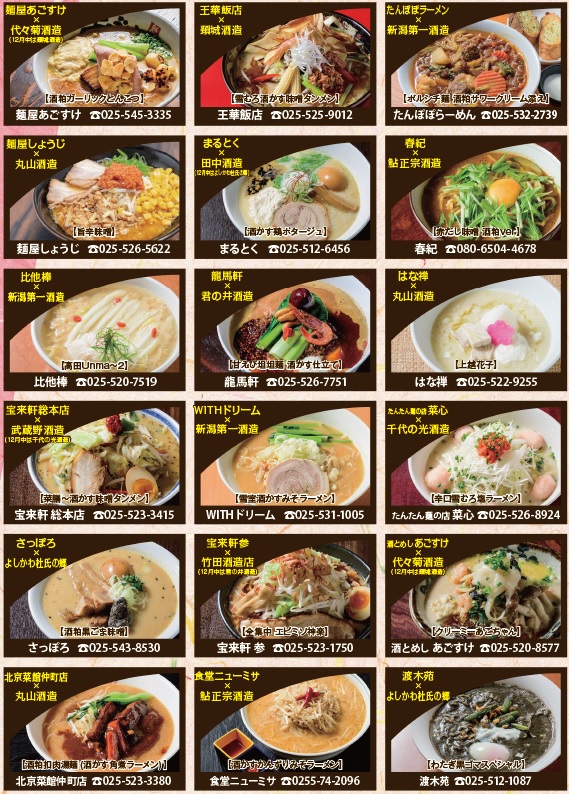 Enjoy this limited-time ramen that can only be eaten in Joetsu!
<18 participating stores>
・ Horaiken Sohonten (4-1-5 Omachi, Joetsu City)
・ Handmade Ramen Marutoku (2287 in front of Shimomonzen, Joetsu City)
・ Ryomaken (8 blocks, 1 block of land readjustment project in northern Kaminakada, Joetsu City)
・ Tanpopo Ramen (1290-56, Shinmeicho, Sanwaku-ku, Joetsu City)
・ Horaiken Sohonten (4-1-5 Omachi, Joetsu City)
・ Pekin Saikan Nakamachi store (4-7-21 Nakamachi, Joetsu City)
・ WITH Dream (2-526-3 Gochi, Joetsu City)
・ Menya Agoske (1650 Shimomonzen, Joetsu City)
・ Menya Shoji (7-11 Sakaemachi, Joetsu City)
・ Hanazen (105-8 Nakatahara, Joetsu City)
・ Wanghua Hotel (3-7-9 Nakamachi, Joetsu City)
・ Beatervan(3-2-59 Higashihoncho, Joetsu City)
・ Tantan noodle shop Nashin (1-12-16 Higashishirocho, Joetsu City)
・ Haruki (213-1 Tai, Itakuraku-ku, Joetsu City)
・ Restaurant New Misa (367 Inariyama, Nakagoku-ku, Joetsu City)
・ Watakien (2-3-11 Nakamachi, Joetsu City)
・ Handmade Ramen Sapporo (194-7, Kamiyoshi, Kubikiku, Joetsu City)
・ Horaikensan (1-12-59 Soybeans, Joetsu City)