A chance to drink a "Kurumagakari" sake at  participating restaurants!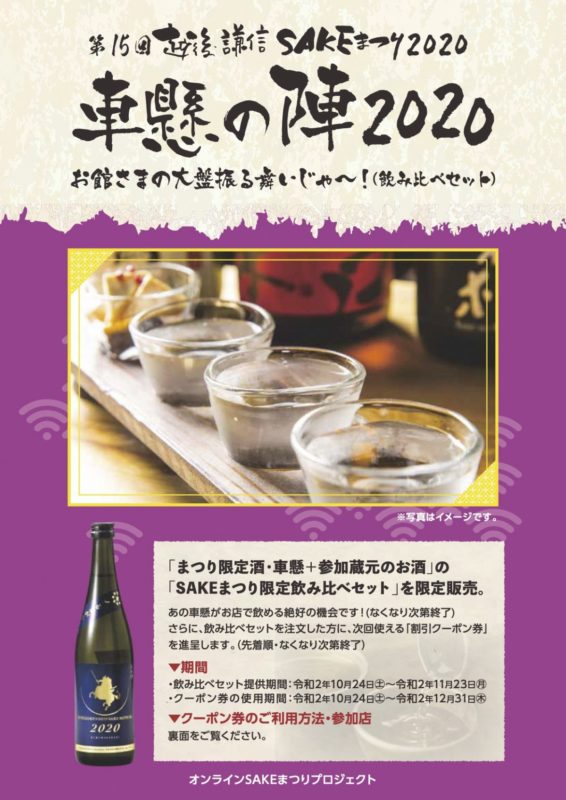 In addition to the "Echigo Kenshin SAKE Festival" being held online this year, a menu will be provided by participating restaurants that allows you to compare local sake.  The period is from October 24th (Sat) to November 23rd (Monday / holiday), and the venue is restaurants around Honcho Shopping Street and Nakamachi in Joetsu City, Niigata Prefecture.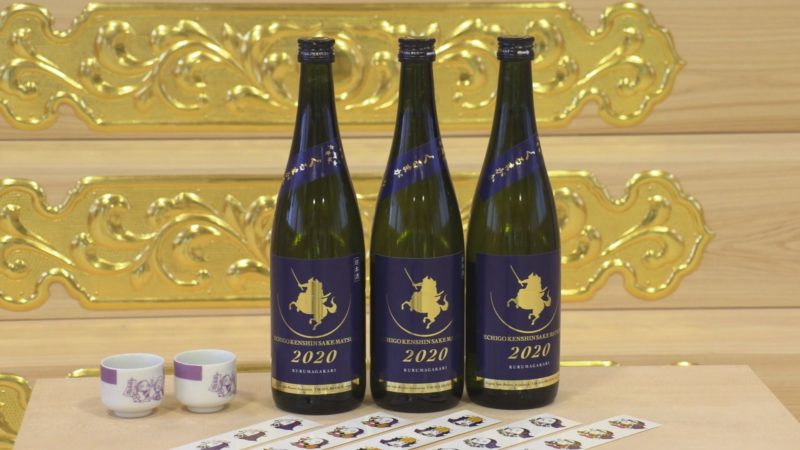 The "SAKE Festival Limited Drinking Comparison Set" is a special menu where you can enjoy the limited sake "Kurumagari" prepared for the festival, and two additional types of sake from the 21 breweries participating in the festival.  Each restaurant selects two types of sake other than Kurumagari.  After the Kurumagakari is sold out, three types of sake selected from 21 breweries will be offered.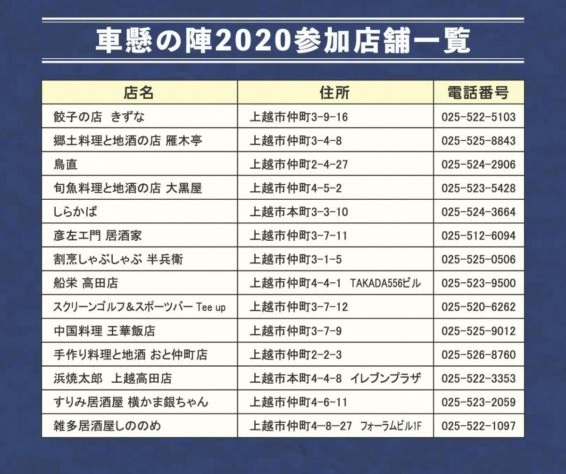 Participating stores are 14 restaurants in Honcho and Nakamachi, Joetsu City.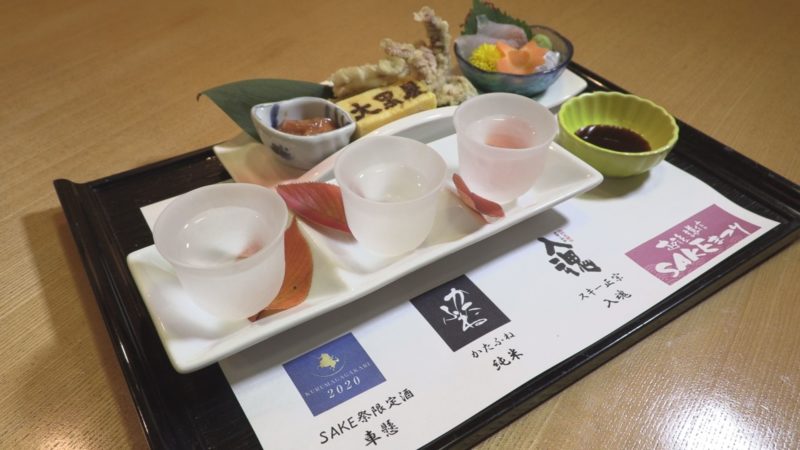 Of these, "Daikokuya" in front of Takada Station offers "Kurumagakari", "Katafune" from Takeda Sake Brewery, and "Ski Masamune" from Musashino Sake Brewery as a set.  There are four snacks: squid marinated in Kanzuri (a spicy condiment) and salt and "koji" yeast, dried squid tempura, two kinds of local fish sashimi, and Japanese omelet.  The price is 1,200 yen (tax included) for the set with sake.  * The style, amount of sake, price, etc. will differ depending on the participating restaurants.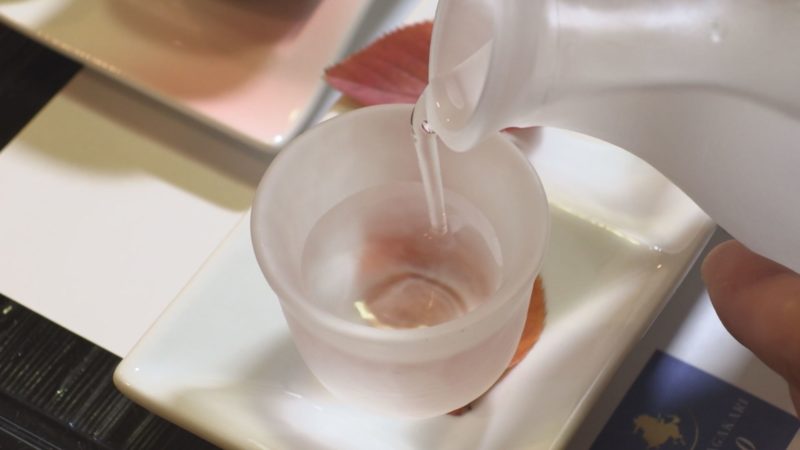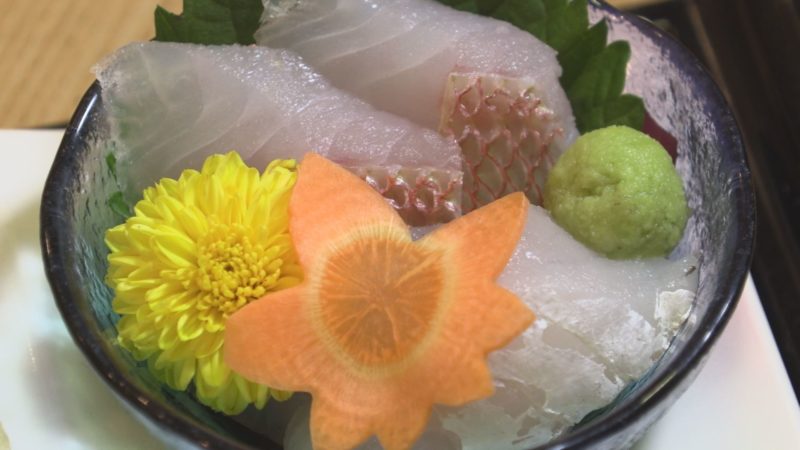 Yusuke Tanaka, chief of Daikokuya, said, "The rice and water are good in this area.  Even if you don't usually drink sake, I would like you to take this opportunity to know about the goodness of sake.  It's a pity that we can't enjoy the festival in Honcho, but I want you to enjoy the festival by enjoying sake tasting at our restaurant."
The festival executive committee also said, "If you go to the participating restaurants, you can drink limited sake, so I want you to feel the atmosphere of the festival at each store."
The drink comparison set will be provided for about one month from October 24th (Sat) on the day of the festival to November 23rd (Monday / holiday).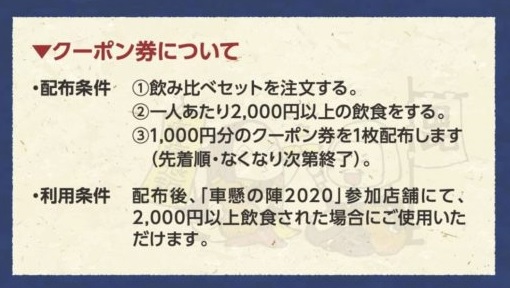 In addition, if you eat or drink at participating restaurants for 2,000 yen or more, including a drink comparison set, you will receive a 1,000yen coupon.  Until December 31st (Thursday), coupons can be used at restaurants that offer drink comparison sets.  For details, check the official website of the Echigo Kenshin SAKE Festival!
For people who read this article,  a coupon (2,000 yen) that can be used at participating restaurants will be presented to 25 people from the "Echigo Kenshin SAKE Festival 2020 Executive Committee".  Click here for details on how to apply.