Let's enjoy learning photography and experience the charm of Nadachi!
The NPO "Developing Nadachi Over The Next 100 Years Association" has the purpose of revitalizing Nadachi district, including the conservation of the "Uyama Yamazakura (wild cherry trees)".
They will hold a lecture, a photo session, and a photo contest entitled "Nadachi-Ward Photo Fair".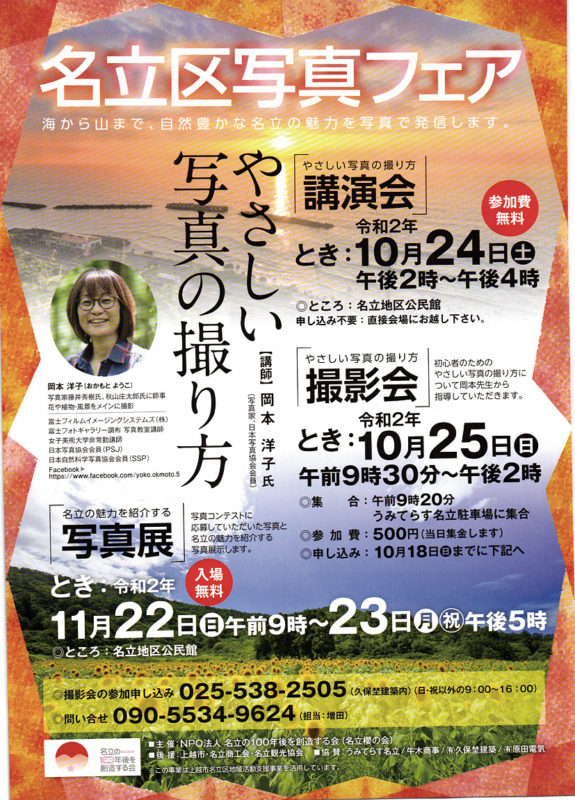 The photo fair is planned as a part of the activities of the NPO association to convey the charm of "Nadachi" through photographs.
At the lecture on Saturday, 24th October, photographer Yoko Okamoto will be invited to explain techniques for taking good pictures for beginners, such as how to choose a photo opportunity, how to compose, and how to blur the background.
At the photo session on the 25th (Sun) the next day, NPO staff will drive around the Nadachi-Ward area and actually take photos of the beech forest and Nadachi-Ward Seaside Park.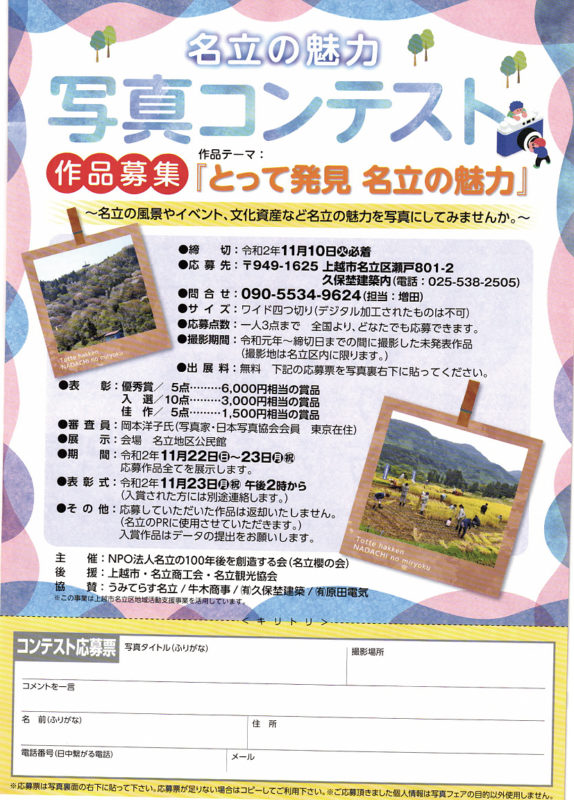 A photo contest will also be held in November.  We are looking for photographs that express the charm of Nadachi- Ward, such as scenery, events, and cultural heritage, under the theme of "Discovering the charm of Nadachi."  Outstanding works will be selected by Yoko Okamoto, and all works will be exhibited at the Nadachi-Ward Community Center on November 22nd (Sun) and 23rd (Monday / holiday).
Mr. Kazuaki Masuda of the NPO "Developing Nadachi Over The Next 100 Years Association" said, "Any photos taken in Nadachi- Ward are welcome.  We are waiting for your best works.  We are still looking for participants for lectures and photo sessions.  Please join us".

Nadachi-Ward photo fair
Lecture "How to take good pictures for beginners"
(Lecturer: Yoko Okamoto, photographer)
■ Date and time: Saturday, October 24, 14: 00-16: 00
■ Venue: Nadachichiku Community Center
* Free admission, no application required
Photo session
■ Date and time: Sunday, October 25, 9: 30-14: 00
* Application deadline has already been completed
Nadachi charm photo contest
■ Period: November 22nd (Sun) and 23rd (Mon / holiday) 9: 00-17: 00
■ Venue: Nadachichiku Community Center
■ Application period: Must arrive by Tuesday, November 10th
■ How to apply:
・The size is wide quartet (digitally processed ones are not allowed).
・ Up to 3 entries per person.
・ The submitted work cannot be returned.  It will be used for PR by Nadachi-Ward.
・ Unpublished works taken between 2019 and the deadline, and must be taken in Nadachi-Ward.
・ Applications can only be made by post.  The submitted work will be mailed with (1) photo title (furigana), (2) shooting location, (3) a comment, (4) name, (5) address, (6) day time telephone number, and (7) email address.
■ Application: 801-2 Seto, Nadachi-Ward, Joetsu City, Niigata Prefecture, 949-1625
       Kubono Architecture
■ All inquiries about the fair: ℡090-5534-9624 (Masuda)
---
reference:Uyama (313m) in Nadachi-Ward, Joetsu City, Niigata Prefecture, is one of the famous site of wild cherry blossom in the prefecture.  In spring, wild cherry blossoms color the entire mountain in light red.
Click here for the video ↓