Only for club members and residents of the Joetsu area
Echigo Tokimeki Railway will hold a special session to board the sightseeing train "Setsugekka" at a special price on November 23 (Monday / holiday).  This is available for citizens and club members in the Joetsu area of Niigata prefecture.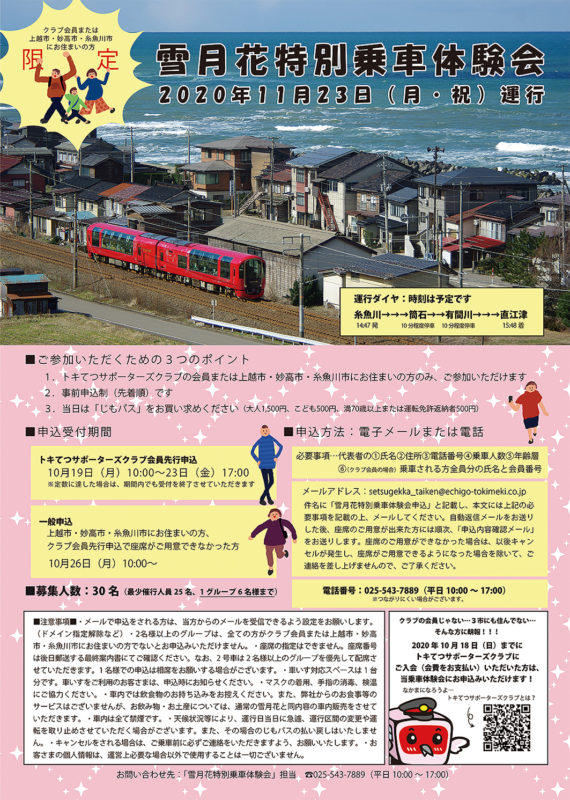 Members of the Tokitetsu Supporters Club and citizens of Joetsu City, Myoko City, and Itoigawa City can participate in the special ride experience event.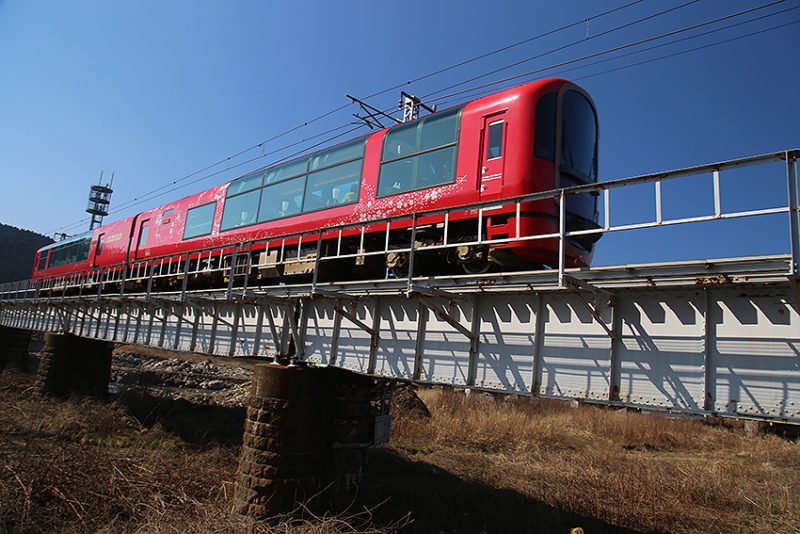 "Setsugekka"  is a sightseeing train that runs in the Joetsu region of Niigata prefecture, where you can enjoy magnificent natural scenery such as mountains and the Sea of Japan, while enjoying exquisite dishes using abundant local ingredients.  Also, guests can enjoy the warm hospitality of the staff.  Throughout all four seasons, you can spend a luxurious time gazing at the scenery from some of the largest train windows in Japan.  The usual ride fee for Setsugekka is 17,500 yen including meals.  You must reserve in advance, and there are usually two trips a day, mainly on Saturdays, Sundays and public holidays. The morning journey is from Joetsu Myoko Station, and the afternoon journey is from Itoigawa Station.
A person in charge of Tokitetsu said, "Setsugekka is a popular sightseeing train nationwide, but I often hear that many locals have never boarded it.  We have planned this ride experience event for the first time so that locals and members of the Tokitetsu Supporters Club can feel free to experience the Setsugekka ride experience."
There is no meal service at this ride experience event, but you can get on if you make a reservation in advance and purchase the "Jimo Pass". The pass is 1,500 yen for adults, and 500 yen for children and the over 70s. 
  * "Jimo Pass" … A pass that allows you to get on and off the regular and rapid trains of Tokitetsu freely.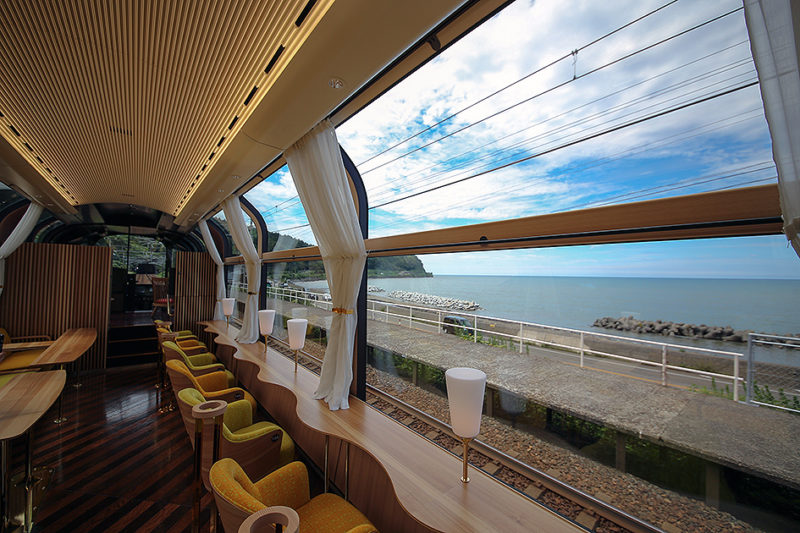 The train runs from Itoigawa to Naoetsu on the day.  It departs from Itoigawa Station at 2:47 pm, stops at Tsutsuishi Station and Arimagawa Station for 10 minutes each, and then arrives at Naoetsu Station at 3:48 pm.
The person in charge of Tokitetsu said, "Thanks to you, we have already received a lot of feedback from this ride experience event.  The capacity is 30 people on a first-come, first-served basis, so it is not always possible to get on if you apply, but please try."
Why don't you take this opportunity to experience the magnificent scenery, ride comfort and hospitality of this popular sightseeing train at a low price?

Setugekka Special Ride Experience
■ Date: November 23rd (Monday / holiday) Itoigawa Station 14:47-Naoetsu 15:48
* Advance application system (first-come-first-served basis, capacity 30 people)
■ Fee: Purchase a Jimo Pass (adult 1,500 yen, child 500 yen, 70 years old or older or driver's license returner 500 yen)
■ Application acceptance period:
[Advance application for Toki Tetsu Supporters Club members]
October 19th (Monday) 10:00 to 23rd (Friday) 17:00 * The application period will end sooner if the maximum number of people has been reached.
[General application (people living in Joetsu City, Myoko City, Itoigawa City, and those Supporter Club members who missed the advance application deadline, or the special reserve seats have been filled)]
October 26th (Monday) 10: 00 ~
■ How to apply: Email (setsugekka_taiken@echigo-tokimeki.co.jp) or phone (℡025-543-7889 / Weekdays 10: 00-17: 00)
Necessary items: Representative ① Name ② Address ③ Phone number ④ Number of passengers ⑤ Age group ⑥ (For club members) Names and membership numbers for all passengers
* When applying by e-mail, please write "Setsugekka Special Ride Experience Application" in the subject line, and fill in the above necessary items in the text and e-mail.
■ Inquiries: "Setsugekka Special Ride Experience" ℡025-543-7889 (Weekdays 10: 00-17: 00)