Toast online this year!
The event "Echigo Kenshin SAKE Festival" is held every year at the Takada Honcho Shopping Street in Joetsu City, Niigata Prefecture.  This year, it will be held online on October 24th (Sat) and 25th (Sun) to prevent infection from COVID-19.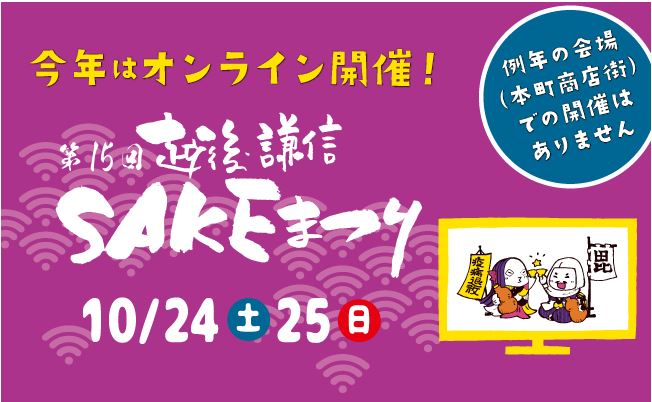 Echigo Kenshin SAKE Festival Official Homepage
This year's SAKE Festival is held online, with 23 breweries participating from Joetsu, Myoko, Itoigawa, and Sado.  On the official website, you will be able to enjoy videos such as introductions of participating breweries, izakaya tours, and introductions of snack recipes that go well with sake.
The opening and toast ceremony will be broadcast live from 11:00 am on Saturday, 24th.  There will also be an introduction of snack recipes created by the culinary specialist Sachiko Kata, and stage events by Hokuragawa Taiko(Japanese drums), PLACE, and S.O.P Street Dance School.
* The opening on Saturday, 24th (11:00 to 12:30) and the ending on Sunday, 25th (15:45 to 16:00) will be shown on a special program broadcast by Joetsu Cable Vision, it will also be broadcast simultaneously on the regional information site "Joetsu Myoko Town Information".
The Official online shop opened!  You can purchase recommended sake!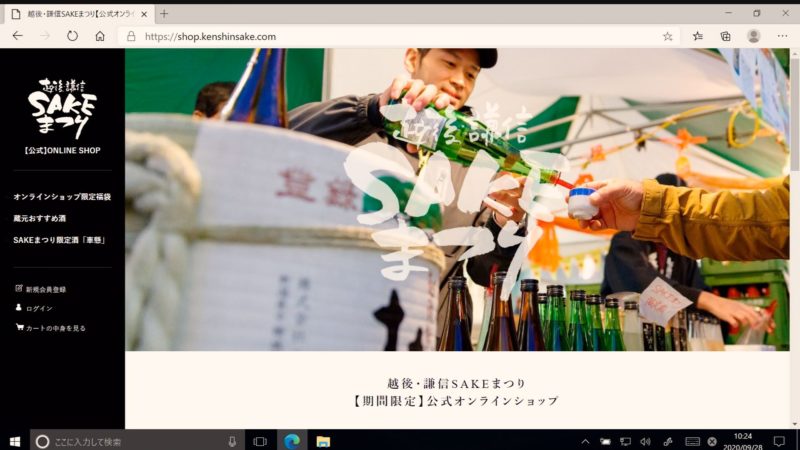 Echigo Kenshin SAKE Festival [Official] ONLINE SHOP
At the official online shop, you can purchase sake recommended by each brewery for the festival.  You can also purchase the popular SAKE Festival limited sake "Kurumagakari" every year.  For this year, Ayu Masamune Sake Brewery is in charge of making this sake. They have made Junmai Ginjo using the sake rice "Gohyakumangoku".  The price is 2,200 yen.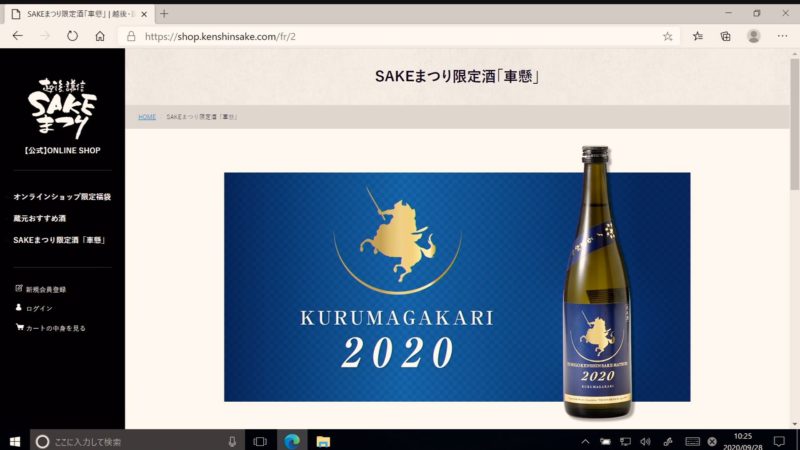 The online shop-only special feature is a lucky bag. You can order either three or six bottles of special sake prepared by 23 breweries for the festival.  Please look forward to which brewery brands and sake will be waiting inside! 
The lucky bag also contains the 2020 version of the tasting Ochoko(glass).
A set of three with one Ochoko is 6,050yen including shipping and tax.  A set of six with two Ochoko is 12,100yen.  Products will be shipped within the specified period with three ordering periods.
■ 1st deadline: October 11th (Sun) 24:00 ⇒ Shipping period: October 12th (Monday) to 16th (Friday)
■ 2nd deadline: October 18th (Sun) 24:00 ⇒ Shipping period: October 19th (Monday) to 22nd (Thursday)
■ 3rd deadline: October 26th (Monday) 24:00 ⇒ Shipping period: October 27th (Tuesday)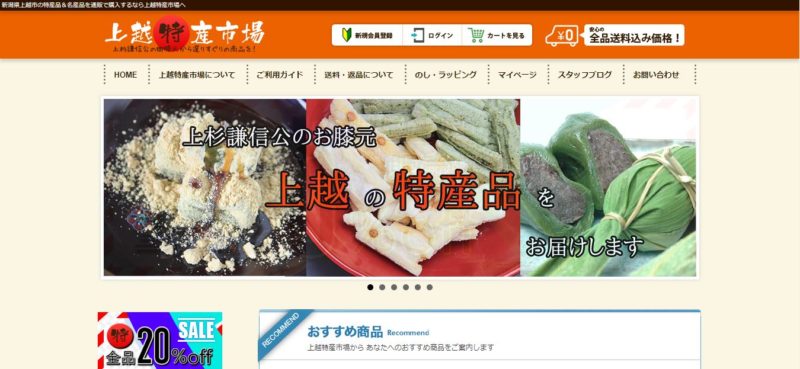 Joetsu Specialty Market ONLINE SHOP
In addition, the official website has a new online shop, "Joetsu Specialty Market," where you can easily buy small snacks and delicious gourmet food from Joetsu.  The shop has a variety of Joetsu special products such as certified products made in Joetsu, and snow room products that take advantage of the climate of the Joetsu region.  Please check this out as well.