We sell limited sake brewed for "2021 Niigata Sake No Jin"
There are four antenna shops in Tokyo that sell special products of Niigata prefecture.These are "Bridge Niigata", "Omotesando / Niigatakan Nespass", "NIIGATA1 ○○", and "Yukiguni Shoten".The four stores will jointly hold the "Niigata Sake No Jin Limited Sake Festival" from Saturday, March 13th to Sunday, March 14th.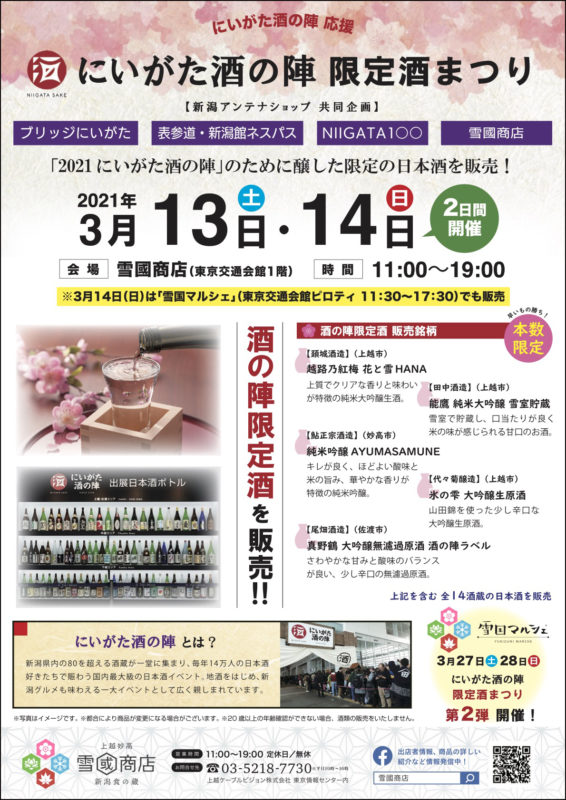 The Niigata Sake No Jin, held in Niigata City, is one of the largest sake events in Japan.More than 80 sake breweries in Niigata Prefecture participate, and 140,000 sake lovers gather every year.
This year it was canceled due to the corona wreck.However, in order for sake lovers in Tokyo to enjoy the limited sake of "Niigata Sake No Jin", the "Limited Sake Festival" will be held jointly by the Niigata Antenna Shop.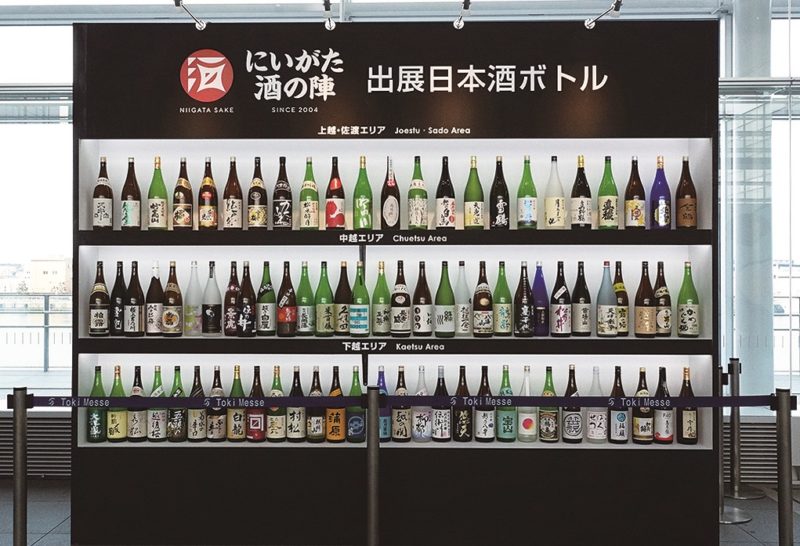 State of the past Sake No Jin (part of the exhibited sake)  
This is a valuable opportunity to get limited sake in the metropolitan area.Please come and visit us.
* Product photo is an image * If you cannot confirm the age of 20 years or older, we will not sell alcoholic beverages.
Niigata Sake No Jin Limited Sake Festival
■ Period: March 13th (Sat) and 14th (Sun)
■ Participating stores:
Bridge Niigata
Address: 1-6-5 Nihonbashi Muromachi, Chuo-ku, Tokyo Daishi Tokyo Building 1F
Phone: TEL03-3243-2840
Omotesando / Niigatakan Nespass
Address: 4-11-7 Jingumae, Shibuya-ku, Tokyo
Phone:TEL03-5771-7711
NIIGATA1○○
Address: 1-7-1 Uchisaiwaicho, Chiyoda-ku, Tokyo (in Hibiya OKUROJI)
Phone:TEL03-6910-2058
Yukiguni Shoten
Address: 2-10-1, Yurakucho, Chiyoda-ku, Tokyo Tokyo Kotsu Kaikan 1F
Phone:TEL03-5218-7730(Joetsu Cable Vision Co., Ltd. Tokyo Information Center )
---
Yukiguni Shoten "Niigata Sake No Jin Limited Sake Festival"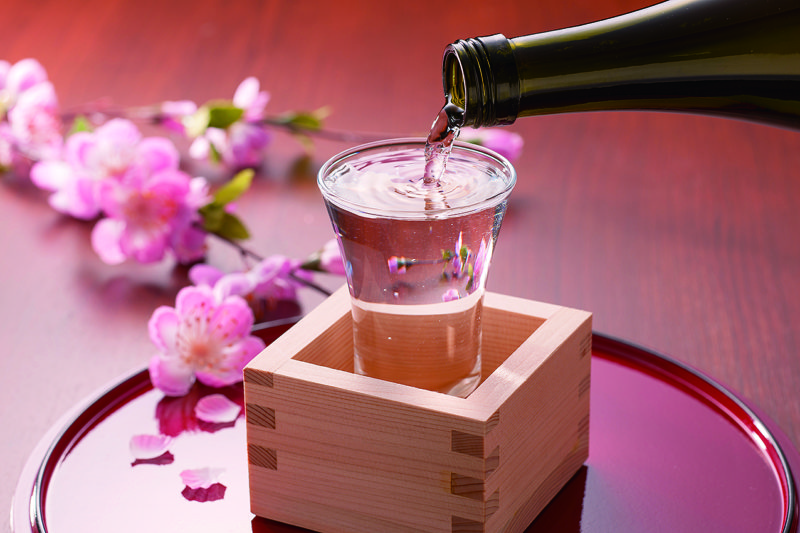 ■ Date: March 13th (Sat), 14th (Sun) Yukiguni Shoten 11: 00-19: 00, Yukiguni Marche 11: 30-17: 30
■ Venue: Yukiguni Shoten * Sold at Snow Country Marche (Tokyo Kotsu Kaikan Piloti) on the 14th
■ Sake No Jin limited sake sales brands (limited number)
[Kubiki Sake Brewery] (Joetsu City) Koshijinokobai hana to yuki HANA
Junmai Daiginjo Sake, which is characterized by its high-quality, clear aroma and taste.
[Tanaka Sake Brewery] (Joetsu City)  Notaka Junmai Daiginjo Yukimurochozou
A sweet sake that is stored in a snow room and has a pleasant taste and a taste of rice.
[Yoyogiku brewing for generations] (Joetsu City) Koori No Shizuku Daiginjo raw sake
A slightly dry Daiginjo raw sake made with Yamada Nishiki.
[Ayu Masamune Sake Brewery] (Myoko City) Junmai Ginjo AYUMA SAMUNE
Junmai Ginjo is characterized by its sharpness, moderate acidity, rice flavor, and gorgeous aroma.
[Obata Sake Brewery] (Sado City) Manozuru Daiginjo Unfiltered Raw Sake Sake No Jin Label
A slightly dry unfiltered unfiltered sake with a good balance of refreshing sweetness and sourness.
Yukiguni Shoten sells limited sake in Niigata prefecture in addition to the above, mainly in sake breweries in the Joetsu Myoko area.
In addition to this, Yukiguni Shoten and Yukiguni Marche have a large selection of local sake and delicious food from Joetsu Myoko.Please come and visit us.