You can experience everything in the snowy country!
"YUKISATO LODGE", a renovated, old Japanese-style house, and a base for having fun in the snow, will open on Saturday, October 10th.  The lodge is located in the Okazawa district of Nakago-ku, Joetsu City, Niigata Prefecture, which is known for its heavy snowfall.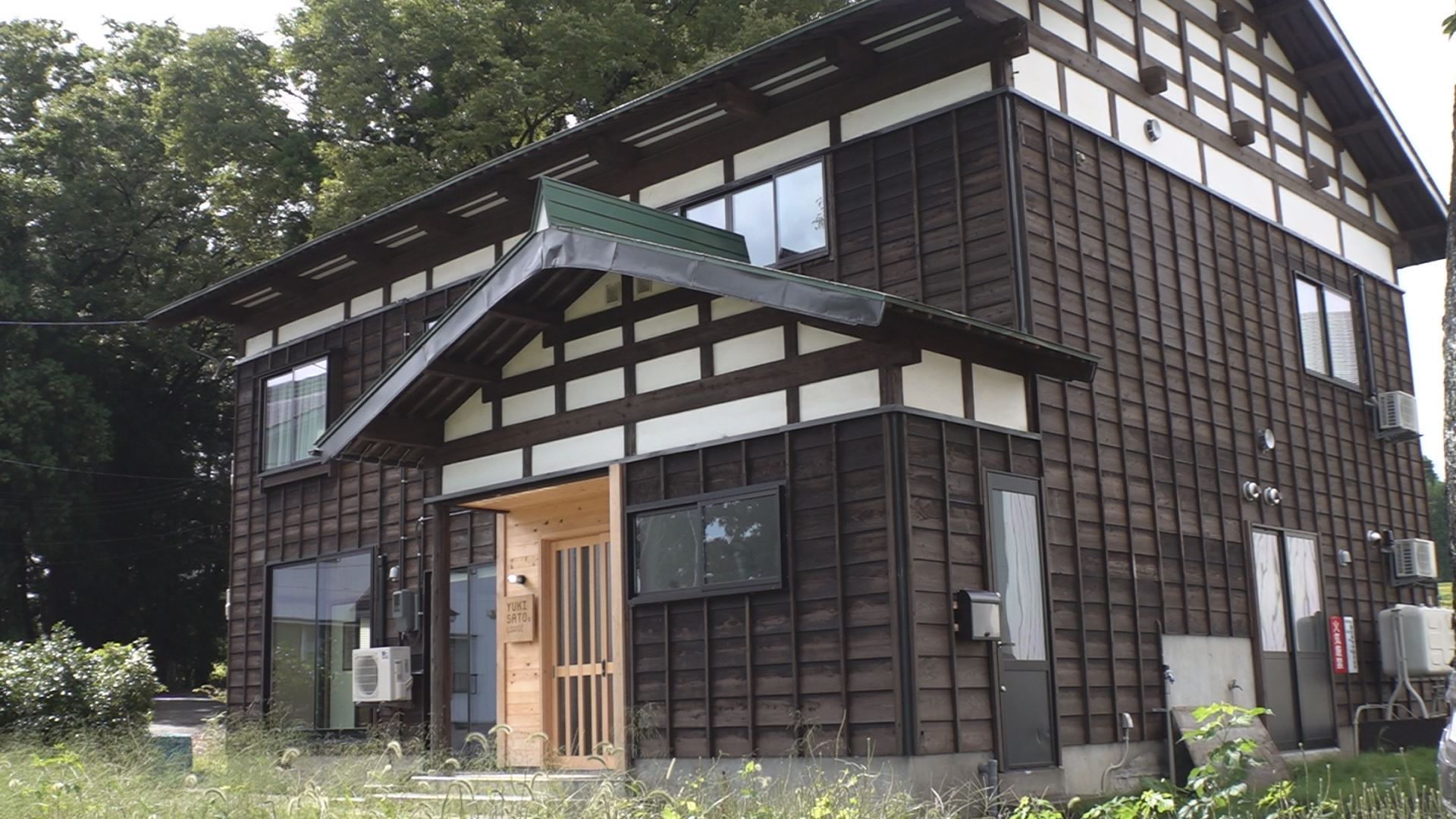 Accommodation at "YUKISATO LODGE"
It is run by Takuya Tsukada, CEO of Studio Japaho, a company that develops IT and snow business-related companies in Tokyo.  After gaining various experiences such as working at a major overseas resort company, starting a business in Tokyo, and commercializing the first helicopter & CAT tour in Japan, Mr. Tsukada fell in love with the nature in Okazawa, Nakago-ku, Niigata Prefecture.  He moved here permanently four years ago.

Before moving, he developed the "Yukisato Project", an experience-based tourism business that plans field tours on snowmobiles and snowshoe tours in the vast nature of Nakago Ward.  It is a business that has attracted widespread attention as a snow business, centered on inbound tourists.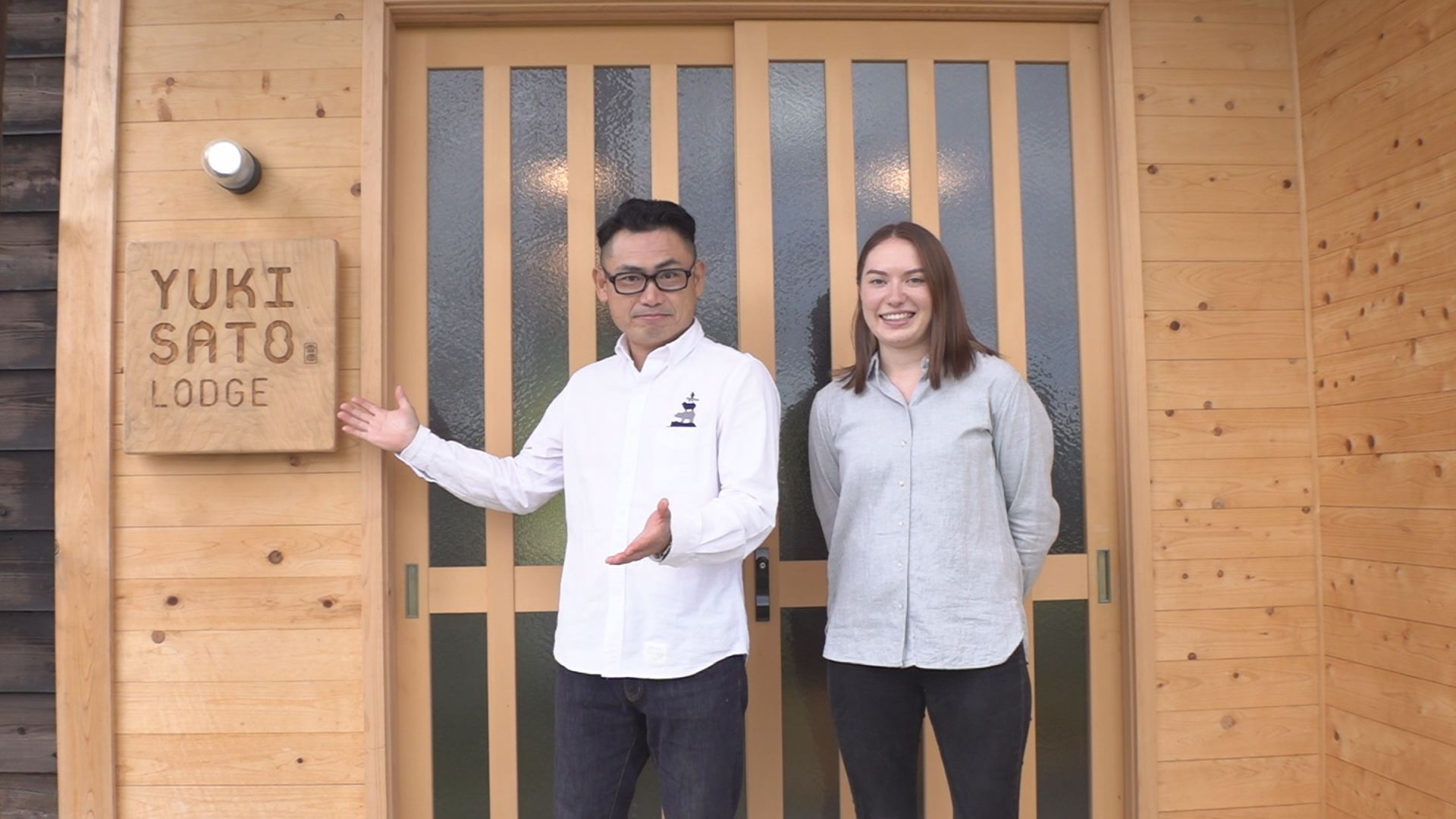 Takuya Tsukada, CEO of Studio Japaho       Staff, Erika Suzuki Pender
Mr. Tsukada said, "So far, at the Yukisato Project, we provide "learning" and "playing".  Next, we hope to create a lodge where our customers will stay for a long time, and experience various things that can only be done in the Nakago area."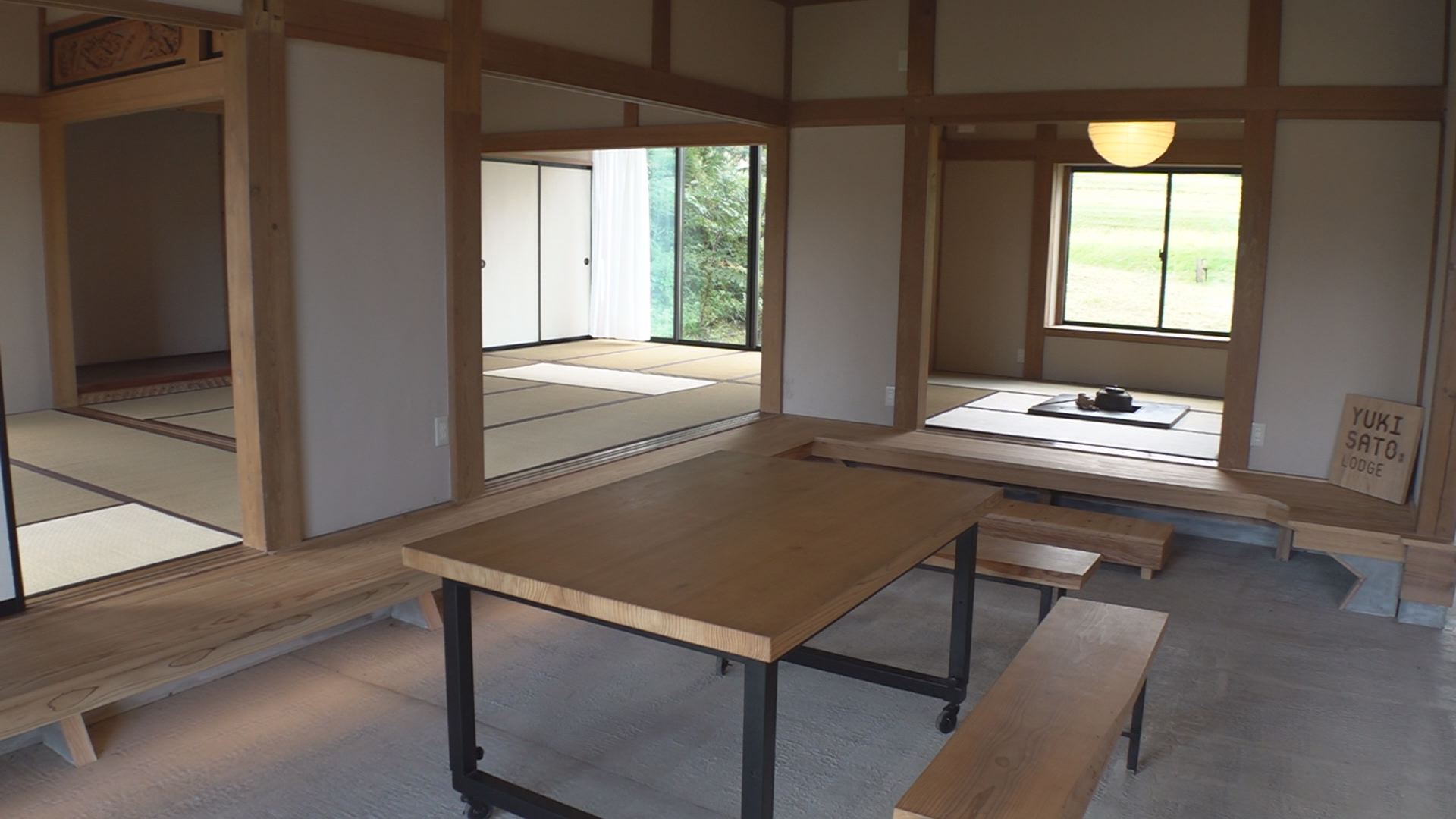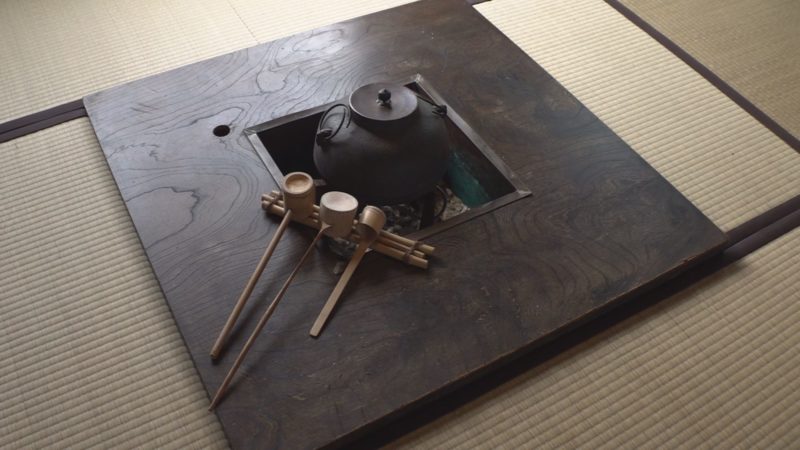 Okazawa cedar is used for the building  Some rooms have the original beams from the house
The completed lodge is a 40-year-old renovated, private house.  It has a traditional earthen floor and a traditional Japanese hearth (Irori).  There are four rooms, from for two to five people.  Room rates start from 22,000 yen per room.  On the first floor, there is a large hall that can be used for workshops and a kitchen for self-catering.  You can use it for various purposes without staying overnight.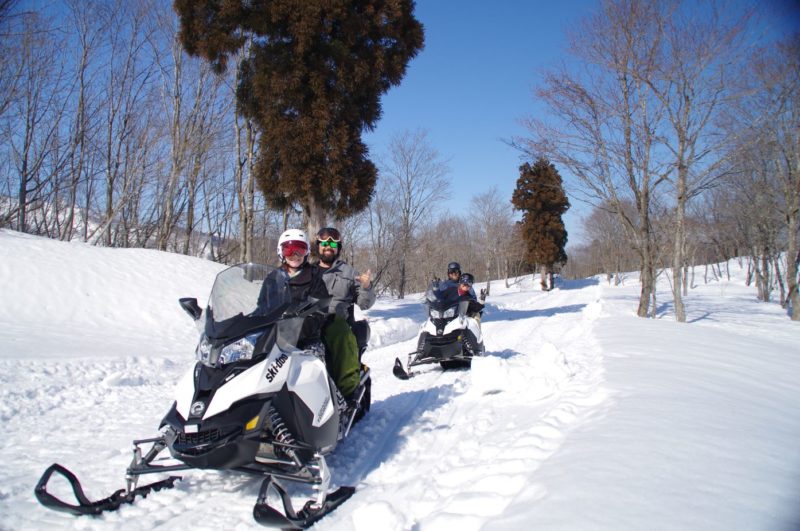 In addition to being a base for snow activities in winter, we are also planning an "e-bike" (a bicycle with an electric motor) tour. The tour runs along forest roads from the autumn.  In addition, the lodge is likely to become a prime location for experiencing nature throughout the year. Possible future activities include farming and other workshops.
Mr. Tsukada said, "Here you can enjoy delicious food, beautiful scenery, and superb views of the snowy country."


Click here for the video of "YUKI SATO LODGE" ↓ ↓
Video courtesy of YUKISATO
YUKISATO LODGE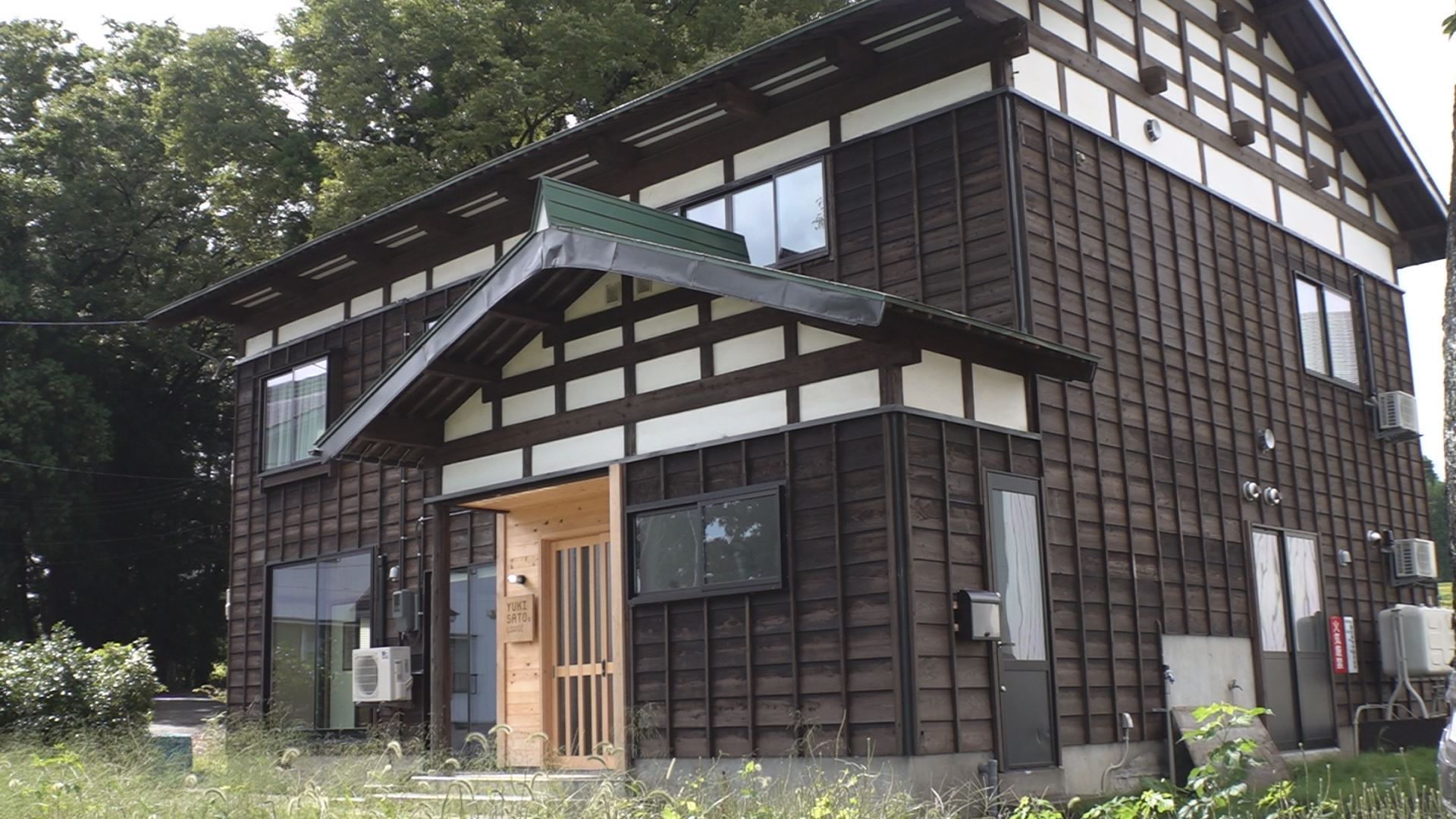 Address: 1073 Okazawa, Nakago-ku, Joetsu City, Niigata Prefecture
Access: About 30 minutes from Joetsu IC on the Hokuriku Expressway
URL: https://yuki-sato.jp/lodge/