Experience the outdoors with nothing! Enjoy glamping and tent saunas in national parks!
On July 15, "ALPEN BLICK Outdoor Base," a facility where glamping can be enjoyed with nothing, opened at the Alpenblick Resort in Ikenodaira, Myoko City, Niigata Prefecture.
Alpenbrik Resort offers a wide variety of attractions throughout the year in the great nature of Myoko, including a hotel, ski slopes, a mountain bike park, restaurants, and a day spa. The newly developed "Outdoor Base" is a glamping facility.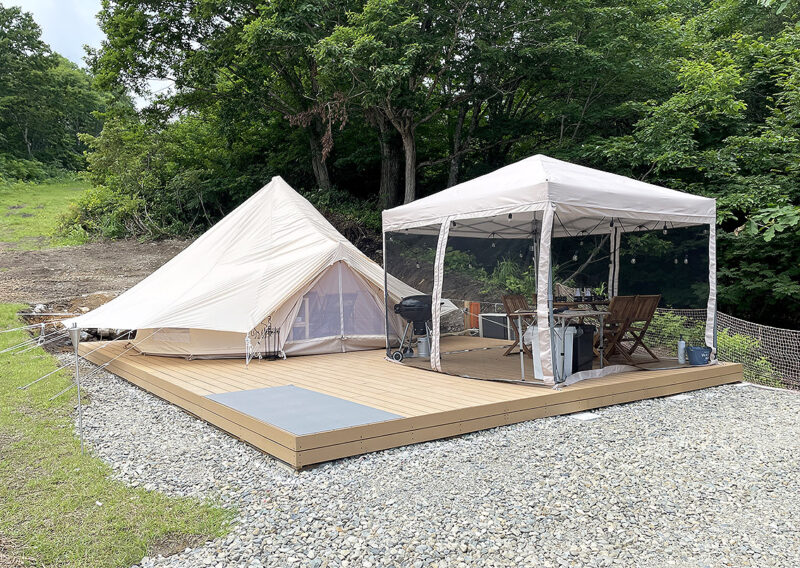 A glamping area has been established on the slopes a couple of minutes uphill from the hotel, with four tents set up.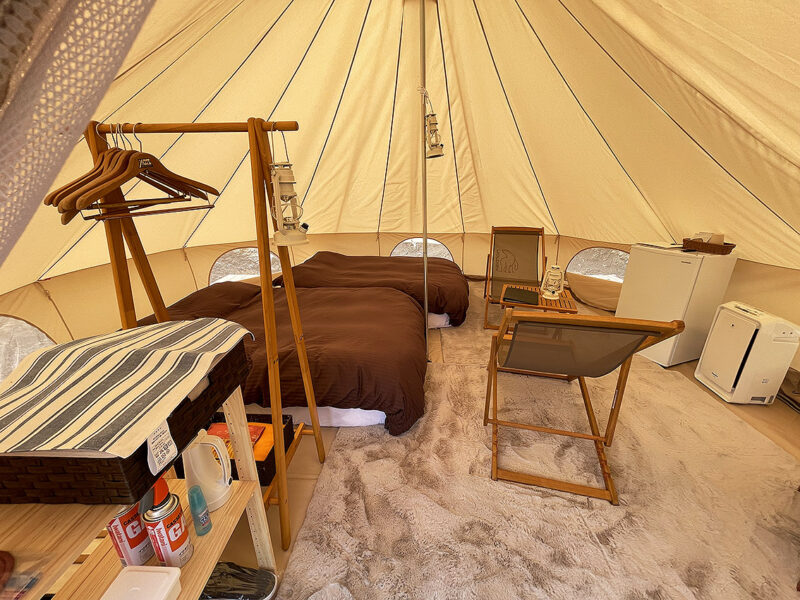 The bell tents are 5 meters in diameter and are equipped with two double beds, air conditioning, air purifier, refrigerator, chairs and tables, insect repellent, etc. They can accommodate from one to a maximum of four people.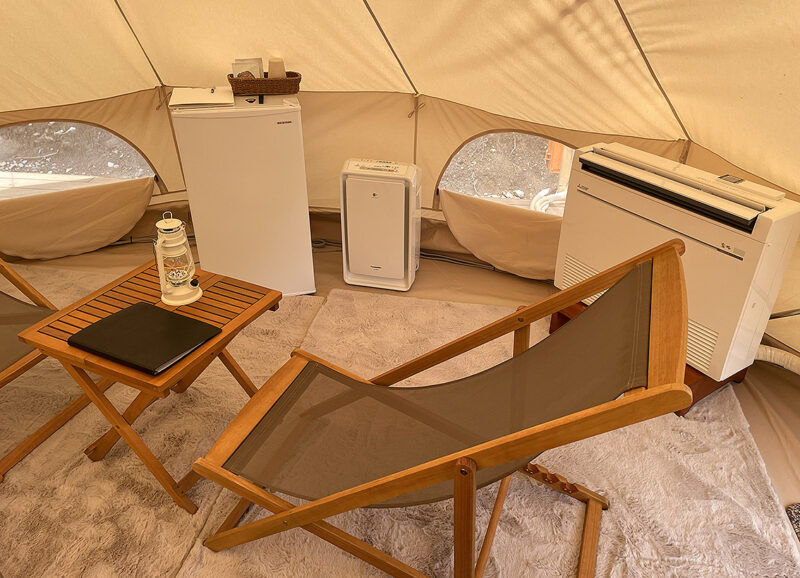 The refrigerator contains three bottles of Alpenbrick beer, one 2-liter bottle of water, and two 500-milliliter bottles of tea.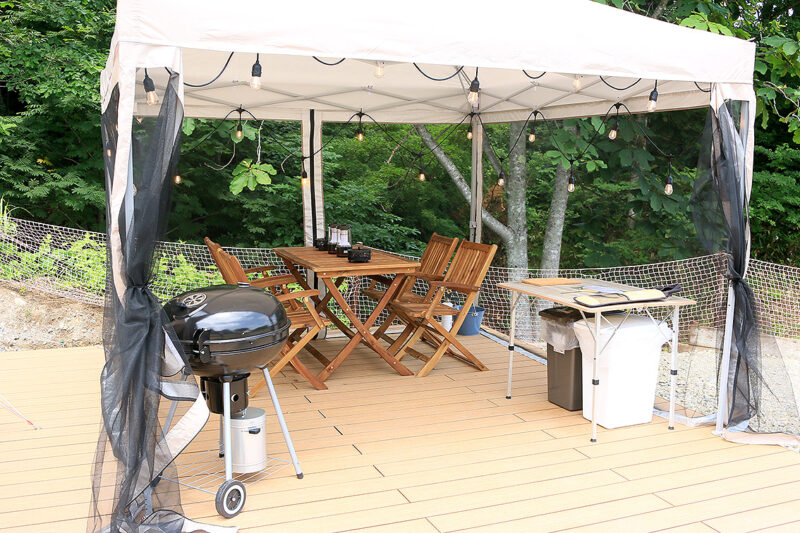 A tarp is set up next to the tent and is equipped with a table, chairs, and a barbecue grill for enjoying meals. Food for the barbecue can be prepared in a plan with ingredients or as a separate option. You can also choose a plan that includes meals at the hotel restaurant or at the Tatra Pavilion adjacent to the hotel.
Rates start at 12,610 yen per person per night (including tax) for an overnight stay on weekdays with no meal, and an additional 150 yen bath tax is charged for junior high school students and older. The fee includes use of the hotel's indoor and outdoor baths, as well as a bonfire set to be enjoyed in the fire pit.
There is a dog run in the area, and only one of the four tents is dog-friendly.
The glamping area is also equipped with two much talked about tent saunas.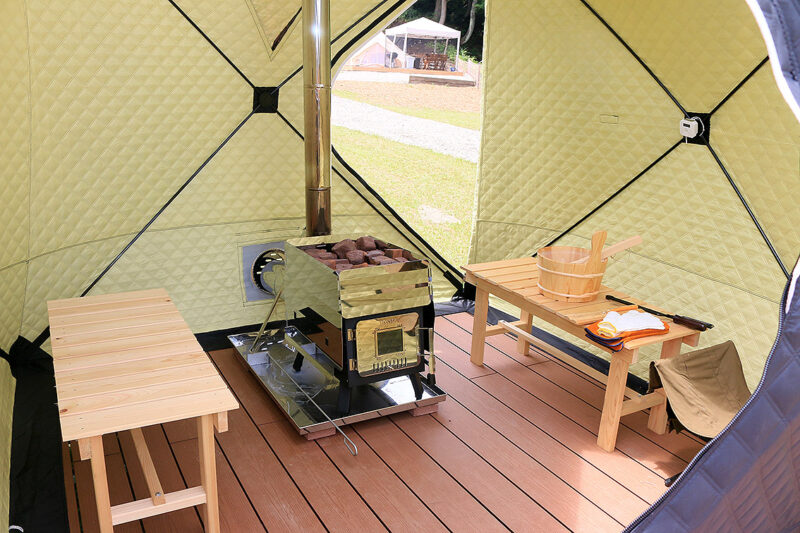 For a 3-hour time rental, you can enjoy the experience from the preparation of the tent, such as putting wood on the stove inside the tent. Tent saunas are available for up to 4 people, and the fee is 5,000 yen for the morning and 8,000 yen for the evening, per tent.
Reservations for glamping are already being accepted. You can do so at Nappu, a website specializing in campground reservations. Please also click here to use the tent sauna.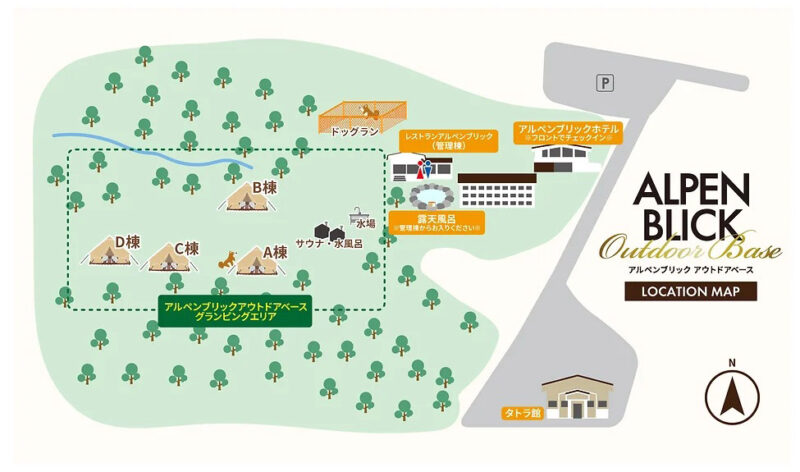 Preparation and construction of the outdoor base began around May of this year. Until now, Hotel Alpenblick has not allowed guests to stay with dogs or pets, and in response to those requests, a new glamping area is being built. Currently, there is only one tent that can accommodate dogs, but if it is well received, they plan to add more tents in the future.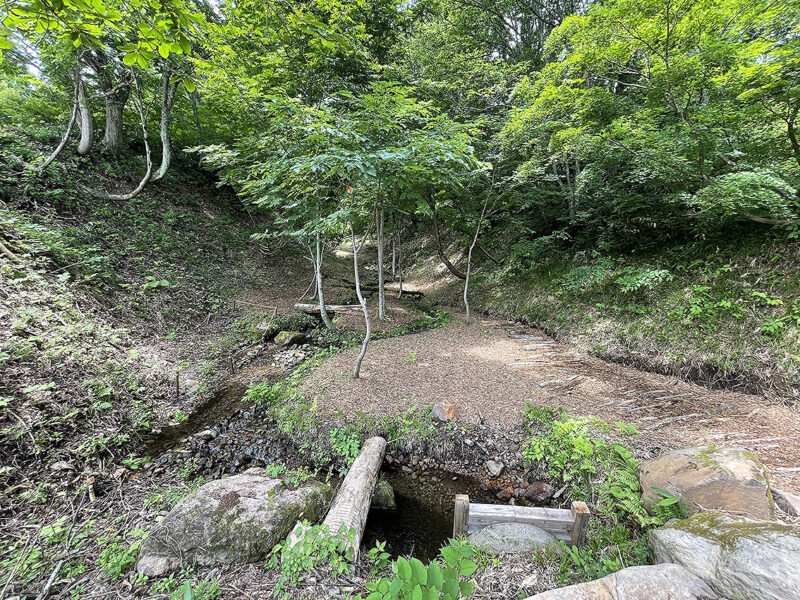 Stream running through the outdoor base
Alpenbrick Outdoor Base
Located in a national park, the Outdoor Base is a luxurious outdoor space where you can enjoy the richness of nature in a quiet forest, with babbling streams, the sound of insects, and a star-filled sky. If you are lucky, you can even spot fireflies and stag beetles. Along with glamping, be sure to enjoy the entire Alpenblick Resort, including the open-air baths mixed with black mud and Alpenblick beer."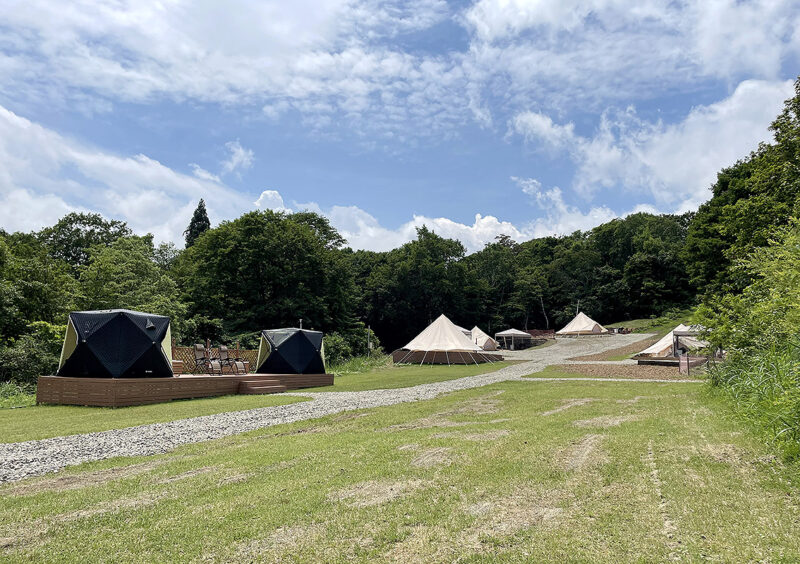 Facility Information
---
ALPEN BLICK Outdoor Base
■address :2452 Ikenodaira Onsen, Myoko City, Niigata Prefecture, Japan
■TEL:0255-86-3180(Hotel Alpenblick)
■Operating period: May to the end of October
■check-in:14:00
■check-out:10:00
■application:https://www.nap-camp.com/(Search for "outdoor base" on the campsite reservation site Nappu.)
■HomePage:https://www.alpenblick-resort.com/outdoorbase
■Instagram:@alpenblick.resort
ALPEN BLICK Outdoor Base