【Fawn doll Honcho】
Introducing drinks and desserts that you should definitely try this summer from "Fawn doII", a bakery operated by "Confectionary Kanoko" located in Honmachi 5-chome, Joetsu City, Niigata Prefecture!


First of all, we have chosen a popular tapioca drink amongst young people.
Tapioca drink
(Hokkaido milk tea/houjicha latte 400 yen Sanwa milk milk tea 500 yen *tax excluded)
There are 3 types of drinks with plenty of tapioca.  "Hokkaido Milk Tea" that uses milk delivered directly from Hokkaido, "Sanwa-Milk Milk Tea" that uses local Sanwa milk, and "Hōjicha latte".  Tapioca is the star attraction and is handmade by "Kanoko"!
The bakery is managed by Kanoko, who use their expertise to enhance the flavor of the tapioca. The mild-sweet characteristic of the tapioca is made by kneading it with brown sugar.
Sanwa-milk milk tea is matched with sweet tapioca for a refreshing taste.  Houjicha latte uses houjicha that is boiled from tea leaves.  Tapioca drinks are sold from 10:30 am.
And what I want to have with this drink……?
Fruit sand from 280 yen (excluding tax)
The fruit sandwich, which uses plenty of seasonal fruits, seems to have been made in the image of flowers. It looks really cute too.
There is also bread available limited to the summer season!
And, what has come from the freezer…?
Ice melon bread 150 yen (excluding tax)
Its name is "Ice-Melon-Bread". The bread is baked, fresh cream is added, and then it is frozen.  It feels cool and is perfect for the coming summer season.  It is not on display, so please ask the store clerk if you would like one.
If you buy fruit sandwiches, ice-melon-bread and a tapioca drink together, you can get a 50-yen discount.  Please try it♪
Pan Kobo Fawn doll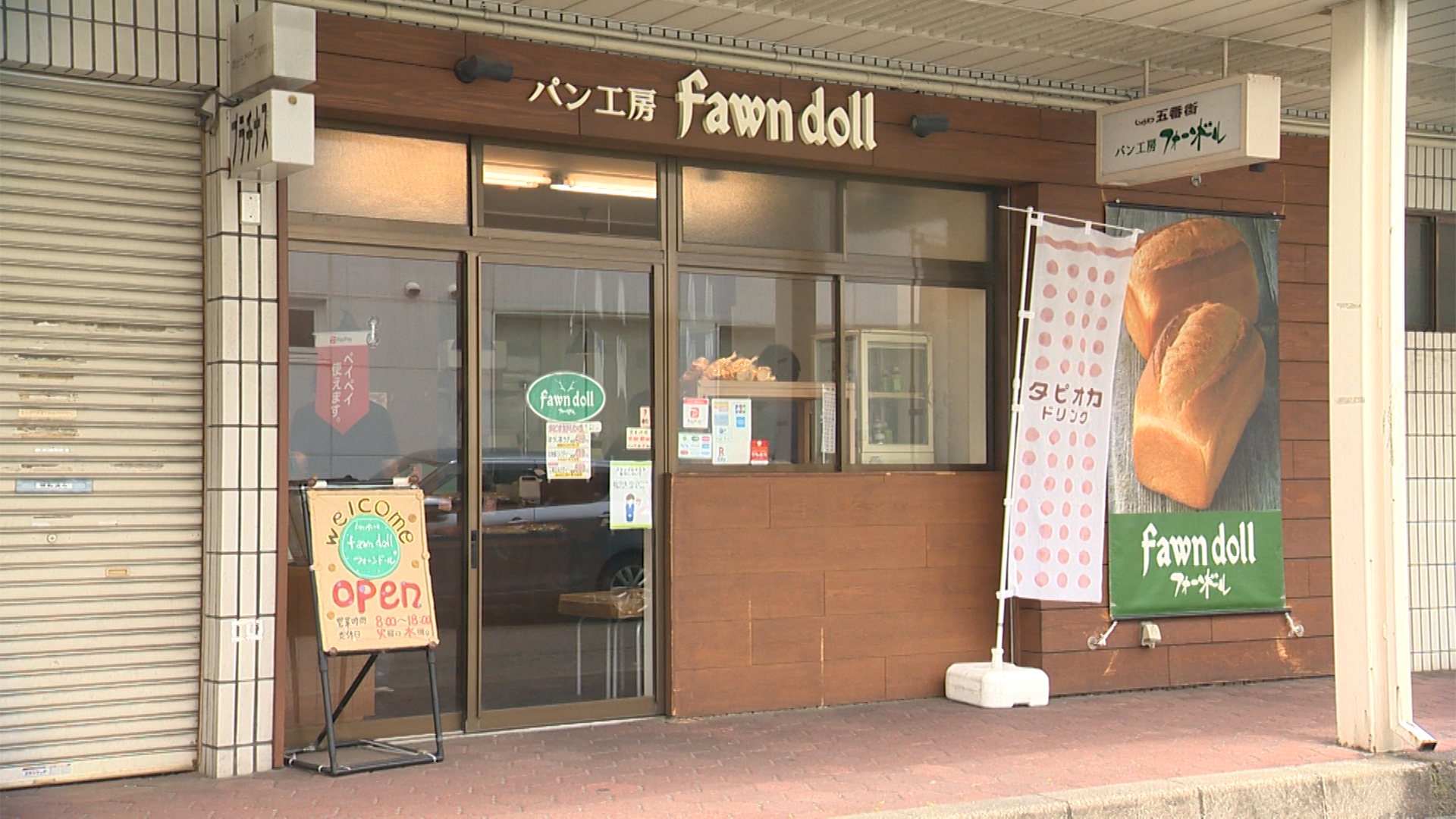 Regular holiday: Tuesday and Wednesday
Address: 5-5-13 Honcho, Joetsu City, Niigata Prefecture
Tel: 025-524-3773
Access: <Walk> 5 minutes from Echigo Tokimeki Railway Takada Station