Grooms soar through the snowy mountain in a traditional event!
Mukonage, a traditional event in the Matsunoyama area of Tokamachi City, Niigata Prefecture, celebrates marriage by throwing newlywed men down a snowy slope.Three couples received blessings from the community at the Mukonage held at Matsunoyama Onsen Yakushido on Sunday, January 15.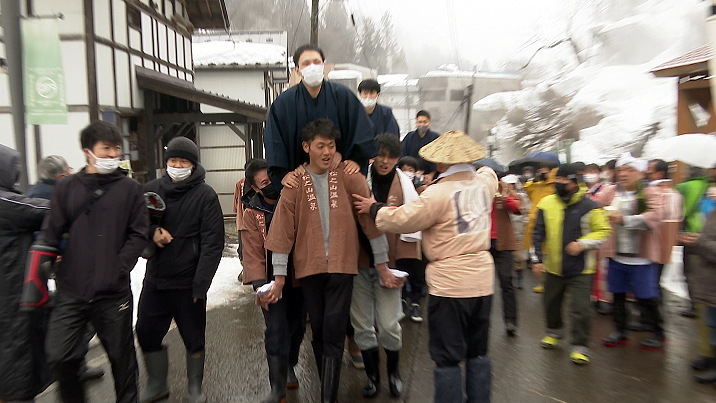 Mukonage is a small New Year's event that has been handed down in the Matsunoyama area since the Edo period.It started when a woman from a local village and a man from another community threw their male son-in-law onto the snow in anger over their marriage.Today, it is a custom to celebrate newly married couples.This year, three couples applied from the general public.Sisters Haruka Shiga and Seiko Taguchi, both from their hometown of Matsunoyama Minoke, Haruka's husband Yoshiaki Shiga, who lives in Tokamachi City, and Seiko's husband Ryo Taguchi, who lives in Uonuma City, as well as Amu Sato from Saitama Prefecture, played the leading roles in the event.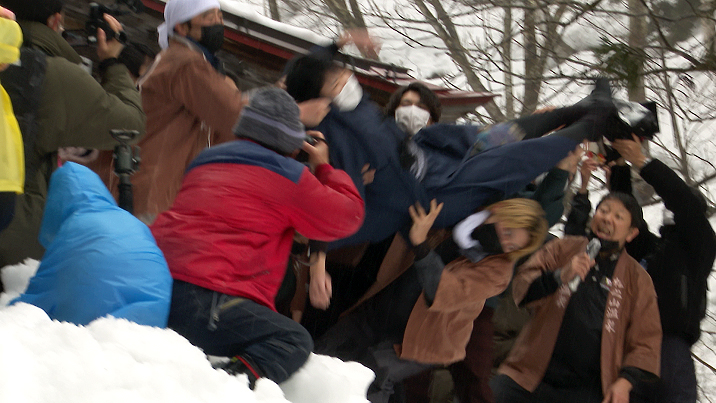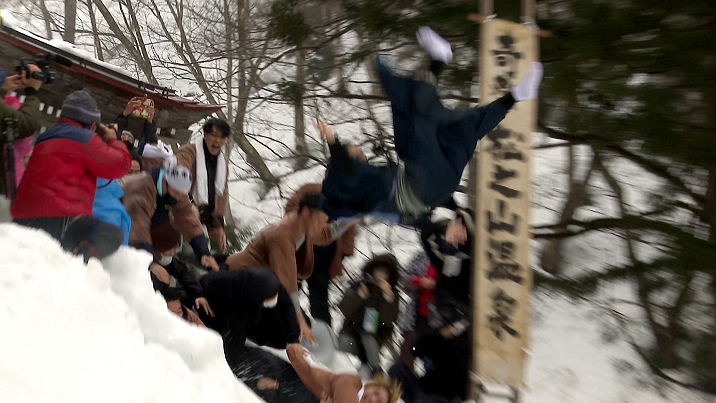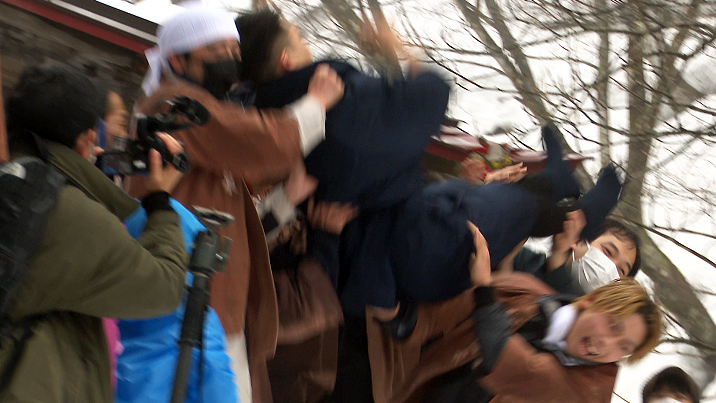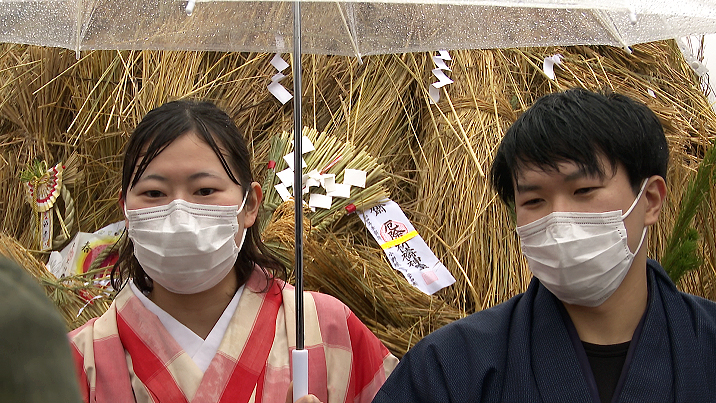 Yoshiaki Shiga
I was nervous right before the throw, but the moment it happened it felt really good.The snow didn't hurt either, so I was able to fly comfortably.I want to create a warm family where everyone is healthy, and although we may quarrel, we can strengthen our bonds with each other each time we quarrel.
His wife, Haruka
I'm glad it flew better than I thought it would.We want to make a home where we can always laugh with each other.I am told that this is the first time sisters have participated in this event.We are very honored that everyone was able to celebrate in a grand way while the corona was also eased.Although I live nearby, I had never attended this event before.Personally, I have been indebted to the people of the spa town, and I am glad that I was able to cooperate with them, in a way, to return the favor.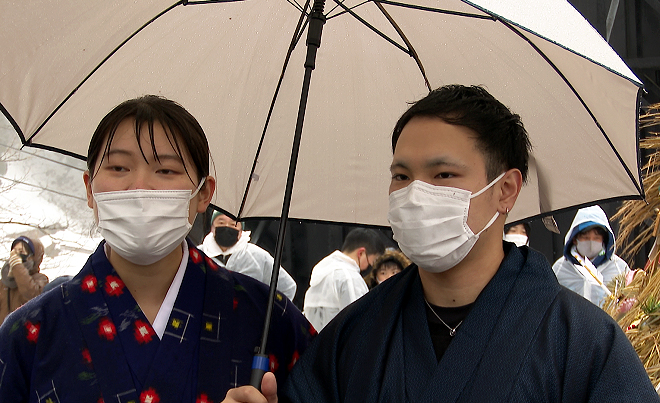 Ryo Taguchi
I feel amazingly refreshed and ready to do well for the year.I want to build a happy and warm family with my future child.
His wife, Seiko
Good thing I flew high.We want to build a home where each family member can enjoy their time together.A rare opportunity to attend with my sister.I'm glad they let me fly with them.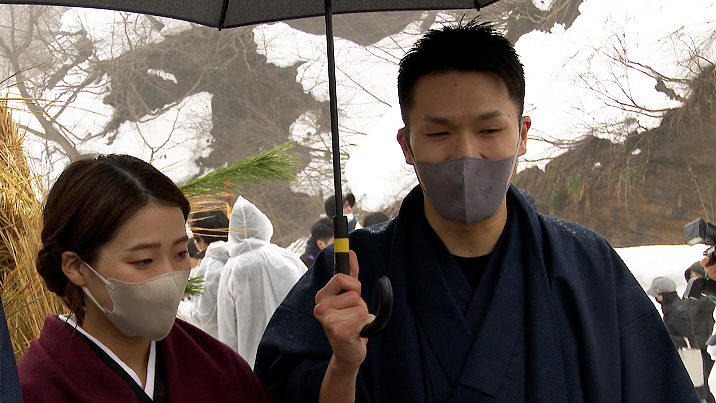 Amu Sato
I had been coming to Matsunoyama for skiing since I was a child and knew the events.It was a good experience for me to actually participate and feel the warmth and connectedness of the local community.The throwers did a great job and it felt good to fly high.We want to be a family where we can enjoy our small daily lives and always have a laugh.
His wife, Saki.
I'm glad I rolled in there with a smile on my face, looking like I was having so much fun.I hope the two of us can enjoy our usual routine together.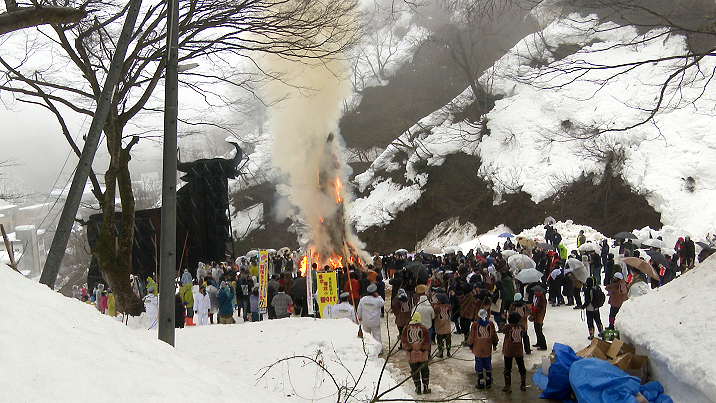 After Mukonage ceremony, the Dondo-yaki (burning of the firecrackers) was held as a part of the sai no kami event.The participants wished each other good health and good fortune in the "Sumi-nuri" ceremony, in which they painted each other with sumi ink, a mixture of snow and ashes from the ashes of the ceremony.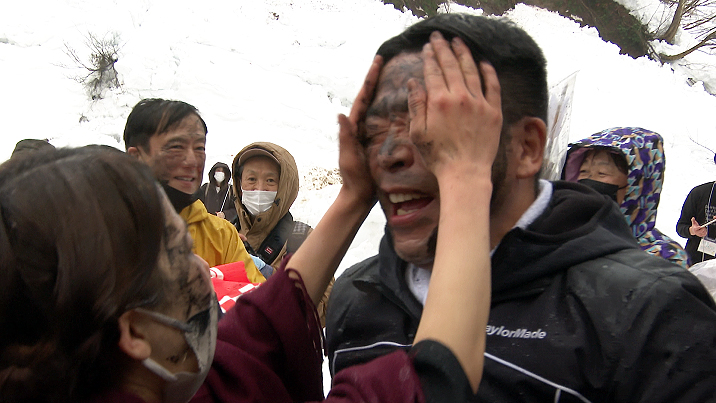 Yamagishi, head of Matsunoyama Hot Springs Association
This event is the start of the year to throw a son-in-law and work hard for a year.It is a traditional event, so it is important to continue it every year.It was great that the corona dawned and we were able to hold the event in the traditional way.
Matsunoyama Onsen