Traditional event handed down in Matsunoyama since the Edo period
The small New Year's event "Mukonage Sumi-nuri" of Matsunoyama Onsen, Tokamachi City, will be held on Sunday, January 15 at Matsunoyama Onsen Yakushido.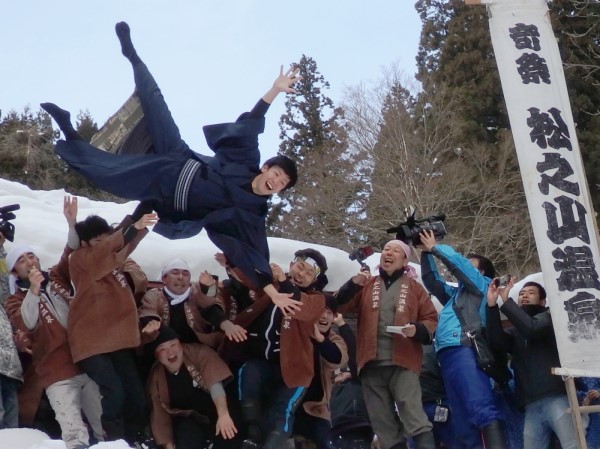 "Mukonage" has been passed down in Matsunoyama since the Edo period and is known as one of the rarest and most unusual festivals in Japan.This is a small New Year's event in which the bridegroom who got married in the previous year is boldly thrown down from Yakushido onto the snow about 5 meters below to pray for good health and prosperity of his offspring.It is said that the festival was formed out of resentment over the loss of the village's daughters to a stranger. This year, three couples are scheduled to play the leading roles.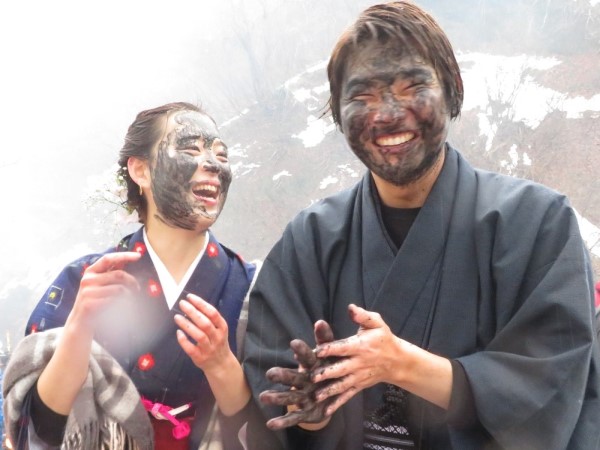 Following the Muko-nage, "Sumi-nage" is performed in a grand manner.The participants make ink by mixing snow with soot from burning "sainokami" (a kind of Japanese paper made of soot), and with shouts of "congratulations," they rub the ink on each other's faces to pray for good health and prosperity for the family business.
Matsunoyama Onsen's Strange Festival "Mukonage Sumi-nuri"
■Date: January 15 (Sun.) 14:00-15:00 [tentative] *Time is subject to change.
・14:00 Departure from Yumoridokoro "Jiro" located in the back of Matsunoyama Onsen town.
・14:30 "Mukonage"
・15:00 "Sumi-nuri"
・After the "Mukonage" (throwing of mikan), a Shinto ritual and "fukumaki" (throwing of mandarin oranges) take place.
・Afterwards, "Dondoyaki" is held and "Sumi-nuri" is performed.
■Location: Matsunoyama Onsen Street, Yakushido and Sumi nuri venue
*Please wear a mask if you attend.
*Please take your temperature and disinfect your hands with alcohol in front of the Yumoridokoro "Jiro" before joining the tour.
■Inquiries: TEL025-597-3442 Matsudai/Matsunoyama Onsen Tourist Information Center
※For more information, please visit Matsunoyama.com