Myoko Sanroku mont-bell, a corner specializing in products from the outdoor manufacturer montbell, opened on the 7th of this month in the Myoko Kogen Tourist Information Center in Myoko City, Niigata Prefecture.
The Myoko Sanroku Montbell Corner opened at the Myoko Kogen Tourist Information Center, located next to Myoko Kogen Station on the Echigo Tokimeki Railway.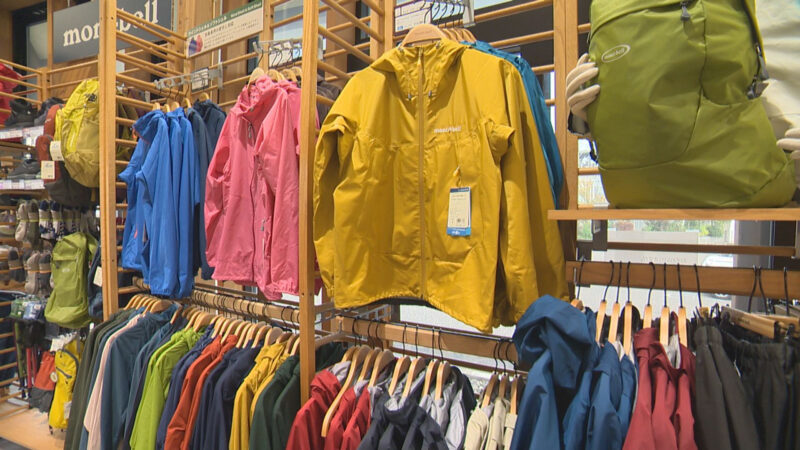 The store offers approximately 700 items, including outdoor clothing, trekking shoes, lights, bear bells, and other small items.
This T-shirt is an original product only available here. The design, including Mt. Myoko and Mizubasho (Asian skunk cabbage) blooming in Imori Pond, was created by "Walnut," an illustrator active both in Japan and abroad.
 Mr. Masaaki Yazawa, Myoko Tourist Bureau Secretariat
The buses run from here to Sasagamine, and many of the people who use the buses are mountain climbers and trekkers. We hope you will purchase your tickets here and go on your way."

今回の出店は、妙高市とモンベルが2017年に結んだ包括連携協定に基づいています。妙高市とモンベルの協定は、アウトドア活動を促進して、地域を活性化するために結ばれたもので、これまでにアウトドアスポーツの大きなイベント「シートゥーサミット」が開催されています。
妙高山麓モンベルコーナーの営業は午前9時から午後5時までです。
The opening of the new store is based on a comprehensive partnership agreement signed by Myoko City and mont-bell in 2017. The agreement between Myoko City and mont-bell was signed to promote outdoor activities and revitalize the community, which has hosted the Seatoo Summit, a major outdoor sports event.
The mont-bell Corner at the foot of Mt. Myoko is open from 9 a.m. to 5 p.m.
mont-bell at the foot of Mt.
■Business hours: 9:00-18:00 (open every day)
Address: 309-1 Taguchi, Myoko City, Niigata Prefecture
Tel: 0255-86-3911