The "Jade for Everyone" exhibition, featuring jade from Itoigawa owned by citizens, will be held at the Fossa Magna Museum in Itoigawa, Niigata Prefecture, from Saturday, September 3 to Wednesday, November 30. We are currently accepting applications for jade to be displayed.
The "Jade for Everyone" exhibition is a citizen-participatory exhibition in which visitors borrow jade from their homes or businesses and display it at the Fossa Magna Museum. It was planned in response to the adoption of a petition by the Niigata Prefectural Assembly to make jade the "Stone of Niigata Prefecture.
The jade being sought is a rough jade from Itoigawa, with a size of 15 cm or less. Applications will be accepted until Thursday, August 25. The application will close when the number of 50 pieces has been reached.
To apply, fill out the application form with the "title" of the jade, the "episode" and the required information, and bring it to the Fossa Magna Museum together with the jade to be exhibited. Entries by mail are not accepted. Entry forms are available at the Fossa Magna Museum or can be downloaded from the website.
The jade exhibited will be appraised by the museum's curator, and only if the jade is appraised as jade will it be displayed with a title and a story. If the jade is not jade, it will not be exhibited and will be returned.
Jade will be returned from Thursday, December 1 through Tuesday, December 27. A deposit slip, which will be given at the time of the exhibit, is required for pickup. For more information, please visit the Fossa Magna Museum website.

Jade for Everyone Exhibition
Dates: September 3 (Sat) – November 30 (Wed) *Open all year round
Hours: 9:00 – 17:00 (last admission 16:30)
■Venue:Fossa Magna Museum Hometown Exhibition Hall
Admission: Free only for the special exhibition
Inquiries: Fossa Magna Museum TEL025-553-1880
Fossa Magma Museum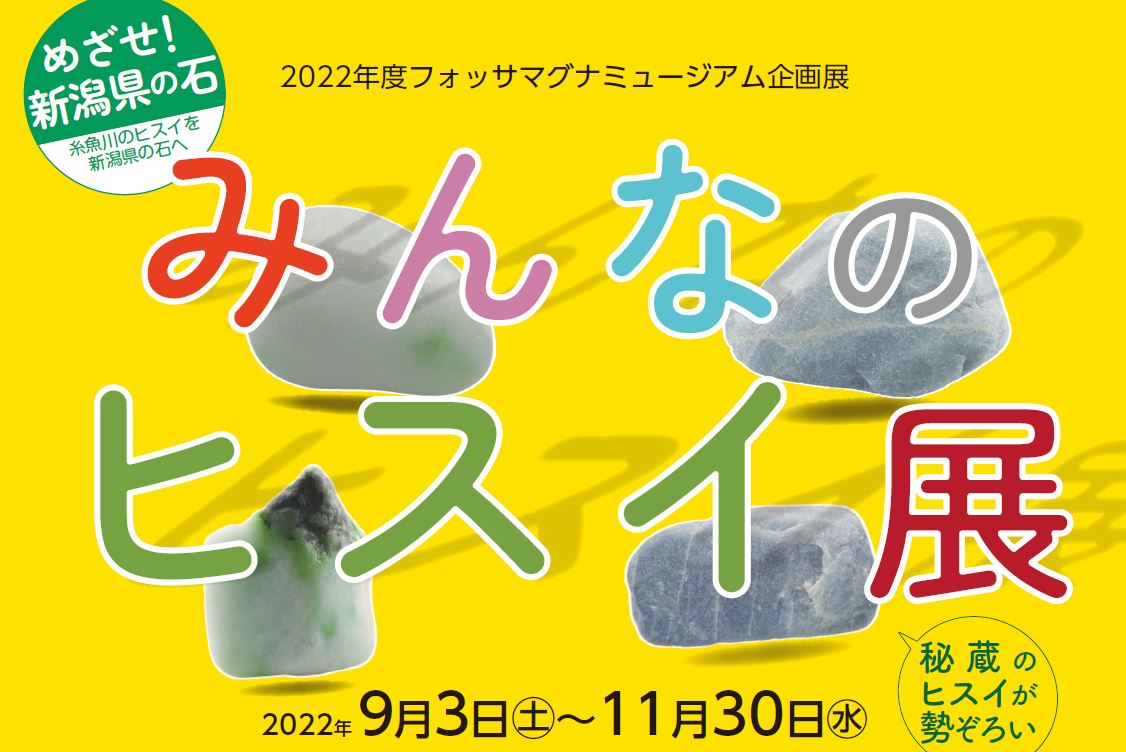 Related Articles
Let's get to know the stones of Itoigawa! Original cards are now on sale!