Golden Hot Spring" in Tsubame Onsen, Myoko City, Niigata Prefecture, is popular as an open-air bath in the mountains at an altitude of 1,200 meters. Currently, snow digging is underway in preparation for the opening next month. This year's snowfall is more than usual, and it is taking a lot of time and effort, but they are aiming to open on April 2.
The "Golden Hot Spring" is located at an altitude of 1180 meters, about a 15-minute walk from Tsubame Onsen Hot Spring Resort in Myoko City, and snow accumulated about 3 meters on the morning of Wednesday, March 22, and up to 5 meters this winter.
The digging out of snow from the Golden Hot Spring began on the 8th of this month, and this was the third time on this day. Six members of the local Tsubame Hot Springs Association went out and dropped the snow around the baths into the hot springs one after another.
Staff
"There was a lot of snow and we had a hard time getting through the stiffness. The dressing room was hidden and covered with 2 to 3 meters of snow. The work was like training! Originally, Mt. Myoko was a mountain of asceticism…"
Shigeo Fujimaki, head of Tsubame Hot Springs Association
It is a rare experience to bathe in a hot spring while looking at a wall of snow. I hope you will take the time to enjoy it. Even if there is snow on the ground, you will not feel cold after taking a bath. It warms you up very well. Please come and enjoy this healing hot spring.
This year's Golden Hot Springs is scheduled to open on April 2. Admission to the Golden Hot Springs is free, and men and women can use the hot springs separately. Boots or other shoes are required to walk to the open-air baths. For more information, please contact Tsubame Hot Springs Association.
The open-air bath "Kawahara no Yu" near Kogane no Yu has not yet been opened because the suspension bridge on the way to the bath is impassable due to snow.
 The image is "Golden Hot Springs" taken in the spring of 2021.
Recommended Related Articles
■Era and Jimmie's Town Walk, Myoko, Onsen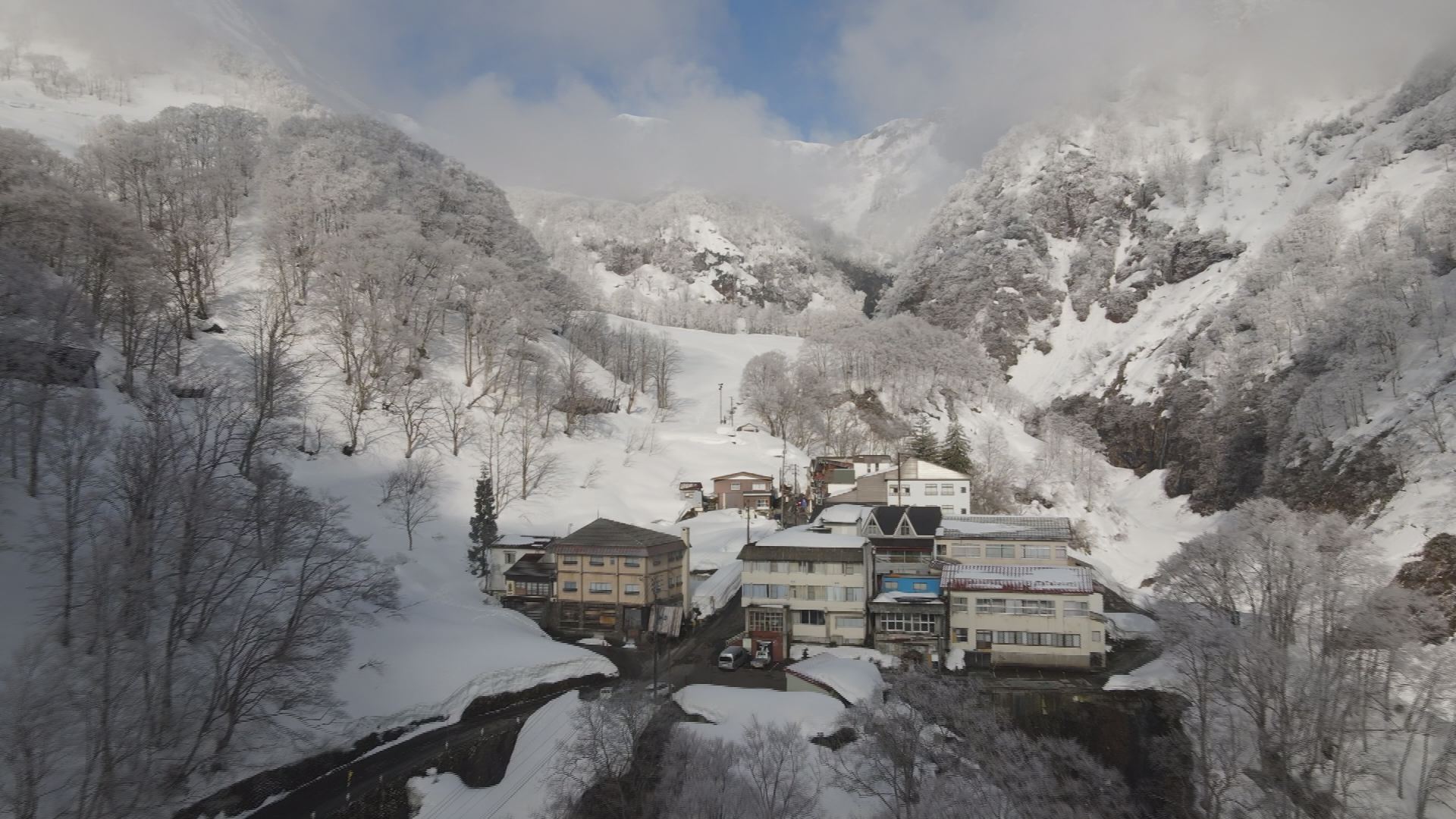 The 2022 opening is scheduled for Saturday, April 2.
Tel: 0255-86-3911
Access: <Car> From Joetsu Myoko Station on the Hokuriku Shinkansen, it takes about 35 minutes to arrive at Tsubame Onsen Town. From there, move about 200m on foot.
URL: https://www.myoko.tv/