Freshly brewed sake that only the brewers know how to make, and that we hope many people will enjoy.
The "Freshness Directly Sent! The "The Ototoi-shibori" series will go on sale around February 8 (Tuesday).We are currently accepting reservations at liquor stores in the Joetsu-Myoko area.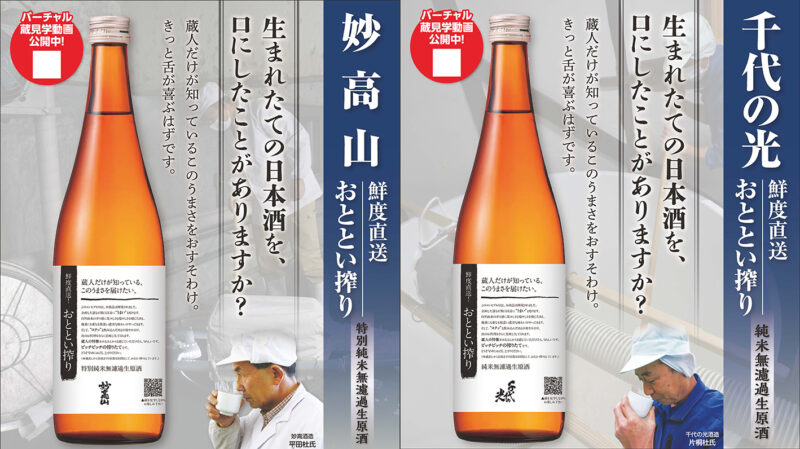 "The Ototoi-shibori" series was designed by Yamato Beverage, a beverage wholesaler located in Joetsu City, Niigata Prefecture.This time, freshly pressed sake from Myoko Shuzo, a brewery in Joetsu City, and Chiyo no Hikari Shuzo, a brewery in Myoko City, will be on sale.
Freshly squeezed sake is clean and refreshing, with a naturally occurring slight carbonation-like roughness and fresh sweetness that can be felt in the mouth, followed by a spiciness and depth that can be enjoyed.
Unlike products distributed to the general public, freshly squeezed sake was said to be a privilege that only the brewers involved in sake making could enjoy.Various sake breweries have been selling sake with freshness as a selling point, but this is a new attempt by several breweries to sell the same product under the same name with the same concept of freshly pressed sake within three days.
Kazuhiro Tanaka, senior managing director of Yamato Beverage Co., Ltd. who planned the event, thought that freshly squeezed sake from the kettle at the brewery tasted good every time he drank it.I have been working on a plan to make this delicious taste available to the general public.And now, in collaboration with the two breweries, we are able to sell freshly pressed raw sake.
Ototoi-shibori Special Junmai Unfiltered Raw Sake Myoko Sake Brewery, Myokosan
720ml / Reference retail price: 1831 yen (tax not included)
Release around Feb. 8/Reservation application has already been closed.
This year, Myoko Shuzo's Myokosan will be released around February 8, and Chiyonohikari Shuzo's Chiyonohikari will be released in mid-March.This product will be available for pre-order at liquor stores in the Joetsu-Myoko area.Applications for the Myoko Sake Brewery's Myokosan have already closed, but applications for the Chiyonohikari Sake Brewery's Chiyonohikari will be accepted until Thursday, February 28.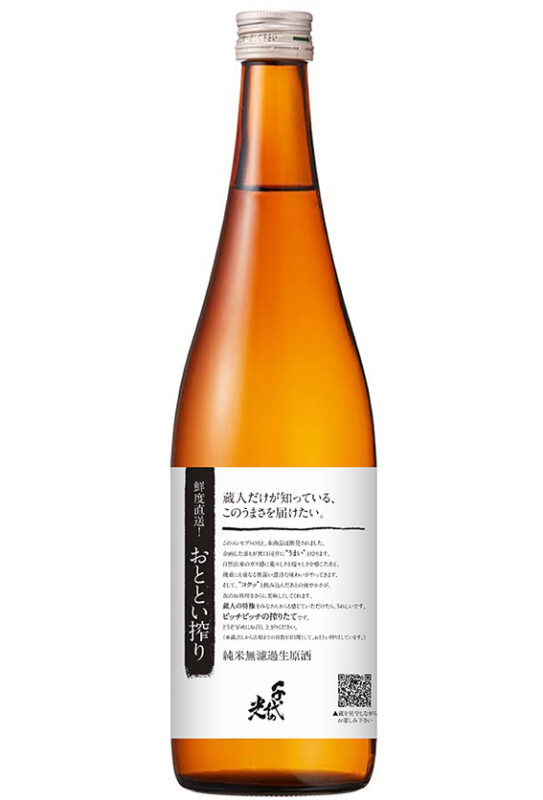 Ototoi-shibori Junmai Unfiltered Raw Sake Chiyonohikari Sake Brewery Chiyonohikari
720ml / Reference retail price: 1695 yen (tax not included)
Available in mid-March / Application deadline: February 28 (Thu)
If you read the QR code on the product label, you can enjoy a video tour of the brewery.You can see how the brewery is made, and the scene where the unpasteurized sake is brought to your mouth, giving you the real feeling of actually visiting a brewery.Also, when you buy a product, you get sake lees as an added bonus.
This time, only two breweries are participating, but they plan to invite new breweries to participate and release this series several times a month from November of this year to March of next year.
Mr. Tanaka of Yamato Beverage said that in the future, they are aiming to gain national recognition for the Joetsu Myoko area as a region that sells sake with a focus on freshness.In addition, we are enthusiastic about creating a system that will allow people to enjoy "Ototoi-shibori" widely throughout Japan.
Yamato Beverage Mr. Tanaka
Ototoi-Shibori is fresh for sake lovers and easy to drink for those who don't usually drink sake. Please enjoy this freshly brewed sake and be amazed at how good it tastes.
For more information about the product, please contact Daiwa Beverage Co.Reservations are accepted at liquor stores in the Joetsu-Myoko area.
■Inquiries: TEL025-525-2111 (Yamato Beverage Co., Ltd.)