Rokuyasanso" in Hosono Village, Yasuzuka-Ward, Joetsu City, Niigata Prefecture, has planned a plan that combines an overnight stay with the experience of the "Sai-no Kami" village event to be held on Saturday, January 8, 2012.We are now accepting applications.
Hosono Village is a small village in the middle of the mountainous area, about a 10-minute drive from the center of Yasuzuka-Ward in Joetsu City, adjacent to Oshima-Ward.
Sai no Kami is a village event that takes place every year around this time.It is an event to wish for safety in the home, prosperity in business, and a good harvest by making a sai-no-kami, which is a pile of bamboo and straw in a conical shape, and lighting it on fire together with New Year's ornaments and first calligraphy.
In Niigata, Toyama, and Fukushima, it is called "Sai-no-kami," and in western Japan, it is called "Dondoyaki.
In the experience plan, you will participate in making Sai-no-Kami with local people in the morning of Saturday, January 8.After experiencing snow play and other activities in the afternoon, the event begins in the evening with the lighting of the Sai no Kami.When the fire has calmed down, we roast squid and rice cakes and eat them.After the event, the plan is to move to Rokuyasanso to taste a meal made with local ingredients, take a warm bath, and enjoy relaxing in your room.
The fee is 8,500 yen (tax included) per adult and 7,000 yen (tax included) per elementary school student, including the Sai no Kami experience fee and two meals per night.Due to the limited number of rooms, the number of couples is limited to five.Applications can be made by phone, fax, e-mail, or by using the inquiry form on the website of the Nature Kingdom Hosono Village.The deadline for applications is Wednesday, January 5.
For more information, please check the website of the Nature Kingdom Hosono Village or call.
Lodging plan with Sai no Kami experience
■Date: Saturday, January 8, 2022, 9:00 a.m.
■Venue: Rokuyosanso (1151-1 Hosono, Yasuzuka-Ward, Joetsu City, Niigata Prefecture)
■Fee: Sai no Kami experience fee + 2 meals per night 8,500 yen per adult, 7,000 yen per elementary school student, consult with us about children under elementary school age.
■Inquiries and applications: TEL025-592-2698 (Rokuyosanso), email info@hosonomura.net
■Home Page:https://hosonomura.net
Exchange Lodging Facility Rokuyasanso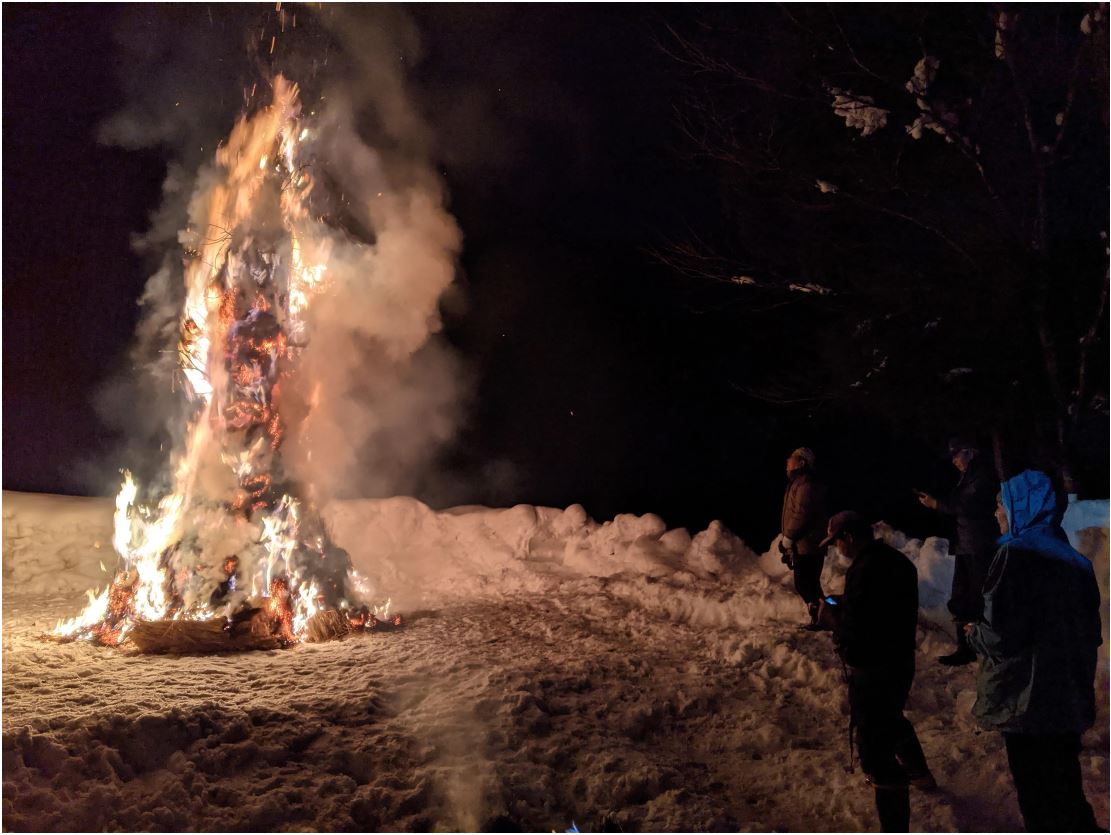 Address: 1151-1 Hosono, Yasuzuka-Ward, Joetsu City, Niigata Prefecture
Tel: TEL025-592-2698
Access: <By car>40 minutes from Joetsu IC on the Hokuriku Expressway.
URL: https://hosonomura.net