Enjoy the mature aroma of aged sake!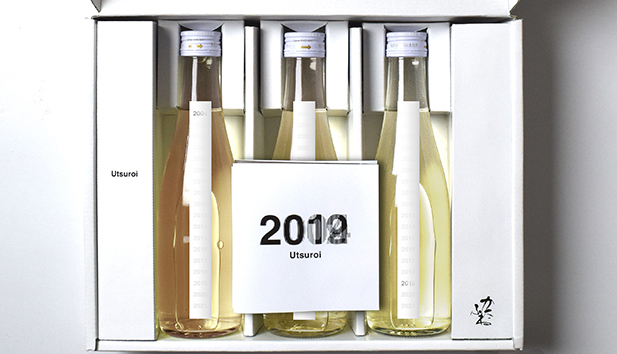 "Takeda Sake Brewery" in Ogata-Ward, Joetsu City, Niigata Prefecture, will release "Katafune Daiginjo Koshu Utsuroi" on November 19th (Friday).  This is a set of three bottles of Katafune Daiginjo sake from different years of brewing. 
* "Daiginjo" is a super-premium sake made by removing the outer layers of rice and using only the best part.
Katafune Daiginjo Koshu Utsuroi: 11,000 yen (tax included)
2004/2012/2019 set (300ml x 3)
While the influence of the pandemic has waned a little and expectations are that this year will be end mildly.  Takeda Sake Brewery wants to reward you for a difficult year as well as allow you to reminisce with your family and friends.  This is a slightly luxurious drink comparison set to give you a chance to enjoy the year's end.
Katafune is the representative brand of Takeda Sake Brewery, which has won awards in competitions all over the world.  "Katafune Daiginjo Koshu Utsuroi" is a set of three types of Katafune Daiginjo aged sake from the year's 2004, 2012 and 2019.
Features of 2004
This is the oldest Daiginjo sake stored in the sake brewery.  It is slightly amber in color and has a slightly chocolate-like scent.  You will certainly enjoy the soft scent of "Katafune".
Features of 2012 
This is just in the middle between the oldest and newest brews.  You can feel Ginjo aroma and the slight bitterness unique to aged sake after you take a sip.
Features of 2019
The newest Daiginjo sake.  You can enjoy the young and fruity aroma of Koshitanrei, a rice grown just for sake brewing in Niigata prefecture.
Although all three types are Daiginjo sake, each has its own aroma and taste.
The set comes in a playful gift box where the year written on the package changes by moving the wrapping paper.  Limited to 100 sets, it will be available from Friday November 19th at liquor stores in Joetsu City and at the Takeda Sake Brewery store.
Takeda Sake Brewery has been selling aged sake since "Katafune DAIGINJO 2006 VINTAGE," which was released in May, 2021 with a limited release of 200 bottles.  This is the first time that a set of aged sake has been released.
Mr. Haruki Takeda, the 10th generation brewer of Takeda Sake Brewery, says, "Even brewers rarely have the opportunity to compare the aged sake of Daiginjo by year.  This is a luxurious drink comparison set.  I would like many people to taste it.  Also, please enjoy the refreshing ginjo fragrance and the aged fragrances that are born over time. "
Takeda Sake Brewery