Why don't you spend the end of the year with SETSUGEKKA?
The "Night Premium Course", where you can enjoy kaiseki cuisine and music on the resort train "SETSUGEKKA" of Echigo Tokimeki Railway, will be specially operated on December 17th (Friday) and 28th (Tuesday).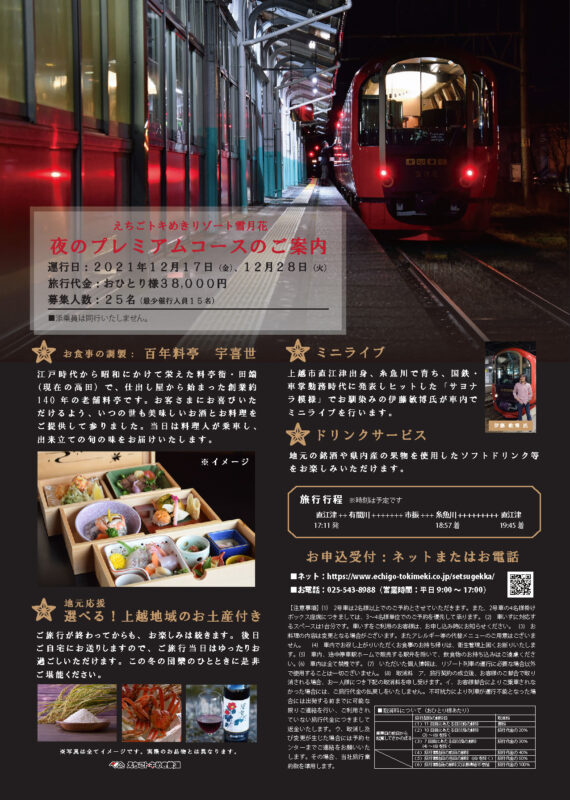 SETSUGEKKA is a resort train with one of the largest wide train windows in Japan, which operates between Joetsu, Myoko, and Itoigawa, mainly on Saturdays, Sundays, and holidays, so that you can enjoy the natural scenery along the Joetsu area.
The special service this time is the "Night Premium Course". This is a luxurious course where you can enjoy kaiseki cuisine, drinks, music, and souvenirs.
* Cooking is an image
On the day of the event, Ukiyo, a long-established 100-year-old restaurant in Nakamachi, Joetsu City, uses ingredients produced in the prefecture, and some of the menus are prepared by the chef in the car. As for drinks, you can enjoy local famous sake and soft drinks using fruits from the prefecture.
In addition, a mini-live of Toshihiro Ito, who is known for the hit "Goodbye pattern" announced during the time of working as a conductor of the Japanese National Railways, will be held in the car.

* The image is an example
Furthermore, when you board the premium course, you can choose one from multiple products in the Joetsu region, such as this snow crab from Nou fishing port and Iwanohara wine, as a souvenir, and it will be delivered to your home at a later date.
The recruitment capacity is 25 people, and the price is 38,000 yen per person. Reservations are accepted by phone and internet.
Echigo Tokimeki Resort "SETSUGEKKA" Special operation Night premium course
■ Operating days: December 17th (Friday) and 28th (Tuesday)
■Itinerary: Naoetsu Station 17:11 ⇒ (Ichiburi Station turnaround) ⇒ Itoigawa Station 18:57 ⇒ Naoetsu 19:45
* You can choose from Itoigawa and Naoetsu stations.
■Price: 38,000 yen (tax included) * Including drinks
■Reservation method: Internet / telephone
■Internet reservation site:https://reservation.echigo-tokimeki.co.jp/
■Telephone reservation / inquiry: Snow, Moon and Flowers Reservation Center TEL025-543-8988(Reception hours: Weekdays only 9: 00-17: 00)
■Homepage:http://setsugekka.blog-niigata.net/news/