One year left until the railway "150th anniversary of opening"!
Echigo Tokimeki Railway will release the "150th Anniversary of Railway Opening Holiday Tour Pass" from Thursday, 14th to commemorate the 150th anniversary of railway opening on October 14, 2022.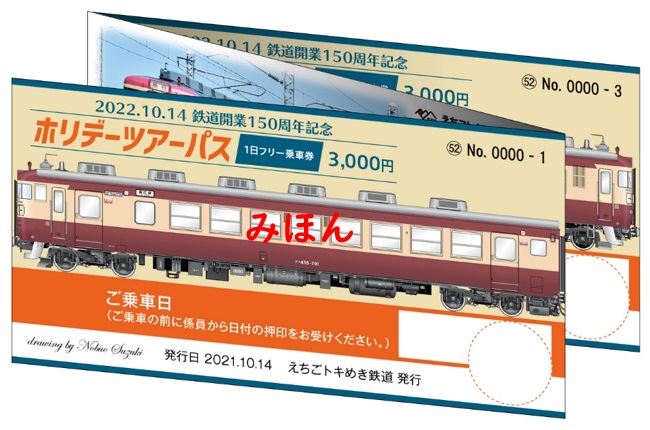 Holiday Tour Pass (at the time of purchase: tri-fold)


surface

Back side
The Holiday Tour Pass will be released as the first project to commemorate the 150th anniversary of the opening of the railway. The old national railway-colored vehicle of the sightseeing express that started operation in July this year is designed, and a set of 3 tickets is included.

October / November "Sightseeing Express" Operating day
This ticket can be used on Saturdays, Sundays, public holidays, and weekdays on the old national railway-colored vehicle service days, and you can freely get on and off the unreserved seats of ordinary, rapid, limited express, and sightseeing express trains.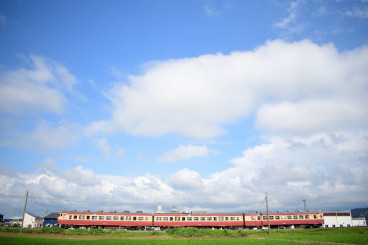 The sales locations are Myoko Kogen, Arai, Joetsu Myoko, Takada, Naoetsu, Itoigawa station counters, and the Echigo Tokimeki Railway official shop. Limited quantity of 3000 sets can be purchased and used until October 13, 2022 (Thursday).
The person in charge of Echigo Tokimeki Railway said, "I would like you to take this opportunity to take advantage of a lot of sightseeing express trains with a special tour pass. Please look forward to the next project."
Click here for details ⇒ Echigo Tokimeki Railway HP
Toki Tetsu "Holiday Tour Pass" to commemorate the 150th anniversary of the opening of the railway
■ Release and usage period: From October 14, 2021 (Thursday) to October 13, 2022 (Thursday)
■ Release price: 9000 yen per set
* "Holiday Tour Pass" x 3 sheets 1 set
* No child fee setting
■ Number of sales: 3000 sets
■ Sales offices (station counters): Myoko Kogen, Arai, Joetsu Myoko, Takada, Naoetsu, Itoigawa
■ Echigo Tokimeki Railway Official Shop:https://store.shopping.yahoo.co.jp/tokitetsu-official/2144.html