Please join!
5,000yen OFF with the prefectural discount campaign, and a regional coupon worth 2,000 yen is included!
"Local food, Discovery, and Experience Tours" will be held in July and August to visit cultural attractions in Joetsu City, organized by "Ryotei Ukiyo (a traditional Japanese restaurant )" in Nakamachi, Joetsu City, Niigata Prefecture.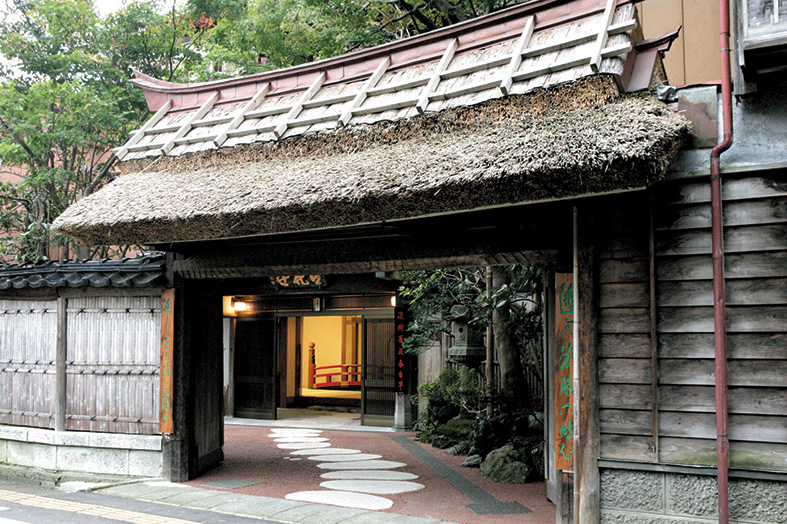 Ryotei Ukiyo:  3 Nakamachi, Joetsu City
This tour is planned by "Land Staff Co., Ltd. Tourism Business Development Office" so that people inside and outside the region will be more aware of Joetsu's various specialties, cultural attractions, and new spots that have recently become popular.  There are 12 tours in total, and all tours include meals from Ryotei Ukiyo.
Special lunch at a restaurant (pictured)
The tours are covered by the "Tsukattoku!(great deal) Niigata Prefectural Discount Campaign", which offers discounts on travel products and accommodation for Niigata residents.  Therefore, the travel price for each tour is discounted by 5,000 yen.  In addition, you can get a 2,000 yen discount per person with a "Niigata Prefecture Tsukattoku! Regional Coupon" that can be used as a gift certificate at available stores.
Related article:Prefectural-only accommodation discount "Tsukattoku! Niigata Prefectural Discount Campaign" has started!
Why don't you take this opportunity to take a tour around Joetsu City at a great price?
* All courses will start at "Ryotei Ukiyo".  Participants will meet at 11:00 am, and the event will conclude between 3:00 pm and 4:00 pm.
* "Tsukattoku!" The Niigata Prefectural Discount Campaign is available only to Niigata Prefectural citizens.
■ Tour content & schedule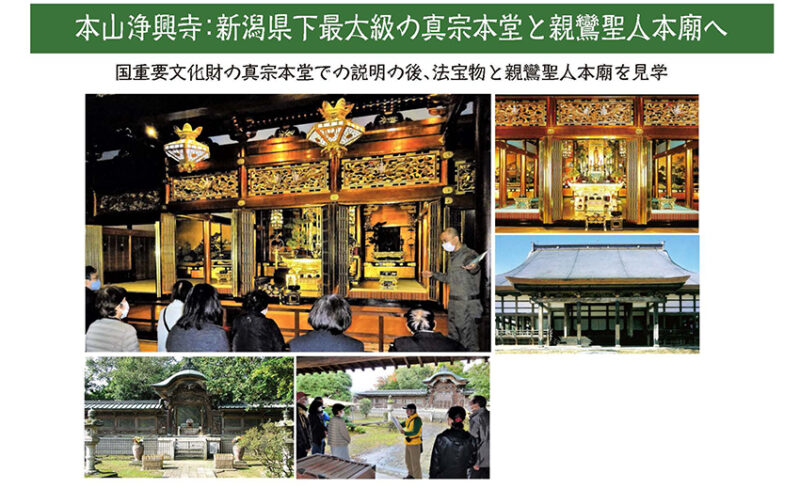 Ukiyo → Jokoji Temple (explanation at the main hall about this national important cultural property, tour of the main temple of Shinran saints and treasures) → Ukiyo or Takada station square
Departure dates: July 19th (Monday), July 23rd (Friday / holiday), August 9th (Monday / holiday), August 30th (Monday)
Price: Tsukattoku! Niigata Prefectural Discount Campaign 8,000 yen (tax included) with special lunch at the restaurant + 2,000 yen regional coupon
---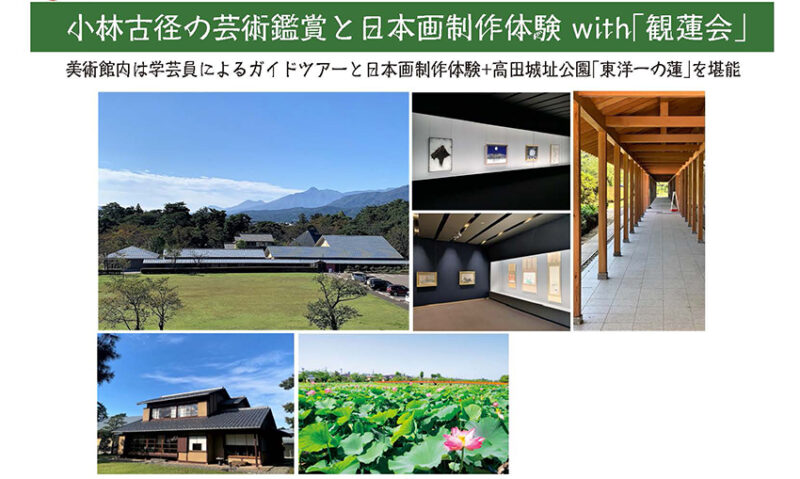 Ukiyo → Takada Castle Site Park "Kanrenkai(Lotus Flower Festival)" → Kobayashi Kokei Memorial Museum (guided tour by curators: museum works and old residence tour-Japanese painting production experience) → Takada Castle Site Park walk → Ukiyo or Takada station square
Departure dates: July 17th(Sat), July 25th(Sun), July 31st(Sat), August 7th(Sat), August 21st(Sun)
Price: Tsukattoku! Niigata Prefectural Discount Campaign 9,000 yen (tax included) with special lunch at the restaurant + 2,000 yen regional coupon
---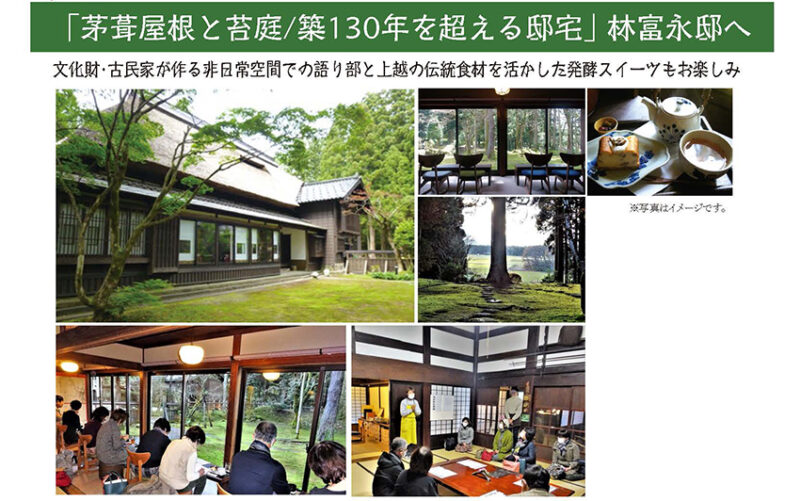 Ukiyo → Hayashi Tominaga's house (Explanation about the house by the guide, and tasting fermented sweets at a cafe overlooking the garden) → Ukiyo or Takada station square
Departure dates: July 9th (Friday), July 26th (Monday), August 2nd (Monday), August 23rd (Monday)
Price: Tsukattoku! Niigata Prefectural Discount Campaign 11,800 yen (tax included) with a special lunch at the restaurant + 2,000 yen regional coupon
---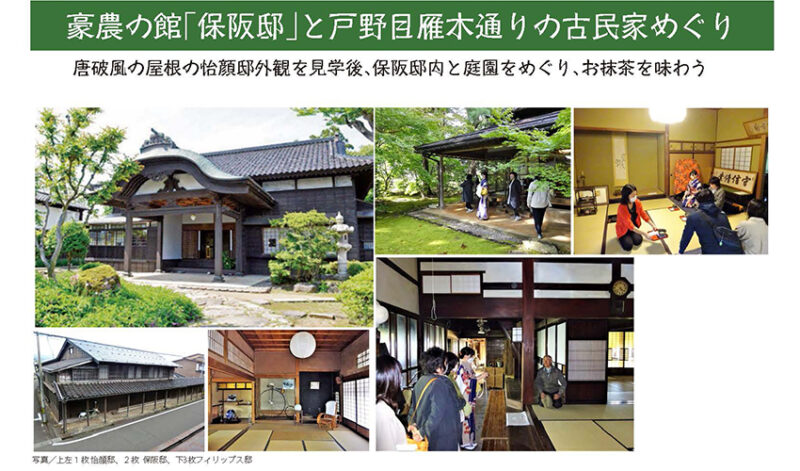 Ukiyo → Hosaka House (inside the house / garden guide and tasting matcha tea) → Strolling around Tonome Gangi Street → Phillips' House (inside the house guide) → Ukiyo or Takada station square
Departure dates: July 3rd (Sat), July 22nd (Thursday / holiday), August 7th (Sat), August 20th (Fri), August 29th (Sun)
Price: Tsukattoku! Niigata Prefectural Discount Campaign 8,800 yen (tax included) with special lunch at the restaurant + 2,000 yen regional coupon
---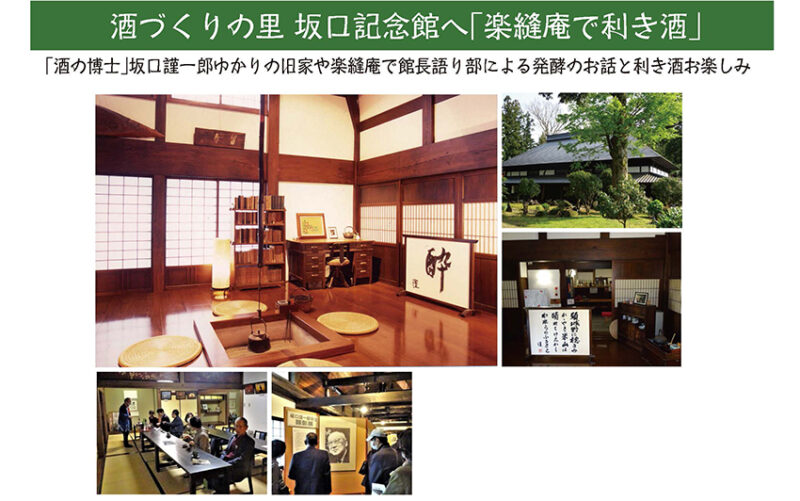 Ukiyo → Sakaguchi Memorial Hall (guided by the director, and a tour of the old Sakaguchi family, then tasting of local sake at Ryotei Ukiyo) → Ukiyo or Takada station square
Departure dates: July 18th (Sun), August 9th (Monday / holiday), August 28th (Saturday)
Price: Tsukattoku! Niigata Prefectural Discount Campaign 10,800 yen (tax included) with special lunch at the restaurant + 2,000 yen regional coupon
---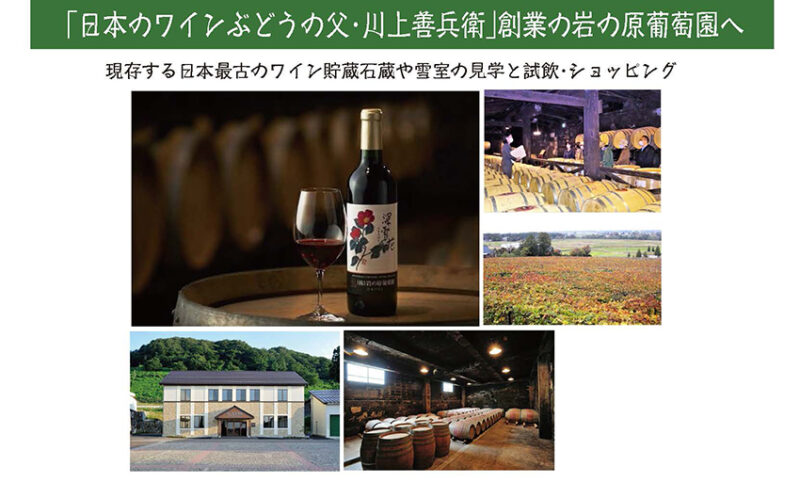 Ukiyo → Iwanohara Vineyard (Yukimuro storage and winery tour, wine tasting and shopping) → Ukiyo or Takada station square
Departure dates: July 11th (Sun), July 23rd (Friday / holiday), July 31st (Sat), August 8th (Sun), August 22nd (Sun)
Price: Tsukattoku! Niigata Prefectural Discount Campaign 9,000 yen (tax included) with special lunch at the restaurant + 2,000 yen regional coupon
---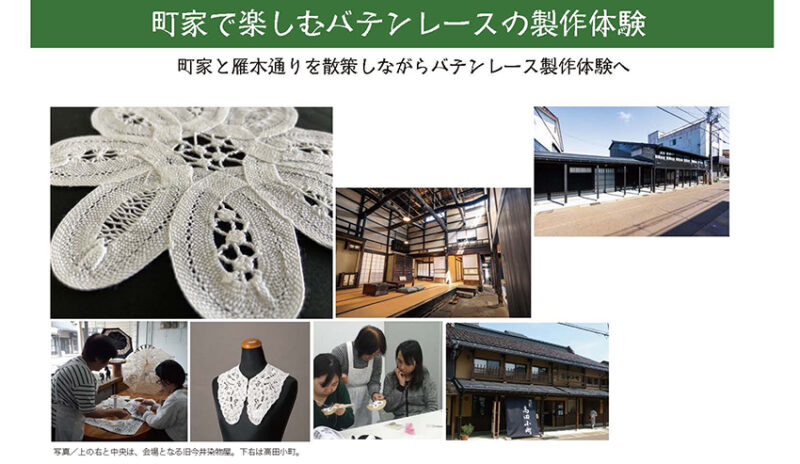 Ukiyo → Takada Sekai-kan / One of the oldest running movie theaters in Japan (exterior only) → Takada Komachi (visit) → The Old Imai Dye Shop (experience of making batten lace within a traditional "Machiya" house) → Ukiyo or Takada station square
Departure dates: July 18th (Sun), July 24th (Sat), August 8th (Sun), August 20th (Fri)
Price: Tsukattoku! Niigata Prefectural Discount Campaign 9,000 yen (tax included) with special lunch at the restaurant + 2,000 yen regional coupon
---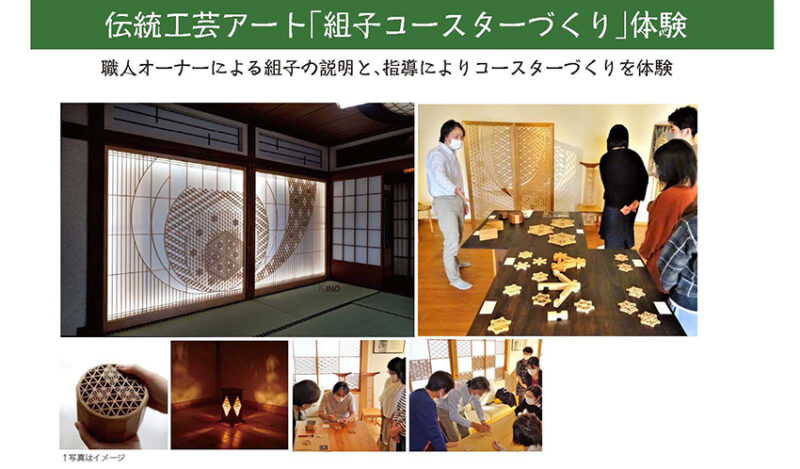 Ukiyo → Inomata Art (Experience making coasters with explanation and instruction about the "Kumiko" style from the craftsman owner) → Ukiyo or Takada station square
Departure date: July 4th(Sun), July 24th(Sat)
Price: Tsukattoku! Niigata Prefectural Discount Campaign 10,000 yen (tax included) with special lunch at the restaurant + 2,000 yen regional coupon
---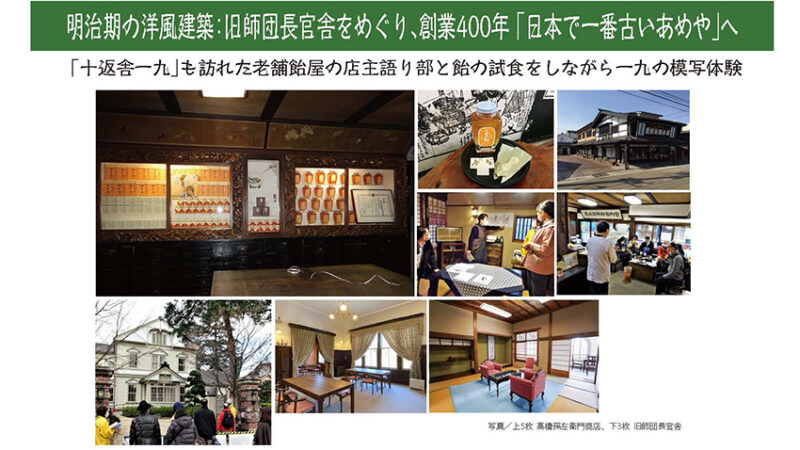 Ukiyo → Takahashi Magozaemon Shoten / Takahashi Traditional Sweets (In-store guidance by the candy store owner, an experience of making a copy of the artist Jippensha Ikku's design, and shopping) → Strolling along the "Gangi-dori"(covered walkway) → Former Division Commander's Official Residence → Ukiyo or Takada station square
Departure dates: July 3rd(Sat), July 17th(Sat),  August 6th(Fri), August 28th(Sat)
Price: Tsukattoku! Niigata Prefectural Discount Campaign 6,600 yen (tax included) with special lunch at the restaurant + 2,000 yen regional coupon
---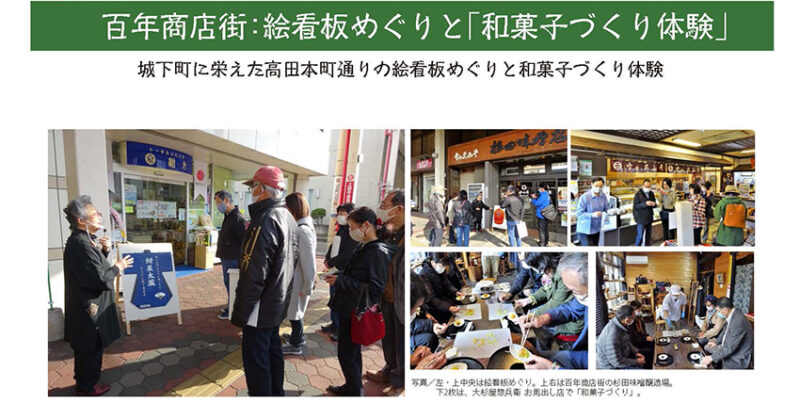 Ukiyo → Walk around the 100-year shopping street → Sugita Miso Brewery → Osugiya Sobei Oumadashi Store (mini Japanese sweet-making experience) → Walk around the 100-year shopping street → Ukiyo or Takada station square
Departure dates: July 11th (Sun), August 22nd (Sun), August 29th (Sun)
Price: Tsukattoku! Niigata Prefectural Discount Campaign 7,000 yen (tax included) with special lunch at the restaurant + 2,000 yen regional coupon
---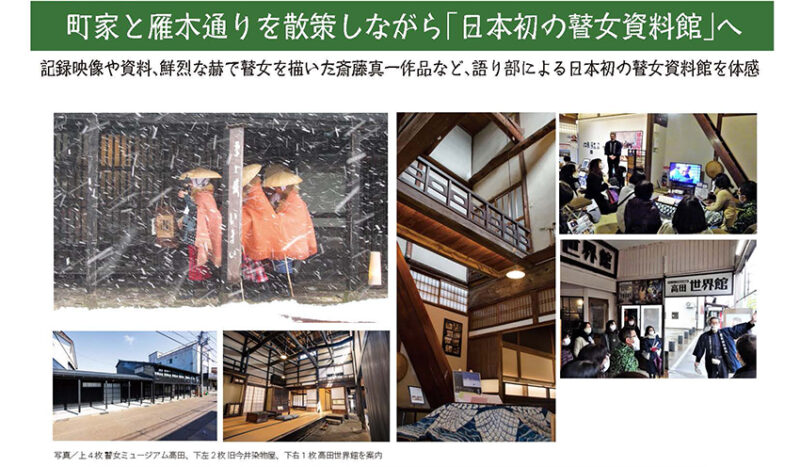 Ukiyo → Takada Sekai-kan / One of the oldest running movie theaters in Japan (external view only) → Takada Komachi (visit) → The Old Imai Dye Shop → Gangi Street walk → Goze Museum Takada → Ukiyo or Takada station square
Departure dates: July 4th (Sun), July 16th (Fri), July 22nd (Thursday / holiday), August 1st (Sun), August 27th (Fri)
Price: Tsukattoku! Niigata Prefectural Discount Campaign 6,600 yen (tax included) with special lunch at the restaurant + 2,000 yen regional coupon
---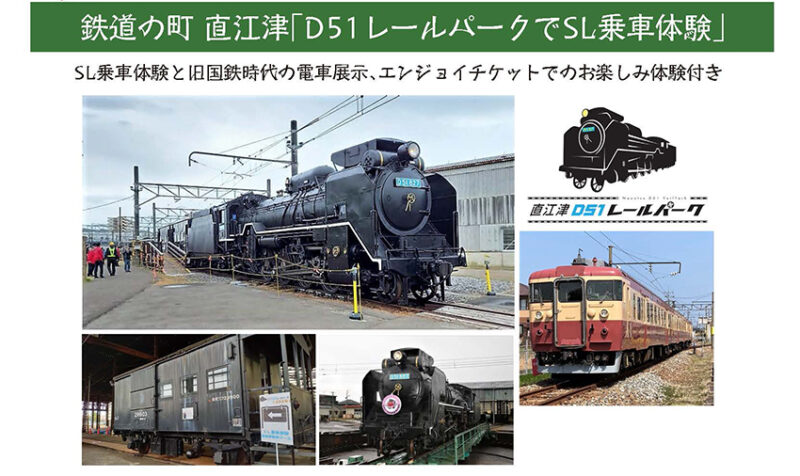 Ukiyo → Echigo Tokimeki Railway "Naoetsu D51 Rail Park" (SL ride experience and train exhibition during the former JNR era.  Have an enjoyable experience using an "Enjoy" ticket, and rail goods shopping) → Ukiyo or Takada station square
Departure dates: July 10th(Sat), July 25th(Sun), August 1st(Sun), Sunday, August 21st(Sat)
Price: Tsukattoku! Niigata Prefectural Discount Campaign 8,800 yen (tax included) with special lunch at the restaurant + 2,000 yen regional coupon * 300 yen discount for elementary school students and younger
---
Ryotei Ukiyo: Local Production / Discovery / Experience Tour
■ Application deadline: deadline: 5 days before the departure date for each tour (each tour can accommodate up to 10 people on a first-come, first-served basis, the minimum number of people is 4 people)
* All tours take a taxi.
* Detailed information can also be found on the "Ryotei Ukiyo's Homepage" and "Land Staff Tourism Business Development Office".
■ Application: TEL 025-524-0001 (Secretariat / Hirayama / Izumi), E-mail: hirayamakimiaki@joetsu.ne.jp