Maximum run distance of 4 km. A variety of courses for everyone to enjoy! December 23 – March 21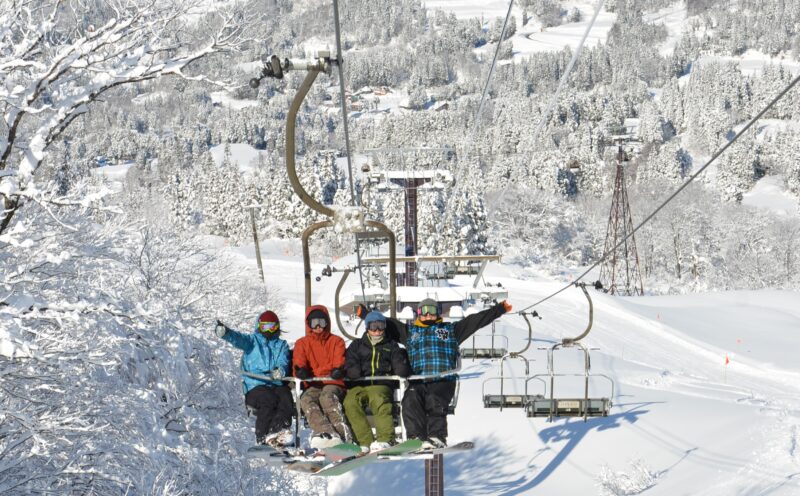 "Cupid Valley" is a snow-covered plateau located in Azuka-ku, Joetsu City, Niigata Prefecture. Surrounded by beautiful trees, the ski resort is located on the slopes of 1129-meter-high Hishigadake Mountain, and on a clear day, visitors can ski comfortably while enjoying the view of the Sea of Japan.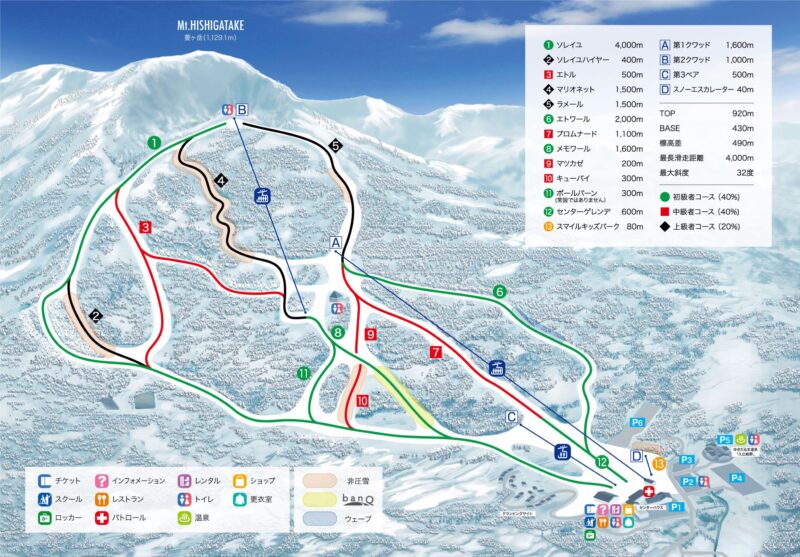 キューピットバレイ公式HPより
The courses are mainly designed for beginner and intermediate skiers, but there are also non-snow areas for advanced skiers, beginner courses for kids who are just starting to ski, and a wide variety of other courses. There are 12 courses in total (40% beginner, 40% intermediate, and 20% advanced).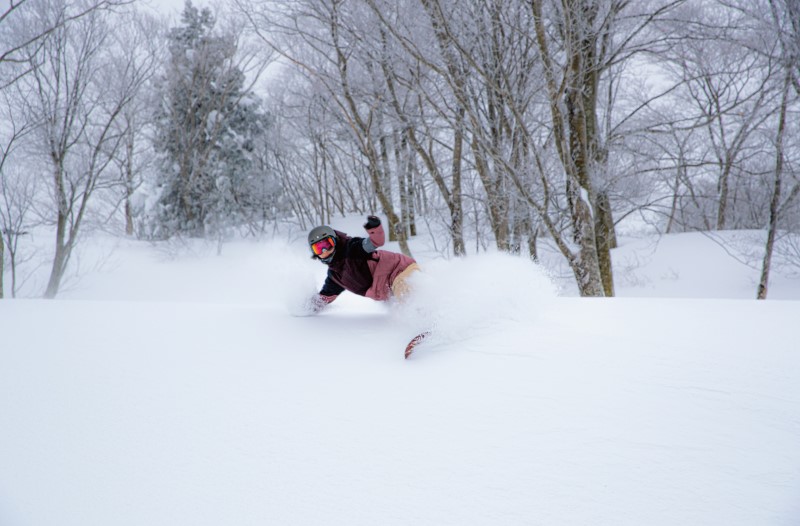 Of particular note is the new "Tree Run Area," a new non-snow course that opened in January 2022. Also known as the "self-responsibility area," the course runs from near the top of the second quad lift through the Hishigatake National Forest, which extends on both sides of the lift. This area was previously closed to skiing because it is a national forest, but in response to customer feedback, permission to use the national forest was obtained and the area has been improved. The course is 100% powder and runs through the natural terrain and standing trees, allowing you to enjoy the best powder snow.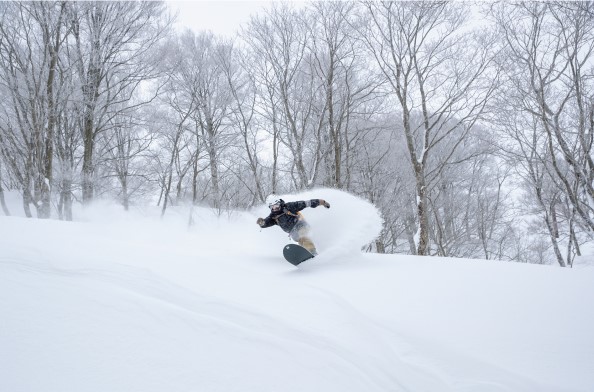 Please note that in order to ski the tree run area, you will need to present a "consent form" or a "return email for application form to be submitted on the web. After that, by depositing 1,000 yen, you will be lent an armband, which you will wear while skiing. The 1,000 yen will be refunded when the armband is returned.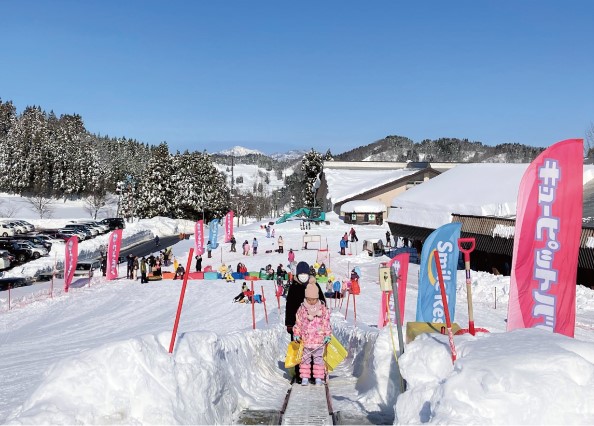 In addition, the ski resort is equipped with a children-only Smile Kids Park where children can enjoy playing in the snow and sledding, making it a ski resort that everyone can enjoy.
During the opening period, there will also be a variety of events. Events such as sledding for adults on the slopes and a free lift ticket for those who come in old style are planned as in the previous season. For details, please visit the website.

キューピットバレイ公式YouTubeより

<Event>
December 17 (Sat.) – 18 (Sun.), 2022 Opening Event
 Customers who purchase a 1-day or 5-hour lift ticket will receive a "half-price lift ticket" that can be used next time.
 First 100 customers each day
Thursday, December 29, 2022 – Tuesday, January 3, 2023 Snowboard Kids Class Camp
 For beginners from 4th to 6th grade elementary school students.
 Includes 1-day lift pass, full-day lesson, lunch, and rental set
 Fee: 6,500 yen (5,500 yen if no rental required)
 Maximum of 20 people per day
Saturday, Sunday, and holidays from January 7, 2023 (Sat.) to March 12, 2023 (Sun.) Adult Sledding
 Meet at the 3rd pair lift station at 16:30 each day! Sledding on the slopes after business hours.
 Entry fee: 300 yen (valid for one person only)
February 23, 2023 (Thursday, holiday) Old Style DAY
 Guests coming in old style will receive a one-day lift ticket for the day. First 100 arrivals
February 25, 2023 (Sat) Corridor of Lights: Azuka Candle Road & Yamanoue Snow Festival
 Full of events at the candlelit venue. The finale of the event will include the ever-popular fireworks display.
March 4 (Sat), 12 (Sun), 19 (Sun), 2023 FINAL FESTA
 For elementary and junior high school students. Free ski & snowboard school! 50% off rental ski and snowboard sets.
March 5, 2023 (Sun) Lerch's Ski School
 For elementary school students who are skiing for the first time. Free 2-hour lesson in the morning. One day lift ticket for the day as a present. First 10 students to arrive.
March 18, 2023 (Sat) Splash Contest
 Attack the pool without falling in!

Cupid Valley is also famous for its hot springs. Kubikino," aYukidaruma hot spring that is free-flowing from the source, is said to be effective against muscle and joint pain. After a day of fun on the ski slopes, why not relax and heal your fatigue in the natural hot springs that spring up from the foot of Mt.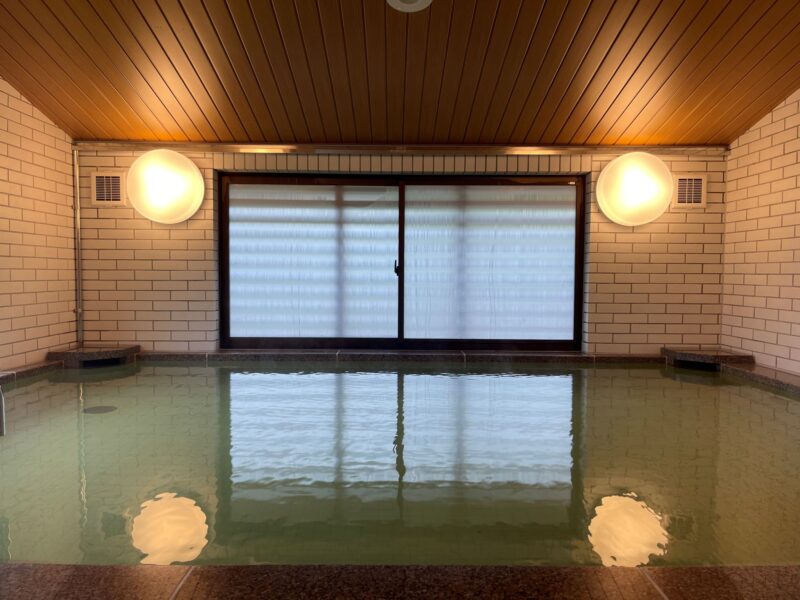 Yukidaruma Onsen (hot spring) Kuhikino
Business hours: 12:00-18:00 (last admission at 17:30)
       Saturdays and national holidays: 12:00-19:00 (last admission at 18:30)
       Closed on Mondays (if Monday is a national holiday, the museum will be closed the following day)
Admission: Adults (junior high school students and older): 600 yen, elementary school students: 300 yen, preschool children (3 years old and older): 100 yen
       Adults 500 yen for Joetsu City residents, 350 yen for Joetsu City Senior Passport holders
Data



■Address: 4820 Sugawa, Azuka-ku, Joetsu City, Niigata Prefecture
■Opening Period: Friday, December 23, 2022 – Tuesday, March 21, 2023 (national holiday)
*Closed on Tuesday, January 10 and Monday, March 13 through Friday, March 17.
Operating hours: 8:30 – 16:30 (list operating hours)
Fees: 1-day lift ticket: Adults 4,500 yen, junior high and high school students and seniors (55 and older) 4,000 yen, elementary school students 3,000 yen / Smile Kids Park 500 yen (free on weekdays)
Rental fee: ski/board set 1 day: Adult 4,500 yen, elementary school student and under 3,500 yen / Wear set 1 day: Adult 7,500 yen, elementary school student and under 3,500 yen / Full set 1 day: Adult 7,500 yen, elementary school student and under 5,500 yen
*Wear rental does not include accessories such as hats, goggles, and gloves.
Goggles, gloves, and hats are not available for rental due to hygiene concerns.
Discounts
Every Tuesday/Men's Day: 3,300 yen (1-day lift ticket + drink bar pass) from 1/17 (Tue.)
Every Wednesday / Ladies' Day: 3,300 yen (1-day lift ticket + drink bar pass) from 1/18 (Wed.) 
Every Thursday / Senior Day (55 years old and over): 2,800 yen (1-day lift ticket + drink bar pass) 1/19 (Thu.) through
The 3rd Saturday and Sunday of every month / "Joetsu City, Kashiwazaki City, Kariwa Village" residents' discount: 3,300 yen (1-day lift ticket) 3rd Saturday and Sunday from December to March
*Residents of Joetsu City, Kashiwazaki City, and Kariwa Village (ID required)
Ski Children's Day Privilege
■Content: Free lift (up to 2 elementary school students per parent/guardian)
■Target: 6-12 years old (children whose birthday is between January 1, 2010 and December 31, 2016)
■Date:3rd Sunday of December through March
キューピットバレイ