Myoko winter! A Night of Fantasy!
"Dynamite Carnival" is one of the biggest events in winter in the Suginosawa area of ​​Myoko City, Niigata Prefecture, and will be held at Suginohara Ski Resort on Saturday, January 18th.
The Dynamite Carnival is held by the local Suginosawa Tourism Association and other organisations so that tourists can enjoy one of the Koshōgatsu events in the Suginosawa area.  Koshōgatsu means Little New Year and refers to the three-day period from the 14th to the 16th of January.
A seven-meter-high bonfire is ignited at the "Dondo-yaki" event during Little New Year where Daruma (good luck dolls), Omamori (lucky charms) and New Year decorations are burnt, in the hope of bringing good health.
At the ski area, visitors can enjoy a demonstration of people sliding down the slope, brandishing flaming torches, while fireworks are set off in the background coloring the night sky.  There are stalls available at the event offering delicious food from Myoko.  From 5pm to the end of the event, a free shuttle bus runs from the hot spring towns of Suginozawa, Akakura, New Akakura, Ikenotaira, and Myoko Onsen.
Dynamite carnival
Myoko Suginohara Ski Resort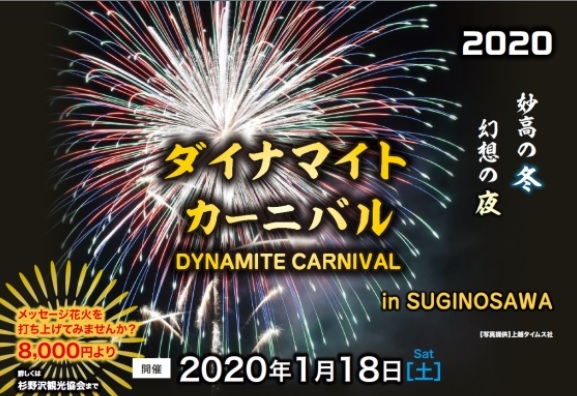 Address: Suginosawa, Myoko City, Niigata Prefecture
Tel: Suginosawa Tourism Association ℡0255-86-6000
Access:
<Car> 5 minutes from the Joshinetsu Expressway Myoko Kogen IC
<Taxi> About 15 minutes from Myokokogen Station on the Echigo Tokimeki Line