"Dolphins swimming" please enjoy their elegant performance!
A winter-only dolphin performance will begin on Saturday, November 21st at the Joetsu Aquarium Umigatari in Joetsu City, Niigata Prefecture.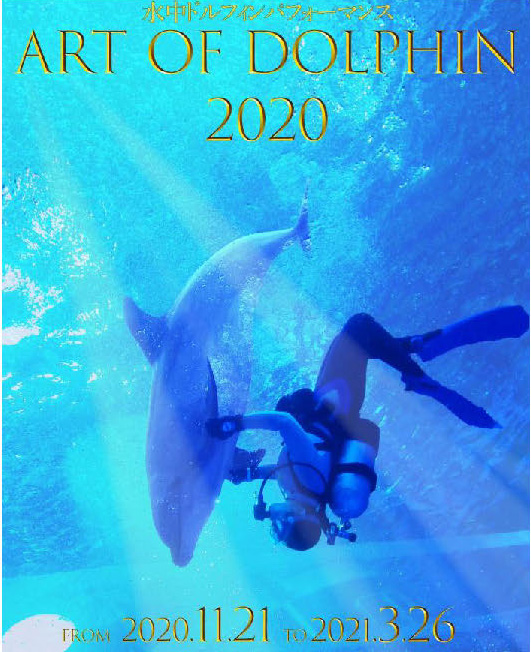 Umigatari's specialty "Dolphin Performance".  In winter, the venue will be moved from the outdoor dolphin stadium to the indoor dolphin hall, and the winter-only dolphin performance "ART OF DOLPHINS" will be held.
This year's theme is "Dolphins Swimming".  You can enjoy the appearance of bottle-nose dolphins swimming leisurely and enjoying an underwater meander to a relaxing tune.  The climax is a giant slalom where dolphins and trainers swim together.  A must-see performance with an outstanding combination of humans and dolphins swimming in perfect sync.
A spokeswoman for Umigatari said, "The highlight is the elegant underwater performance, where dolphins show their powerful but graceful swimming style together with their trainers.  Please come and see this breathtaking performance in perfect harmony."
Enjoy a fantastic and romantic underwater scene with natural light, and bubbles from the breath of dolphins and trainers.


Joetsu Aquarium Umigatari ART OF DOLPHIN
■ Period: November 21st (Sat) -March 26th (Fri), 2021
■ Business hours: Weekdays ①11: 00 ~ / ②13: 00 ~ / ③15: 00 ~
         Saturdays, Sundays, and holidays ①10: 30 ~ / ②12: 00 ~ / ③13: 30 ~ / ④15: 00 ~
■ Venue: Dolphin Hall on the 2nd floor


Joetsu Aquarium Museum Umigatari