There are four types of ticket available, including the limited express Hakusan, which is often requested by railroad fans!
The local "Echigo Tokimeki Railway" that runs in the Joetsu area of Niigata Prefecture has released its second set of commemorative tickets "Nostalgic Special Express Train Series" from October.

This commemorative ticket is a print of a photo of a nostalgic special express train that once ran along this line, and the first one was released in June of this year.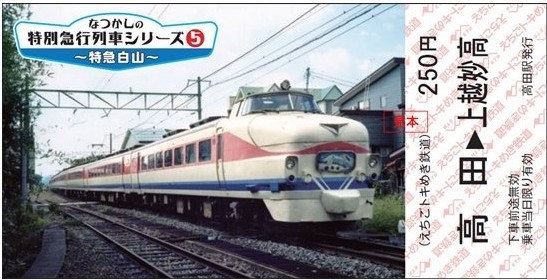 Front sample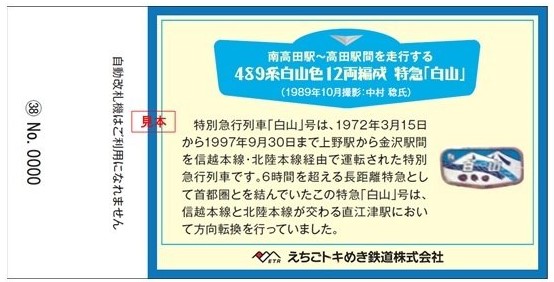 Back sample
The second set released this time has a total of four tickets from ⑤ to ⑧.  Limited express Hakusan, limited express Minori, limited express Hakucho, limited express Raicho that were previously operated on the Shin-Etsu main line.  These trains are often requested by railroad fans.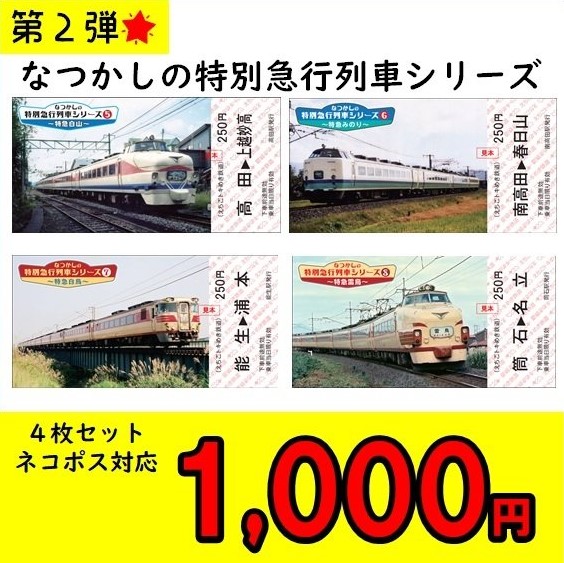 Second set [4 types]
⑤ Limited Express Hakusan Takada ⇒ Joetsu Myoko
⑥ Limited Express Minori Minamitakada ⇒ Kasugayama
⑦ Limited Express Hakucho Nou ⇒ Uramoto
⑧ Limited Express Raicho Tsutsuishi ⇒ Nadachi
Commemorative tickets can be purchased at the Myoko Kogen, Sekiyama, Arai, Joetsu Myoko, Takada, Kasugayama, Naoetsu, Nou, and Itoigawa stations.  They are also sold at the Echigo Tokimeki Railway official shop. .
A member of staff from the Echigo Tokimeki Railway said,
"It would be great if people who find it difficult to go out due to COVID-19 can enjoy seeing the nostalgic old tickets."
The first series (1) to (4) are also on sale.
First set [4 types]
① Limited Express Asama Kasugayama ⇒ Takada
② Limited Express Hakutaka Itoigawa ⇒ Kajiyashiki
③ Limited Express Kagayaki Nadachi ⇒ Arimagawa
④ Limited Express Hokuetsu Aomi ⇒ Oyashirazu

Nostalgic special express train set ⑤ ~ ⑧
■ Release period: October 1st (Thursday) -all year
■ Release quantity: 3,000 sets * Sales will end as soon as they are sold out.  In addition, the sale may end without notice.
■ Sales location: Myoko Kogen, Sekiyama, Arai, Joetsu Myoko, Takada, Kasugayama, Naoetsu, Nou and Itoigawa station counters (during ticket office opening times)
■ Online shop: Echigo Tokimeki Railway Official Shop