By ripening the chestnuts in ice storage, the sugar content is tripled!
Grape, saury, matsutake mushrooms … What kind of foods do you think of when describing the taste of autumn?
At Miyazawa Chestnut Farm in Kitadai, Sanwa-Ward, Joetsu City, Niigata Prefecture, sales of "roasted chestnuts", which are in season and boast a great sweetness, are on sale.

At Miyazawa Chestnut Farm, about 800 chestnut trees of 18 varieties are cultivated on a 2.6ha farm.  At the farm, some of the harvested chestnuts are steamed using a pressure cooker.  This "roasted chestnut" has been on sale since 2001, and has been gaining popularity as a taste of autumn every year.
The characteristic of chestnuts at Miyazawa Chestnut Farm is that they are aged for about a month in an ice storage kept at 0℃ after harvesting.  This turns the starch into sucrose, which is said to increase the sugar content by nearly three times.
 Before steaming, make a cut in the chestnuts so that they can be cooked evenly, and bake for about 20 minutes to make roasted chestnuts that easily peel.
According to Mr. Miyazawa, the representative, the yield is insufficient this season…
"The size of chestnuts is smaller than usual due to a lack of sunshine in July, and high temperature damage in August. We are selling early-maturing chestnuts, but we expect that they will gradually recover for the middle to late-maturing varieties. Even though it's small in size, it's definitely sweet because it's aged in ice, "he said.
Currently, the one that is being baked at the store is the early chestnut "Tanzawa".  From mid-October, varieties such as "Kenshin Amaguri" and from November, the glossy "Hitomaru", which is said to be the best for Montblanc (Chestnut cream cake), will be coming up.
Until last year, the store was opened only on weekends, but this year the store will be opened on weekday mornings to avoid overcrowding and protect against the coronavirus.
Miyazawa chestnut farm will start selling raw chestnuts from around September 19th.  From October, the store plans to ship raw chestnuts and roasted chestnuts to JA's direct sales office "Arurunbatake" in Joetsu City.  Roasted chestnuts at Miyazawa Chestnut Farm will be available until mid-November.
Miyazawa chestnut farm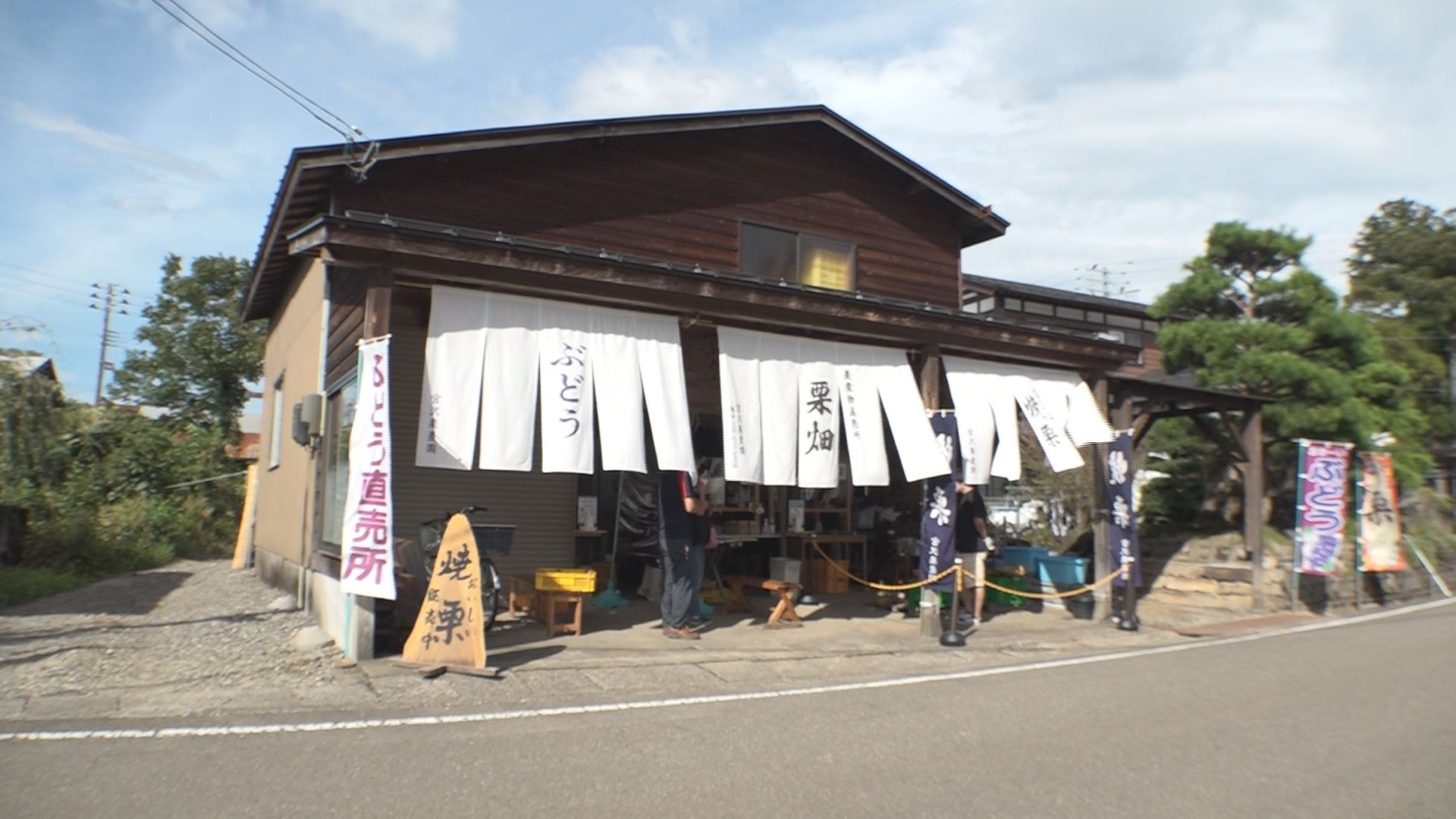 Business hours: 9: 00-17: 00
Address: 1065 Kitadai, Sanwa‐Ward, Joetsu City, Niigata Prefecture 943-0301
Tel: 025-532-2306
Access: 20 minutes from Joetsu IC on the Hokuriku Expressway / 30 minutes from Kakizaki IC
URL: https://joetsukankonavi.jp/spot.php?id=336