You can get original stickers with three stamps!
Do you know that there is a "Kubiki Cycling Road" along the coast that connects Joetsu City and Itoigawa City in Niigata Prefecture, and that you can enjoy cycling while enjoying the spectacular view of the Sea of Japan?  The autumn stamp rally has started on this bicycle path.  You can win luxurious prizes such as original jerseys and hot spring tickets.
The Kubiki Cycling Road is a dedicated road for bicycles and pedestrians that utilizes the abandoned former Hokuriku Main Line railway.  The course, which has a total length of 32.4km from Mushuiwato, Joetsu City, to Nakashuku, Itoigawa City, started operation in 1977.  This cycling road used to be the old Hokuriku Main Line (discontinued now).  You can enjoy the retro atmosphere as you pass through the tunnels and bridges along which steam-powered locomotives once ran.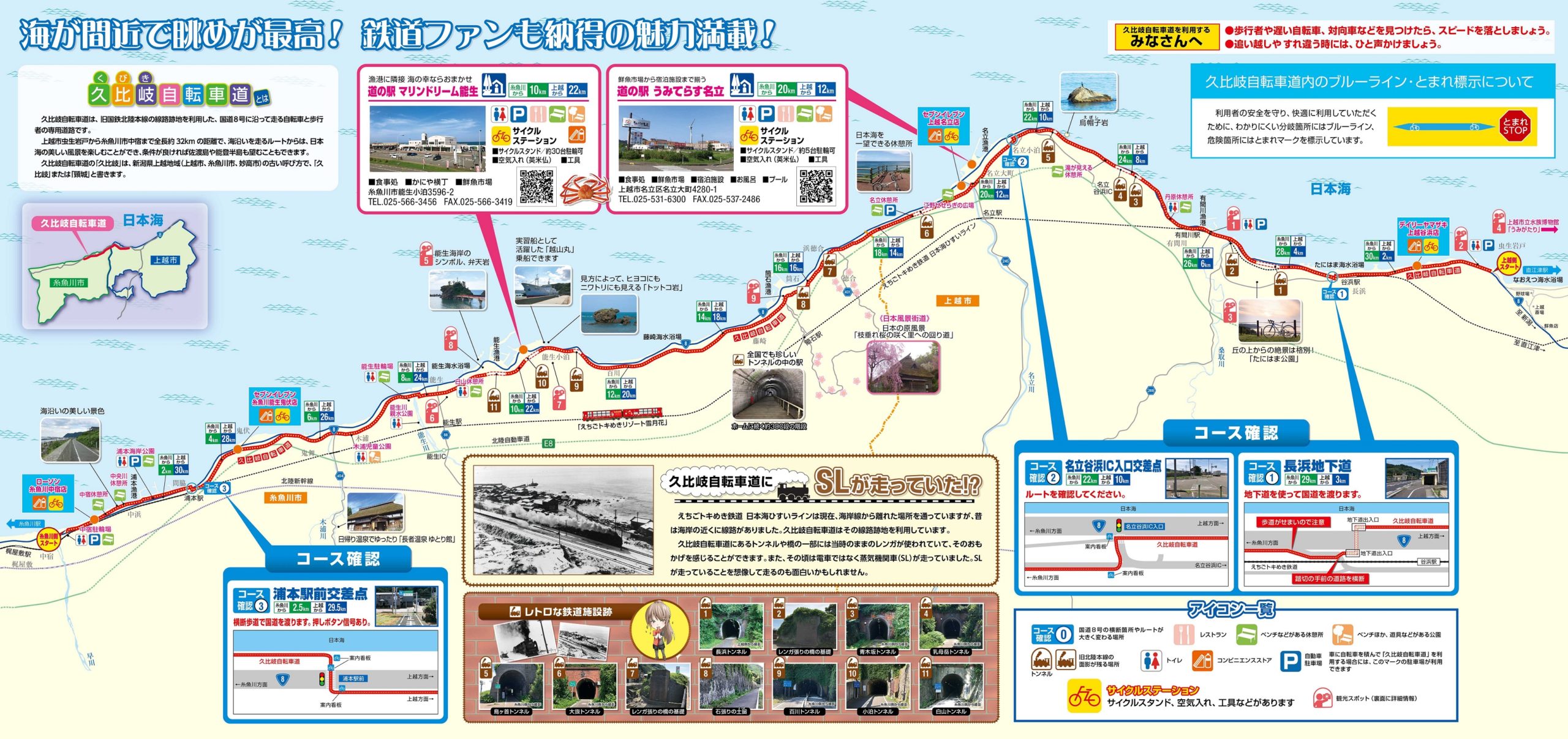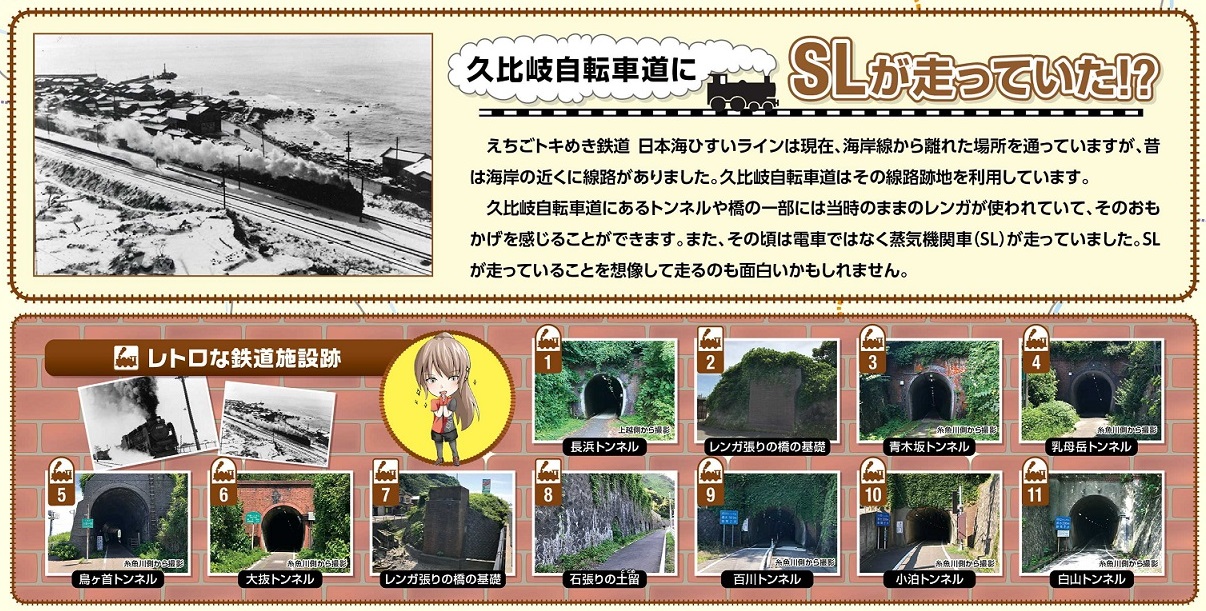 This stamp rally named "Let's cycle on the Kubiki Cycling Road ~Autumn Rinrin Campaign 2020~" provides stamps at six locations along the bicycle path. You can collect the stamps while enjoying the beautiful coastal view overlooking the Sea of Japan.  It is the work of the Kuibiki Cycling Road Attractiveness Improvement Committee in the hope that many people will find out more about this cycling road, and there will be increased opportunities for people to interact.
If you collect three stamps during the campaign, the first 200 people will get the original sticker for the Kubiki Cycling Road.

Also, if you collect all six of them, you can apply for a lottery to win luxurious prizes, such as the original cycle jersey of the Kubiki Cycling Road.
There are two places for collecting prizes and making lottery application: Roadside Station Marine Dream Nou and Roadside Station Umiterasu Nadachi.  Stamp rally sheets are available at each venue.
This mark is for "Cycle Station", a rest area for cyclists at the stamp rally venue.  We provide toilets, cycle racks, and a puncture and repair tool rental services.
According to the Kuibiki Cycling Road Attractiveness Improvement Committee, which planned this campaign, "Cycling minimizes social contact, so it is a good activity this year.  We hope that this campaign will help increase the number of people who enjoy cycling."

Let's ride on the Kubiki Expressway ~Autumn Rinrin Campaign 2020~
■Period: Saturday, September 5th to Sunday, November 15th
■Prize exchange and application place: Roadside station Marine Dream Nou / Roadside station Umiterasu
■Inquiries: Itoigawa Regional Development Bureau, Niigata Prefecture Planning Promotion Department (Secretariat) 025-553-1843 (Weekdays 8:30-17:15)
---
Recommended related video "Kubiki Bicycle Path"