Let's Take a Trip Through the Rice Fields by Bicycle!
To help people really immerse in the charm of the local area, electric-assist bicycles can be rented in Oshima-Ward, Joetsu City, Niigata Prefecture.  The theme is "Let's take a local trip".
Electric bicycle rental service "Cycle Oshima"
"Nouka Minshuku(farming-inn) Ushidaya" started the electric-assisted bicycle rental service in Tamugi, Oshima-Ward, Joetsu City, Niigata Prefecture. 
Ushidaya is a country inn managed by a couple who moved from the big city to Joetsu, to seek a lifestyle where they could make healthy food with their own hands.  They started their rental bicycle service so that both their guests as well as their neighbors and local people could enjoy a short day-trip by bicycle.
In Oshima Ward, there are beautiful beech forests that are unknown even to locals. "Itayama Fudoson" is a sacred spot with a beautiful waterfall where more than 100 stone Buddhas are enshrined in a cave. Even people living in other parts of Joetsu can discover new attractions in Oshima.
Mitsunori Ushida, who runs of Ushidaya Inn, says "Some people who live in Joetsu City have never visited Oshima-Ward.  I want them discover the scenery and feel the breeze that they had never known before."
Five electric bicycles are available so that you can ride easily in Oshima Ward, even when there are many ups and downs on the hilly roads.
Users will be provided with a walking map that describes sightseeing spots and events in Oshima Ward, as well as Koshihikari rice balls to snack on, made with rice grown by the Ushida couple using aigamo farming (duck-rice farming) methods.
In addition, Mr. Ushida will act as a guide to the town in more detail to those who want it, including the beautiful local scenery and other recommended spots.  Reservations are required for the rental cycles up to the day before use. They are available for guests of the inn as well as non-guests.
A cycling event is currently being planned for the fall.  For more details or for cycle reservations, please visit the website by searching for "Rice farming + Farming-inn Ushidaya" or on Facebook.
Recommended related video "Itayama Fudoson"
Rice Farming + Farming-inn Ushidaya Cycle Oshima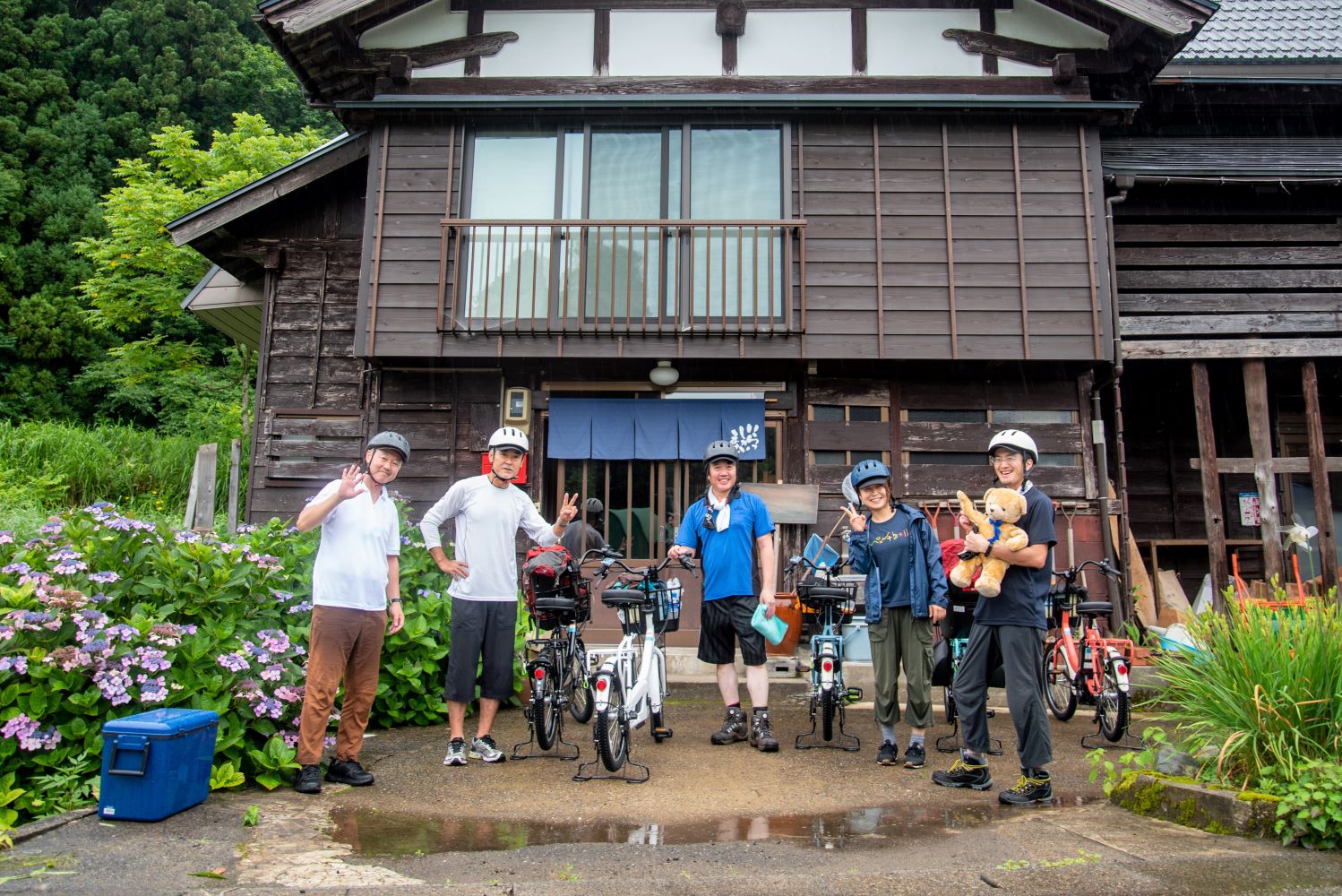 Address: 1283 Tamugi, Oshima-ku, Joetsu City, Niigata Prefecture
Tel: 050-1001-1131
URL: https://ushidaya.com