Even ramen lovers will be amazed!
 "Joetsu Aimenkai(an organization of ramen shops in Joetsu city)" will sell "Majimen" for a limited time from August 1st.  At the same time, a special offer ticket set will be sold.
---
<Majimen (Legit Ramen)>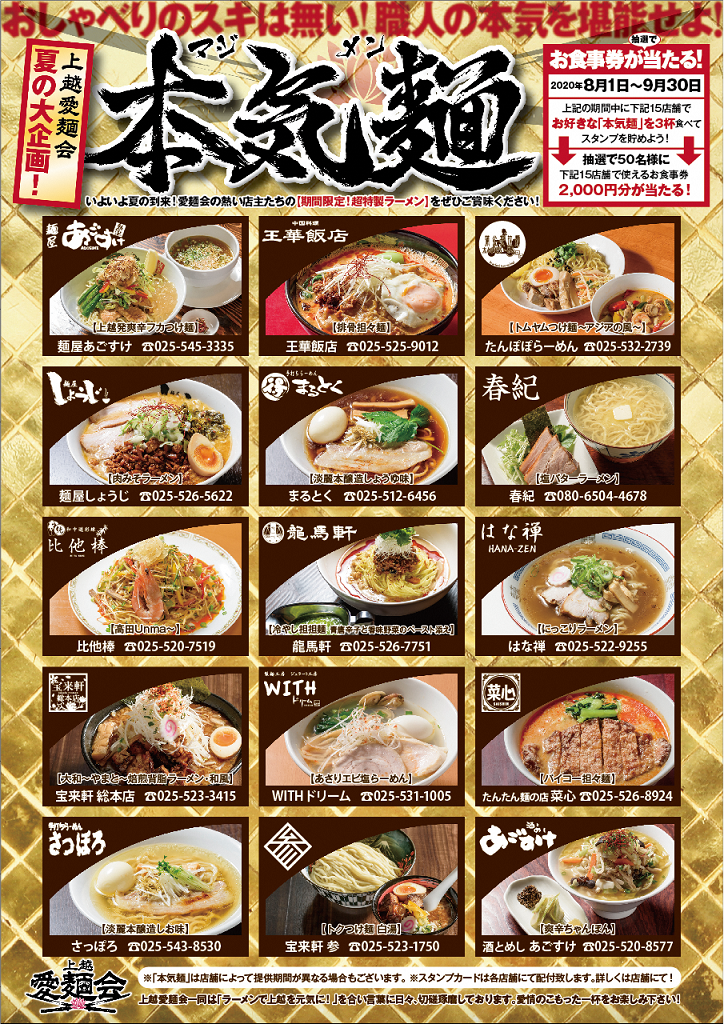 Majimen is offered by the Joetsu Aimenkai. In keeping with our new lifestyle of taking anti-virus measures such as: "Focus on foods, and refrain from chatting", the Joetsu Aimenkai have developed a product on the theme of "ramen good enough to forget about chatting."  A limited-time menu will be available until September at each of the 15 participating stores.
One of the participating stores, Marutoku will offer a ramen using soup blended with soy sauce and Katafune which is a brand sake from Takeda Sake Brewery in Joetsu City.
There is no flavor of sake, and duck fat is used to make a soup with an elegant scent.  Mr. Takagi of Marutoku said, "I made this dish seriously in pursuit of a smooth and refreshing taste, umami and depth.  The Joetsu Aimenkai offers ramen made to the highest standard, so please give it a try!".
In addition, "Majimen" comes with a lottery to win a meal ticket for 2,000 yen.  Every time you eat one bowl, you will get one stamp, and you need to collect three to apply.  The lottery will be in mid-October and there will be 50 winners.
<Participating store>
Menya Agosuke / Ookahanten / Tanpopo Ramen / Menya Shoji / Marutoku / Haruki / Beatervan/ Ryomaken / Hanazen / Horaiken Sohonten / WITH Dream / Tantanmen's Shop Saishin / Sapporo / Horaiken san / Sake and Meat Agosuke
---
<Special offer ticket set>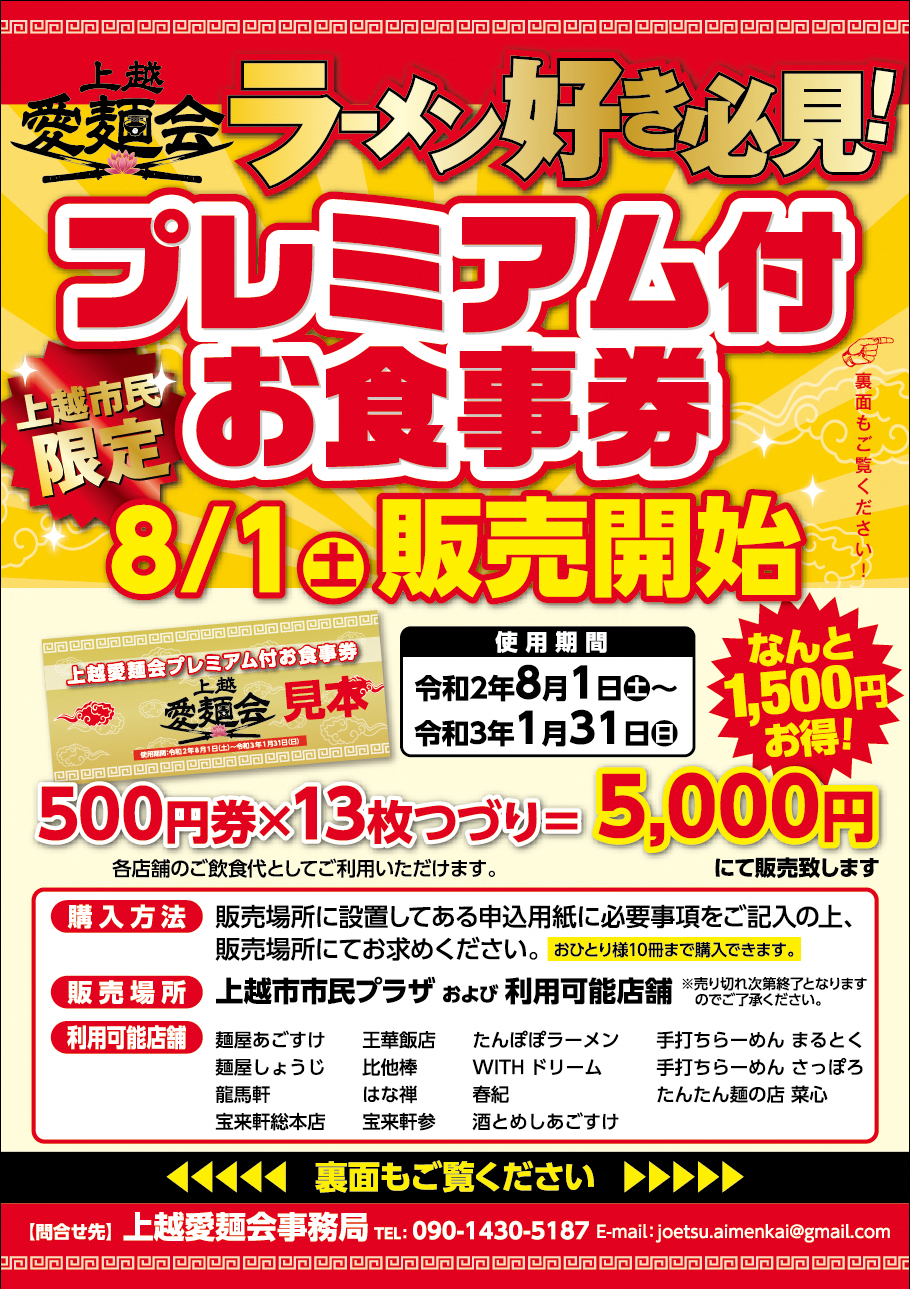 In addition, Aimenkai will sell a special offer set of meal tickets from August 1st.  A meal ticket costs 500 yen, and there are 13 tickets in a set, three of which are free!  The total value of the set and is 6,500 yen but the price is 5,000yen.  Only Joetsu citizens can purchase up to 10 sets per person.  Limited to 1,667 sets of tickets.  You can use them at any of the 15 participating stores in Joetsu city.  You can purchase meal tickets at participating stores, as well as at Joetsu City Plaza.  The tickets are valid until the end of January next year.
<Participating stores>
Menya Agosuke / Ookahanten / Tanpopo Ramen / Menya Shoji / Marutoku / Haruki / Beatervan/ Ryomaken / Hanazen / Horaiken Sohonten / WITH Dream / Tantanmen's Shop Saishin / Sapporo / Horaiken san / Sake and Meat Agosuke