Focusing on the recent boom in camping, we cover all campgrounds operating in the Tokamachi City area. In addition to detailed information on each campsite, the editorial department recommends places to stop by. Whether you are looking for a family camping trip or a solo camping trip to enjoy your time to the fullest, we are sure you will find something to suit your needs. Why don't you go out and enjoy the great outdoors?
【Open April 28-October 31】Echigo-Tsumari Art Triennale You can stay at the artworks!
From Muikamachi I.C. on the Kanetsu Expressway, drive 30 minutes to Kawanishi District via Route 253. The campground is located in the middle of the ruins of Fushiguro Castle, one of the largest mountain castles in the Tsumari region.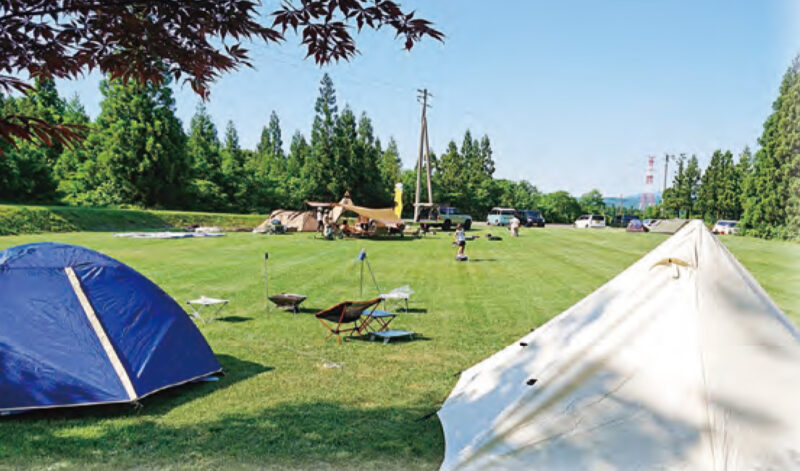 The camp site overlooks the Echigo Sanzan mountains and river terraces, and at night the sky is filled with stars, creating a romantic scene.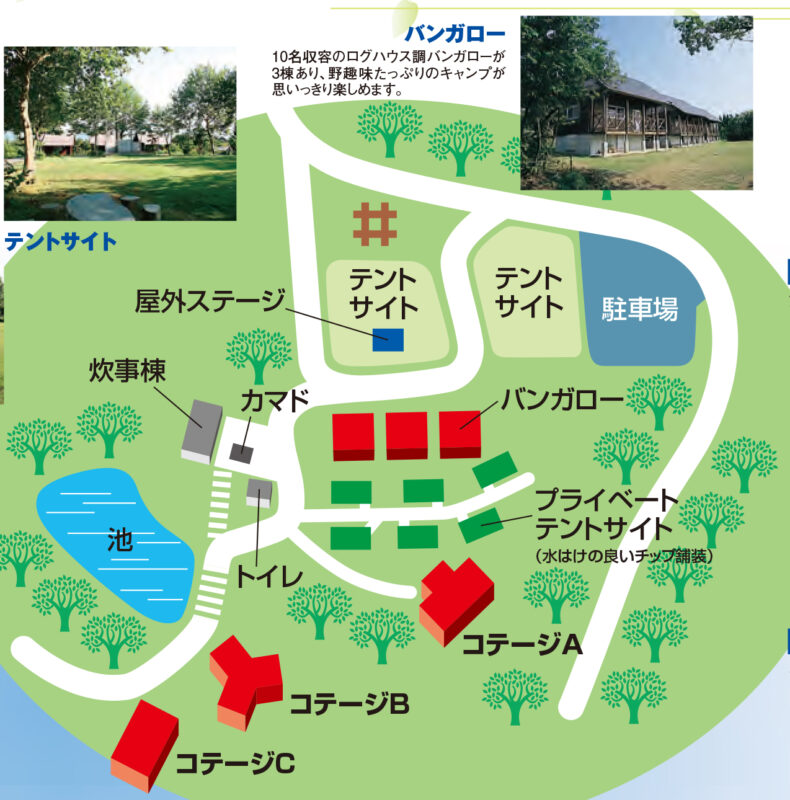 It is popular as a spot where visitors can easily enjoy the outdoors in a cottage, bungalow, or tent site, depending on their style.
Each of the three unique cottages was designed by famous up-and-coming architects and has become a work of art at the Echigo-Tsumari Art Triennale.

Cottage A (designed by Yoshio Kawai)
Cottage A is a comfortable interior space with tatami mat rooms arranged in a complex step-like pattern and solid bark floors and walls. Open the windows to enjoy an open-air bath feeling in the great outdoors.

Cottage B (designed by Yoshiharu Tsukamoto)
Cottage B has a U-shaped plan from three directions, with the axis of the view in mind, and is also earthquake-resistant. The interior, unified in black, looks like a mirror when viewed from the outside, creating a strange sensation.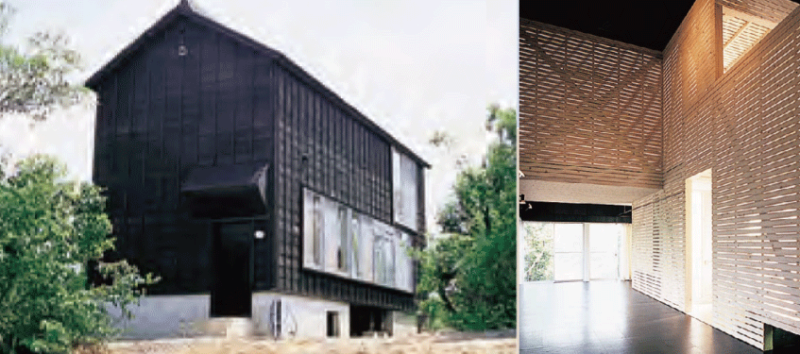 Cottage C (designed by Daigo Ishii) won the Good Design Award
Cottage C is a large space with a small space made of white wood that is permeable, creating a subtle light environment. The unique interior design and ease of use are well-received. All cottages are equipped with air conditioning and a kitchen, but please bring your own cooking utensils and tableware. There is no refrigerator. Please bring your own cooler box if necessary.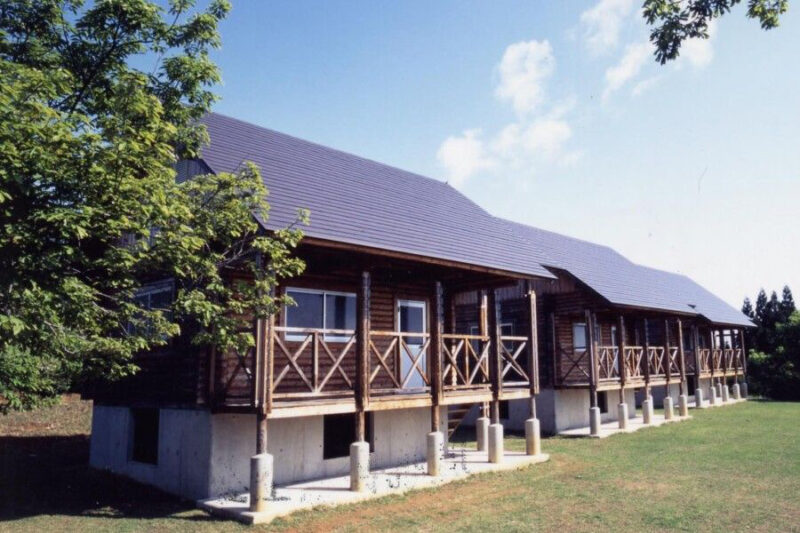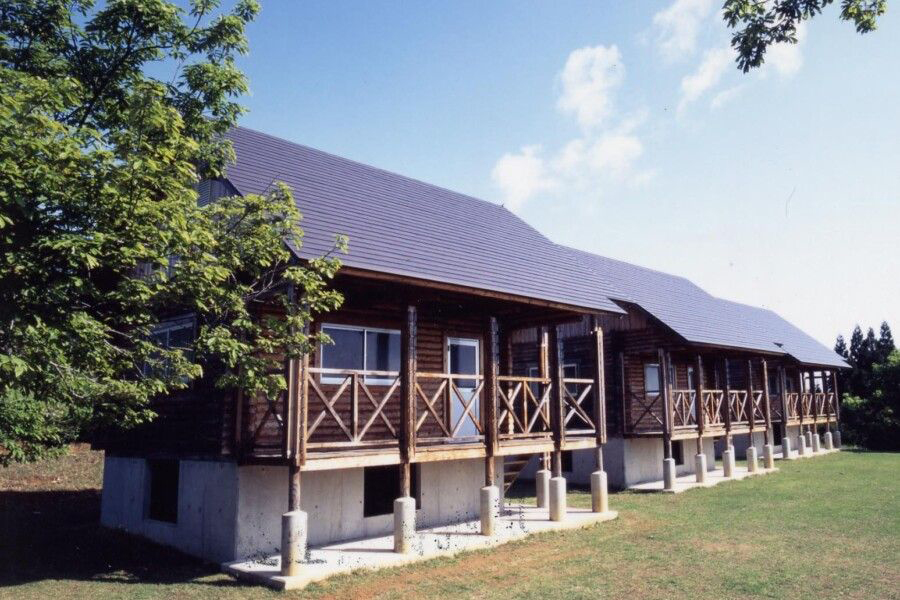 bungalow
In addition, there are three log cabin-style bungalows that can accommodate 10 people. The bungalows have power and lighting, but no running water. You can enjoy camping in the wild.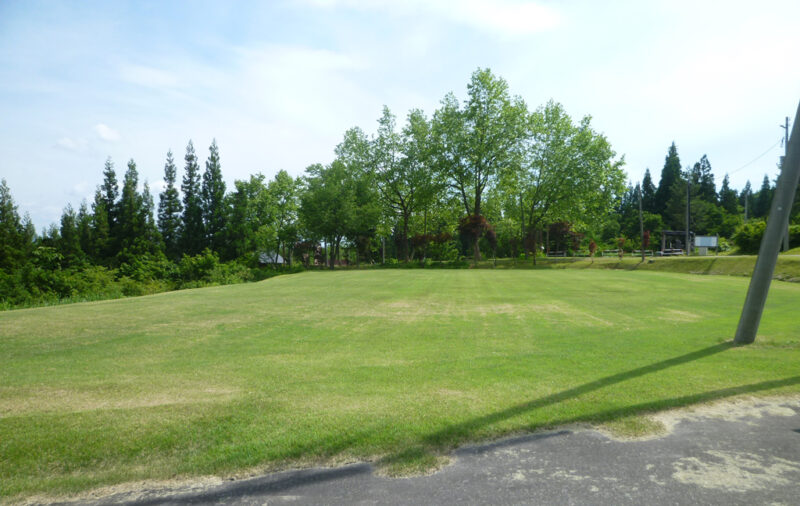 Tent Site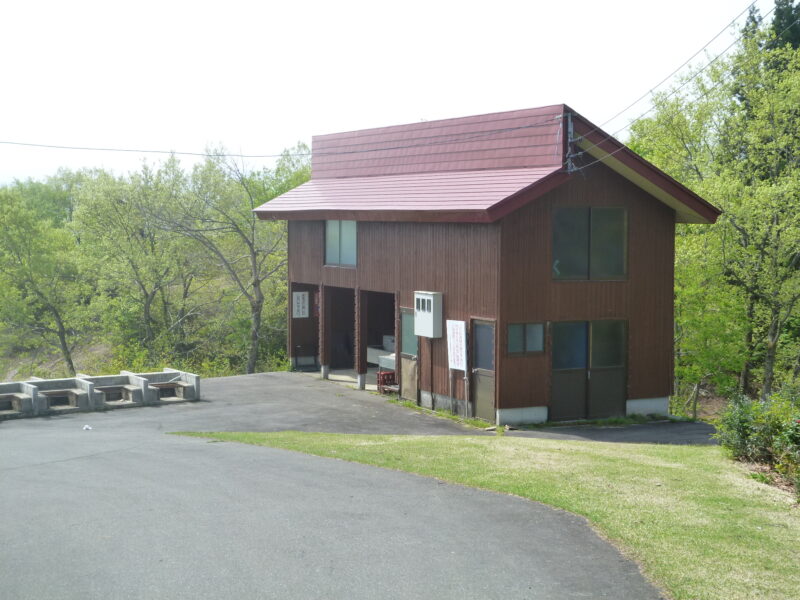 kitchen tower
The distance from the parking lot to the tent sites ranges from 10 to 100 meters. There is a cooking building a short distance away from the tent sites, which is equipped with kamados and flush toilets.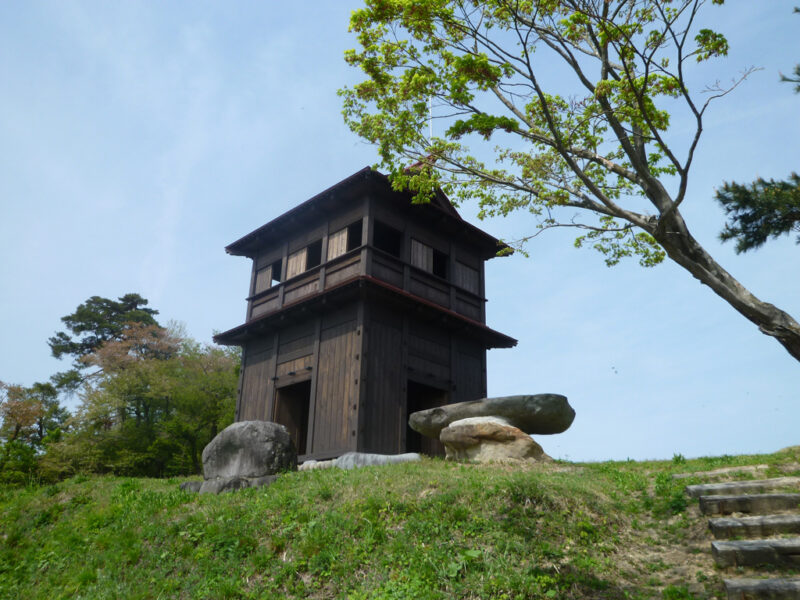 Fukuguro Jouseki Observatory
500 meters up from the campground is the Fushiguro-joseki Observatory. From the observatory, which was reconstructed based on the historical fact that Setsuguro Castle was a watchtower, visitors can enjoy a 360-degree panoramic view.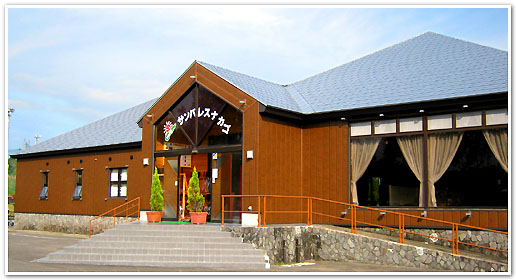 Sun Palace Nakago (Nakago Green Park)
The campground must be accepted at Sun Palace Nakago, a tourist exchange center 2 kilometers away. At "Nakago Green Park" where Sun Palace Nakago is located, visitors can enjoy putting golf, family golf, dog run, and art works.
Starting with the 2023 season, the hours of operation for bungalows (4,000 yen per bungalow/night) have been changed to 3:00 p.m. to 10:00 a.m. For details, please see the "Camping Fees" section of our website.
< DATA>
■business period: April 28 – October 31, 2023
■Reception:Both reservations and reception should be made at Sun Palace Nakago.
Check-in: 14:00-16:30 / Check-out: 8:00-10:00
Fees: Tent sites: 1,000 yen per tent, 500 yen per tent and tarp, 500 yen per tarp for use of common space (cooking area, toilets). Bungalow: 4,000 yen per night, cottage: 10,000 yen per night facility fee, adult (junior high school student or older): 1,500 yen Elementary school student: 750 yen
■Parking lot: 20-30 cars
Fushigurojoseki Campground