Welcome to the sacred mountain at an elevation at the base of 993m!
Yoneyama is also known as the Mount Fuji of Echigo, because of its elegant appearance.
Yoneyama is located between Joetsu City and Kashiwazaki City, in Niigata Prefecture. One of the three major Yakushi (three sacred sites connected with Buddah), Yoneyama Yakushi has long been worshiped in the hope of providing an abundant harvest and healing. It features many images of Buddha in stone along the roadside.  Above all, the biggest attraction of climbing Yoneyama is the view from the top of the mountain, where the plains of Takada and the city of Kakizaki are spread out below. You can also see Sado and the Noto Peninsula, weather permitting. The 360-degree panoramic view is especially rewarding.
There are two ways to climb Yoneyama from the Joetsu City side: the Shimomaki Mountaineering Course and the Mizuno Forest Road Course. In the video, we went to the summit from the "Shimomaki Course" which is recommended for beginners and families. It is 3,488m at the summit. As a guideline it takes about 2 hours 30 minutes to ascend the mountain and the descent takes about 1 hour 30 minutes.
If enough earth accumulates, it will become Yoneyama!
Since 2019 there have been activities to transport soil to the summit of Yoneyama. Sediment runoff has become noticeable over the last few years. A restoration committee composed of the mountaineering clubs in Joetsu and Kashiwazaki has been calling on mountaineers to carry soil to the summit for restoration.
The area to be restored is between the shelter hut and the Yakushido, and is approximately 25㎡. The plan is to add 40 cm of soil with a total weight of 16 tons over 5 years. According to the council, in the first year of the project in 2019, a total of 5,000 people, including elementary school students who participated in school mountaineering, carried about 4 tons of soil.
The soil is placed at the three trailheads, along with plastic bags for the mountaineers to carry it to the summit. The three trailheads are:  the Shimomaki mountain climbing course and Mizuno forest trail on the Joetsu city side, and the Ohira mountain trail on the Kashiwazaki city side. The task will be conducted until the mountain climbing season ends at the beginning of November.
This soil has been specially treated to prevent invasive, exotic plant seeds.  The council is calling on people to contribute to this project.
Would you like to enjoy climbing Yoneyama, and also contribute to the restoration of the summit?
Yoneyama Shimomaki Mountaineering Course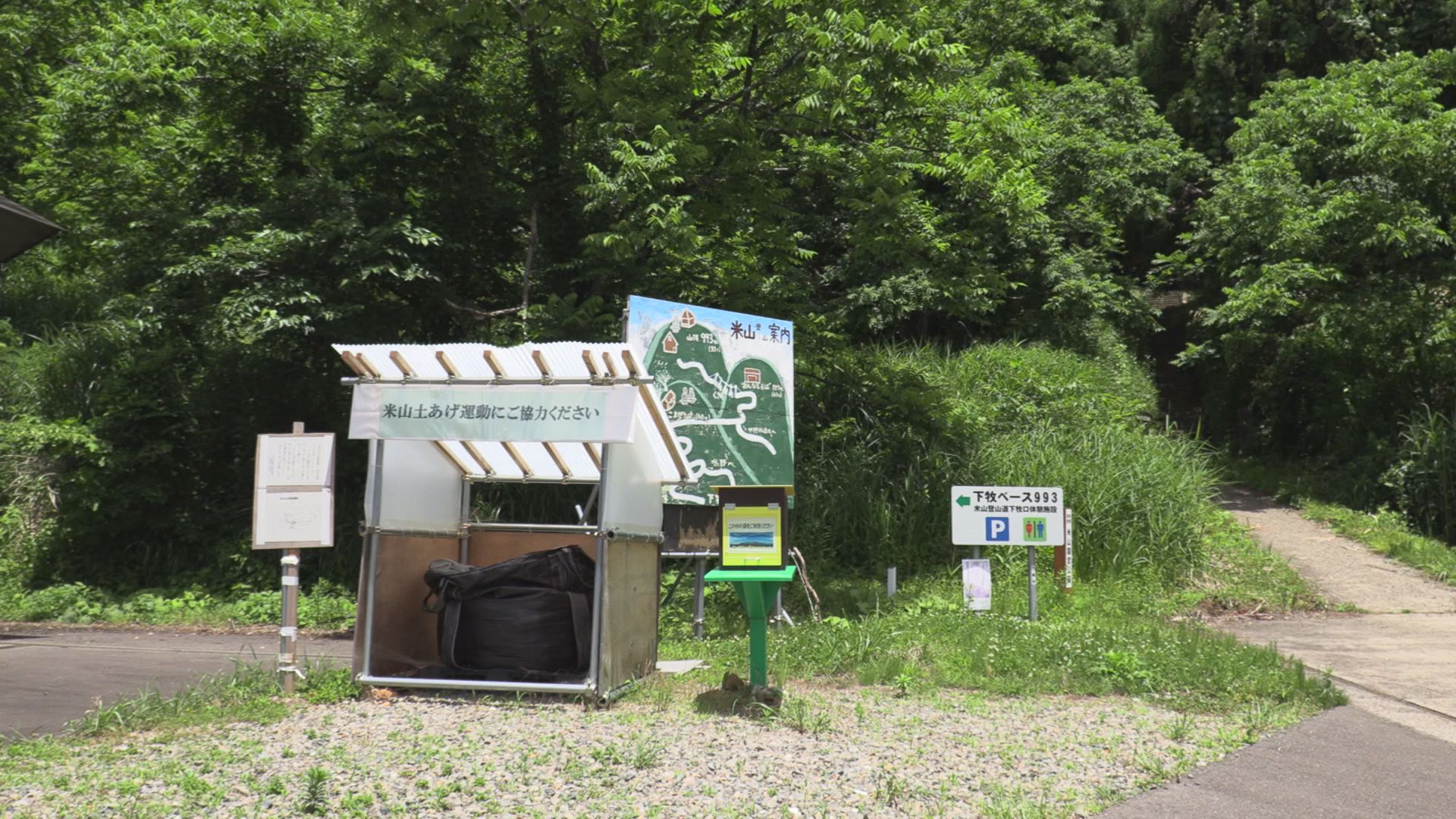 The end of May opens at the end of May
Address: 694 Shimomaki, Kakizaki-ku, Joetsu-shi
Access: About 20 minutes from Kakizaki IC on the Hokuriku Expressway
URL: https://www.kakizakikanko.com/