Two events will be held to experience the traditional atmosphere of Takada and the town's culture.
Two events, "Awayuki Douchuu" and "Takada Goze again," will be held on Saturday, April 4 at the Takada Komachi Machiya Exchange Center and other locations in Joetsu City, Niigata Prefecture, where visitors can experience the atmosphere and culture of the castle town of Takada.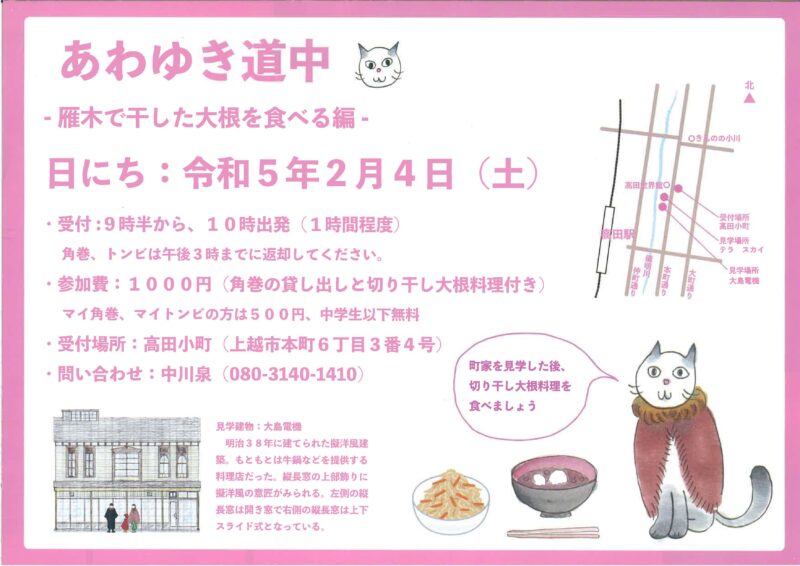 Awayuki Douchuu is an annual event held by the Awayuki-gumi, a citizens' group, to let visitors enjoy the atmosphere of Takada, where machiya houses and gangi still remain.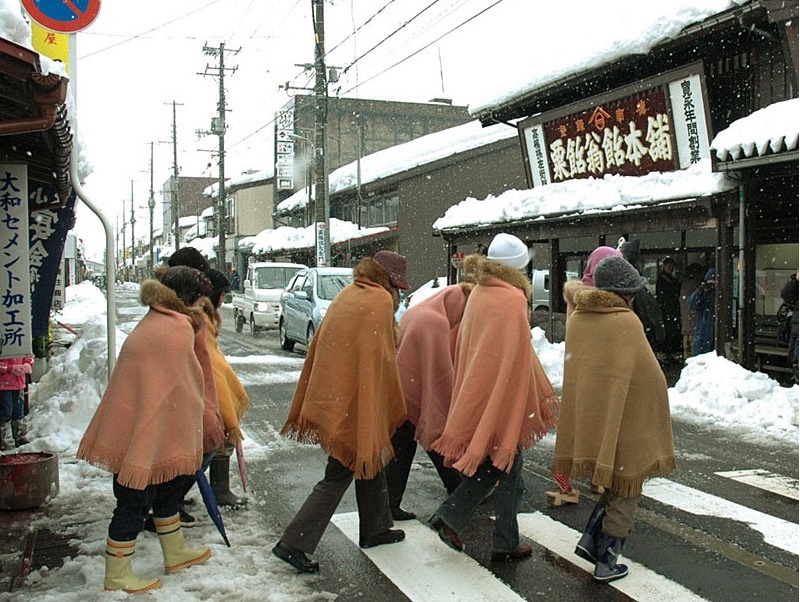 Past Awayuki Douchuu
Visitors will stroll under the gangi, wearing winter clothes such as kakumaki and tombi, which were used in many parts of Niigata Prefecture until the mid-Showa period.We also offer rental services for Kakumaki and Tombi.
This time, while strolling around, we will visit the Oshima Denki building, a quasi-Western-style building built in 1905, located diagonally in front of Takada Komachi, and other buildings.In addition, after strolling and touring, everyone will return to Takada Komachi to enjoy a kiriboshi-daikon (dried daikon radish) dish for tea.No prior application is required.
Awayuki Douchuu - Eating dried daikon radish under gangi –
■Date: February 4 (Sat.) Registration 9:30~, Departure 10:00 (about 1 hour)
*Please return Kakumaki and Tombi by 3:00 p.m.
■Place of reception: Machiya Exchange Center Takada Komachi (6-3-4 Honmachi, Joetsu City)
■Participation fee: 1,000 yen (with rental of Kakumaki and dried daikon), free for junior high school students and younger
*If you use my Kakumaki or my Tonbi, the fee is 500 yen.
No advance application is required.
■ Description: Wearing a Kakumaki and a Tombi, walk along the gangi and visit machiya (townhouses).
■Inquiries: TEL080-3140-1410 (Nakagawa)
---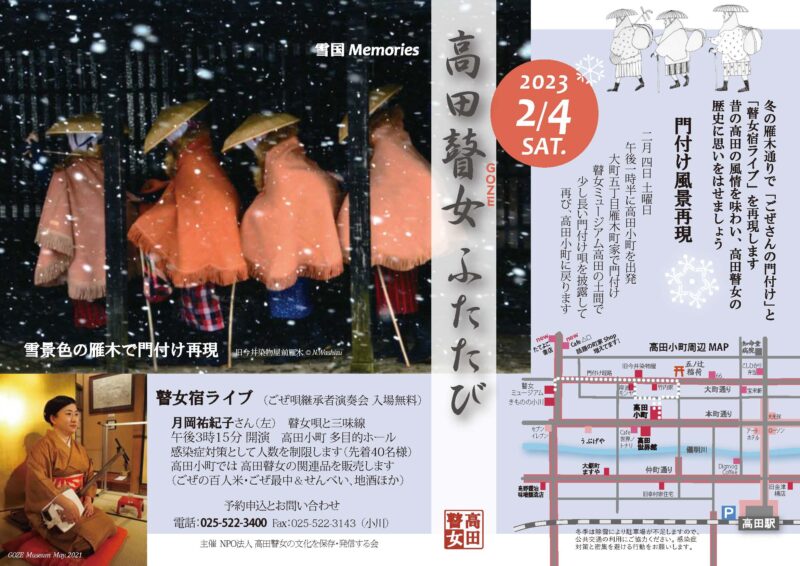 In the afternoon of the same day, there will be an event "Takada Goze again," where you can enjoy a Goze YadoLive and a reenactment of the goze's kadozuke scene.
This event, sponsored by the "Society for Preservation and Transmission of Takada Goze's Culture," a non-profit organization in Joetsu City, will recreate the Takada goze's kadozuke, which was performed until the middle of the Showa period (1926-1989).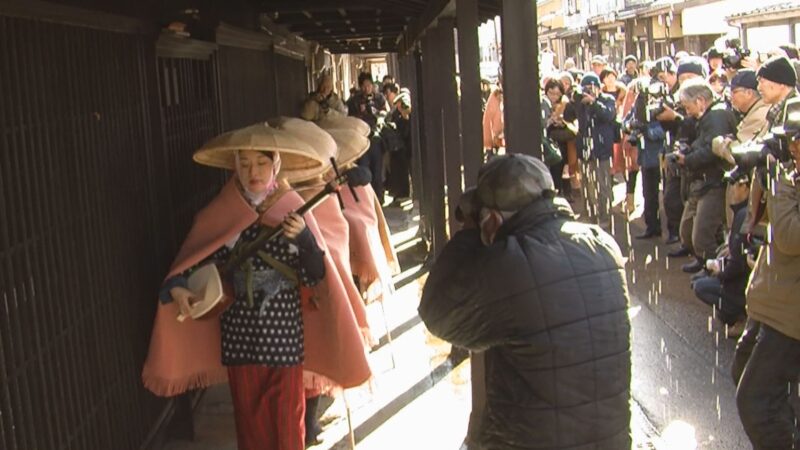 Scene of Kadotsuke reproduction
The group dressed as Goze will depart from Takada Komachi, and will gate at the gangi in Omachi 5-chome.A slightly longer Kadozuke Uta will be performed on the earthen floor of the Goze museum Takada.
After that, "Goze Yado Live" will be held in the multi-purpose hall of Takada Komachi.Shamisen player Yukiko Tsukioka will perform a goze song.Admission is free, but advance registration is required for these seats, which are limited to the first 40 people.At the event, we plan to sell products related to goze, such as monaka (sweet bean paste), senbei (rice crackers), and local sake.
This is a rare opportunity to experience the traditional Takada lifestyle and culture.Those interested are encouraged to participate.
Takada Goze again
〈Reproduction of a scene at Kadozuke〉
■Date: February 4 (Sat.) 13:30 Departure
Venue: Departure from Takada Komachi Machiya Exchange Center, Kadozuke at Ganki Machiya, Omachi 5-chome, and Kadozuke Uta at the dirt floor of Goze Museum Takada.
〈Goze Yado Live〉
■Sun time:February 4 (earth) 15:15 start
■Venue: Machiya Koryukan Takada Komachi Multipurpose Hall (6-3-4 Honmachi, Joetsu City)
■Admission fee: Free
*First 40 applicants
■Content: Goze songs and shamisen by Yukiko Tsukioka. Selling related products of Goze.
■Reservations & Inquiries: TEL 025-522-3400 (Ogawa)
■Home Page:http://www.goze-museum.com/ (Goze Museum Takada)
Machiya Koryukan Takada Komachi
Address: 6-3-4 Honmachi, Joetsu City, Niigata Prefecture

関連記事
Niigata Joetsu Retro Spot Takada Machiaruki