The vast slopes with four different areas are the attraction! December 3 – April 2, 2023 (tentative)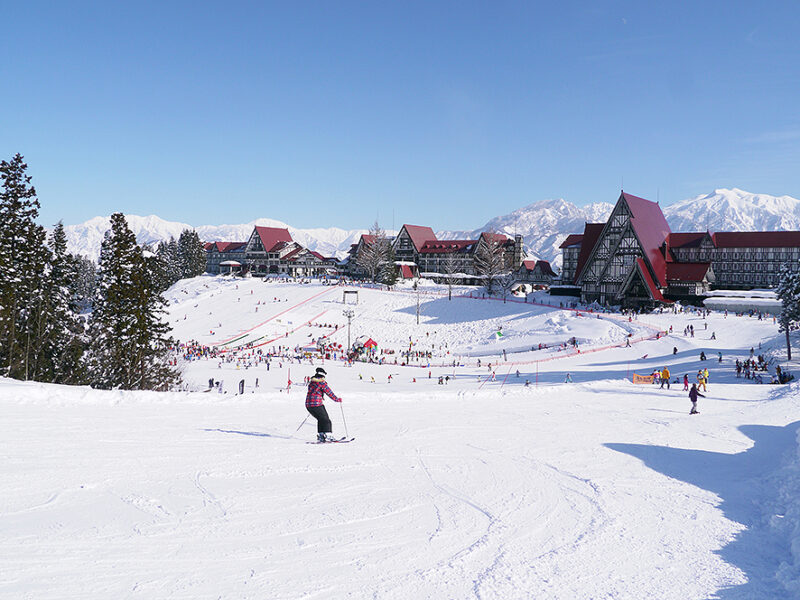 Joetsu Kokusai Ski Resort, a snow resort overlooking Minamiuonuma City in Niigata Prefecture, is located 7 minutes from the Shiozawa Ishiuchi Interchange on the Kanetsu Expressway.The biggest features are the size of the slopes, which consist of four areas, and the wide variety of courses (30% beginner, 50% intermediate, and 20% advanced) for a total of 22 courses.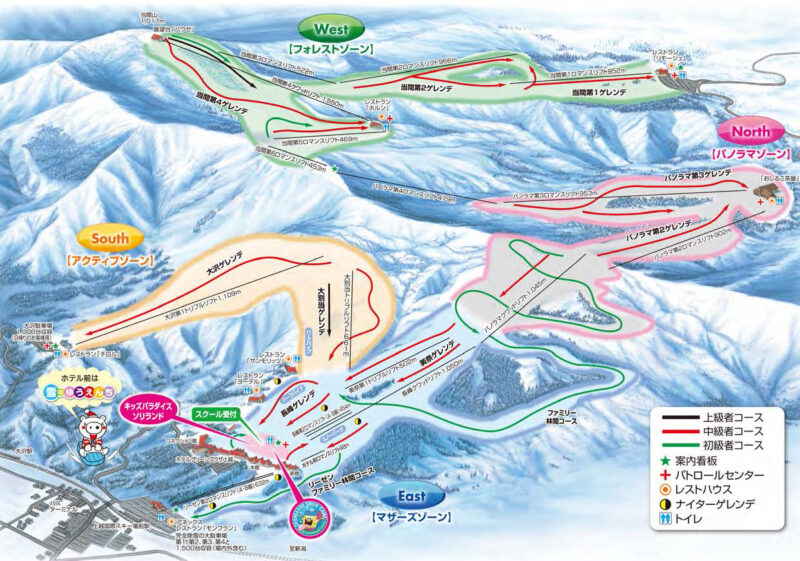 From Joetsu International Ski Resort HP
The "Mother's Zone," which stretches in front of the Hotel Green Plaza Joetsu, the symbol of Joetsu International Ski Resort, is the center of the ski area and is recommended for beginners and families.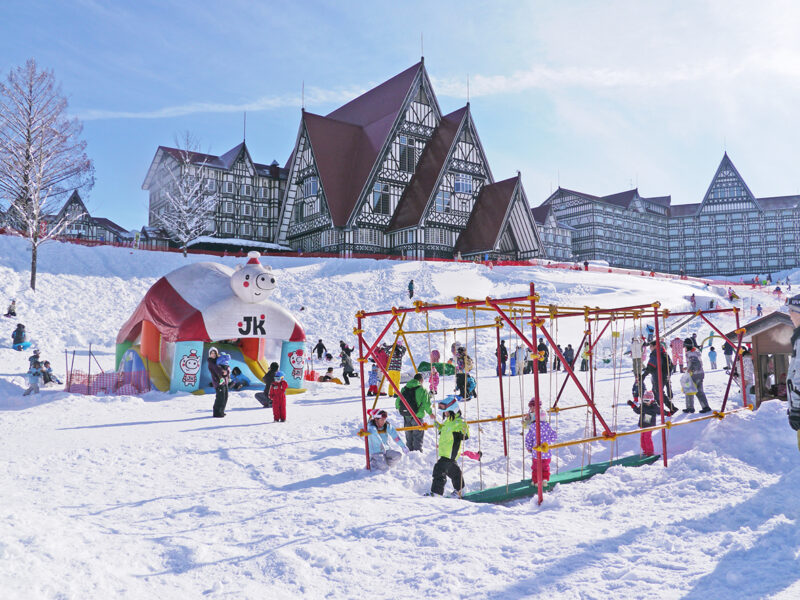 There is also "Kids Paradise," a snow play slope exclusively for children, perfect for their skiing debut.The "Snow Park," equipped with a variety of items that can be enjoyed by beginners as well as those who want to hone their skills, is also popular.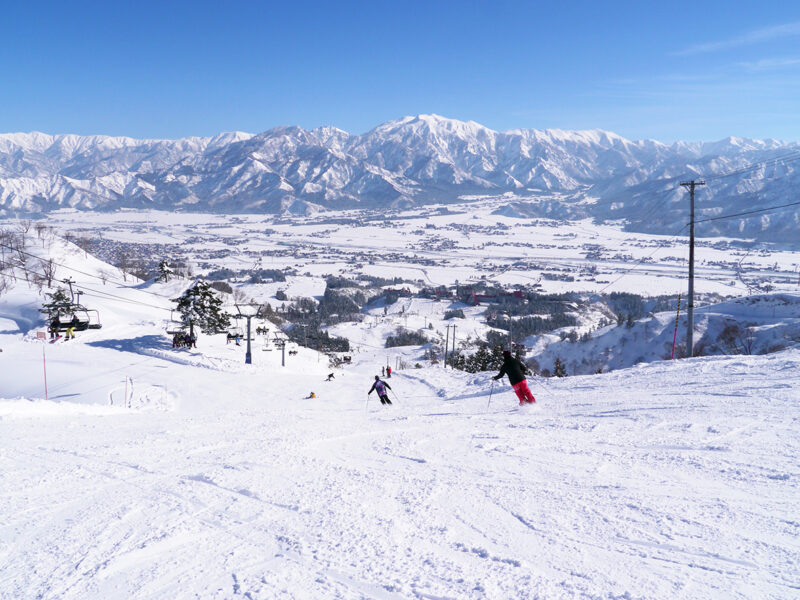 On the north side is the Panorama Zone, an area for intermediate skiers who can enjoy the varied and undulating terrain, and on the south side is the Active Zone with challenging courses for advanced skiers who are confident in their abilities.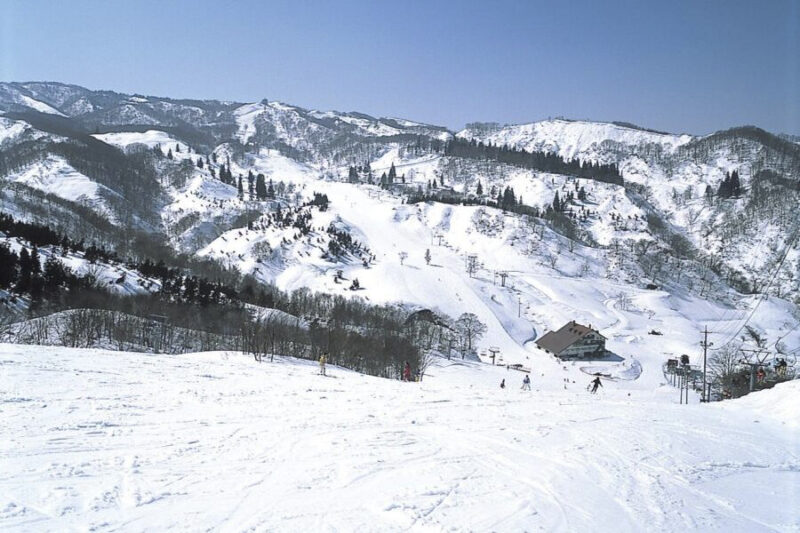 The "Forest Zone" is located on the Tokamachi City side of the ski area, at the far end of the ski area, where you can enjoy skiing in a relaxed atmosphere in the beech forest.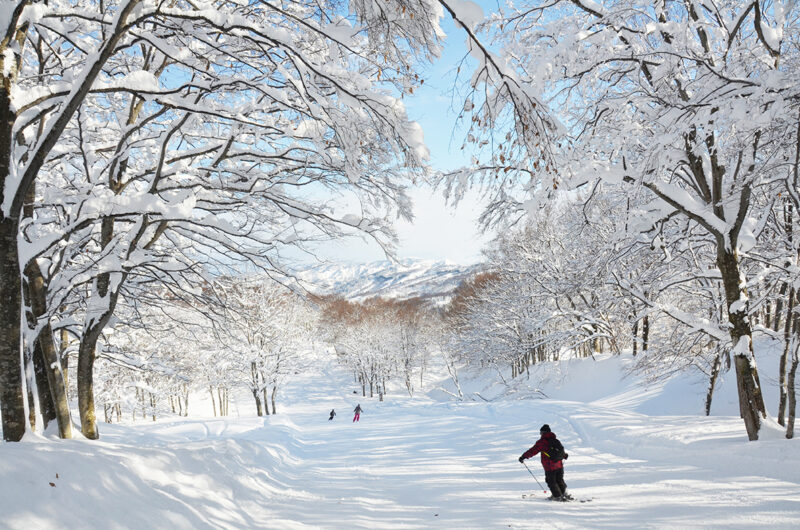 Since all zones can be accessed by lift, it may be fun to take a tour and conquer the entire area.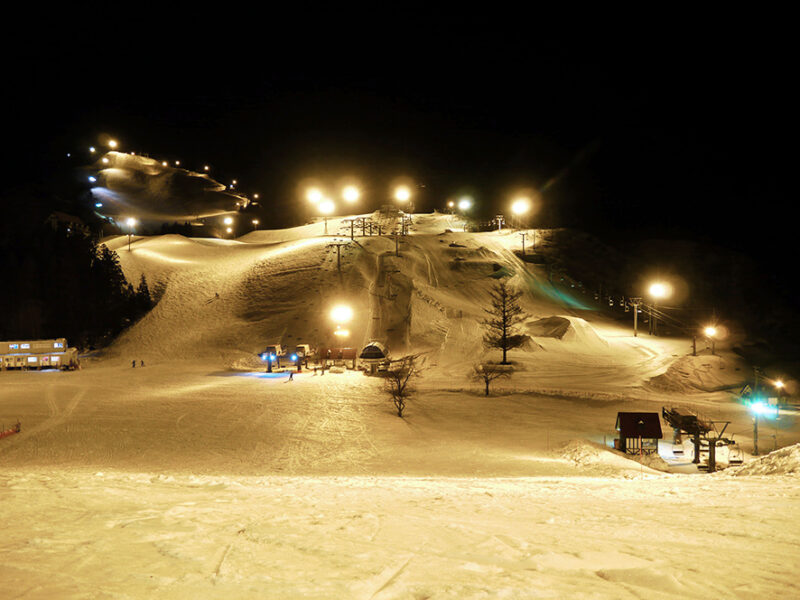 Joetsu International Ski Area also offers night skiing until 9 p.m. every day.If you purchase a long day pass, you can ski night skiing without worrying about the time.Enjoy the fantastic atmosphere and snow quality of the slopes, which are different from those during the daytime.
In addition, various events are held for both adults and children to enjoy during the ski season.Please check the event information below.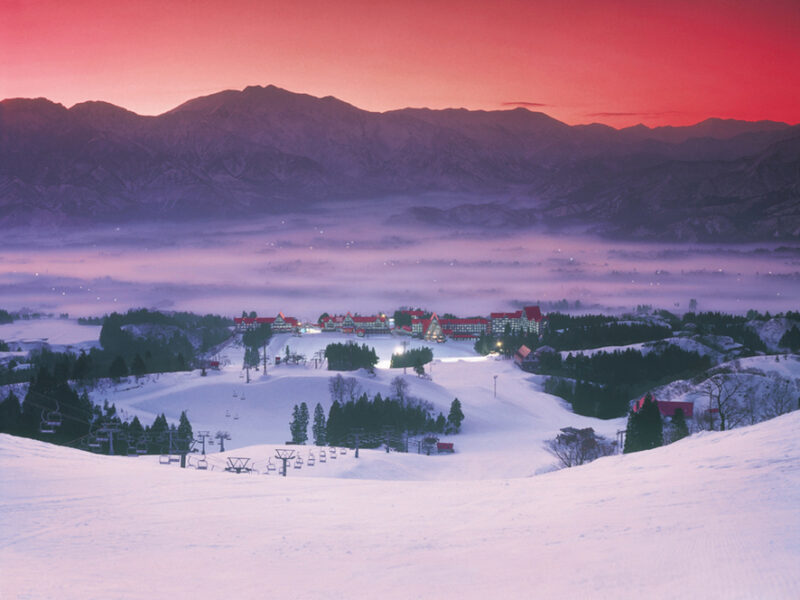 Joetsu International Ski Resort will celebrate its 55th anniversary this year.To commemorate the event, we are holding a campaign and events related to the number "55".We are running a special present campaign to win studless tires, a baby stroller, a car, and more. Please visit our website for details.
<Event>
Countdown & Impersonation Stage Show
■Date: Saturday, December 31, 22:30 – 24:30
■Location:Special stage on the slope in front of the hotel
Triathlon for Children
■Date/Time: Every Saturday and Sunday from December 31 (Sat.) to March 19 (Sun.), 2023 (11:00)
■Location: In front of the hotel in the Kids Paradise
*This event is open to children from 3 years old and up to 4th grade elementary school students, and requires a Kids Paradise admission ticket.
■Content: Triathlon of 3 events: Swim + Run + Ride.
Fireworks over the snow in Jokoku
■Date: Saturdays from January to March 2023, scheduled for 20:30
■Location:Nagamine slope
■Fee:Free admission
Iwappara & Jokoku Sled Race
■Dates: January 29 (Sun.), February 26 (Sun.), March 21 (Tue., holiday) 11:00-12:00
■Location:SOLILAND
athletic event held on a snowy day
■Date: February 4 (Sat.) and March 4 (Sat.), 2023 (1st session from 10:30 a.m., 2nd session from 12:30 p.m., 3rd session from 2:30 p.m.)
■Location: Next to Kids Paradise
■ Contents: Flags on snow, running ball toss, big ball rolling, tug-of-war, and treasure hunt in the snow will be held. There will be prizes for each event participated in.
Data



■Address: 112-1 Kabanosawa, Minamiuonuma City, Niigata Prefecture
■Operating period: Saturday, December 3, 2022 – Sunday, April 2, 2023 (scheduled)
■Hours of operation: 8:00 – 21:00
■Fees: Long 1-day pass (8:00 – 21:00) / Adults (junior high school students and older) 4,500 yen, Juniors (3 years old – elementary school students) 2,500 yen, Master (55 years old and older) 3,300 yen 6-hour pass (6 hours from issuance) / Adults 3,500 yen, Juniors 2,000 yen, Master 2,500 yen Night pass (17:00 – 21.00) Night time tickets (17:00-21:00)/Adult 1,500 yen, Junior and Master 1,000 yen *Two-day and three-day tickets are also available.
■Rental fee (for guests only): Rental ski set (board, boots, poles) 1 day / Adults ¥5,500-, Children ¥3,000 Rental boardo set (board, boots) 1 day / Adults ¥5,000, Children ¥3,000 Rental ski set & wear 1 day / Adults ¥9,500, Children ¥5,500 Rental board set & wear 1 day / Adults ¥9,000, Children ¥5,500
Joetsu International Ski Area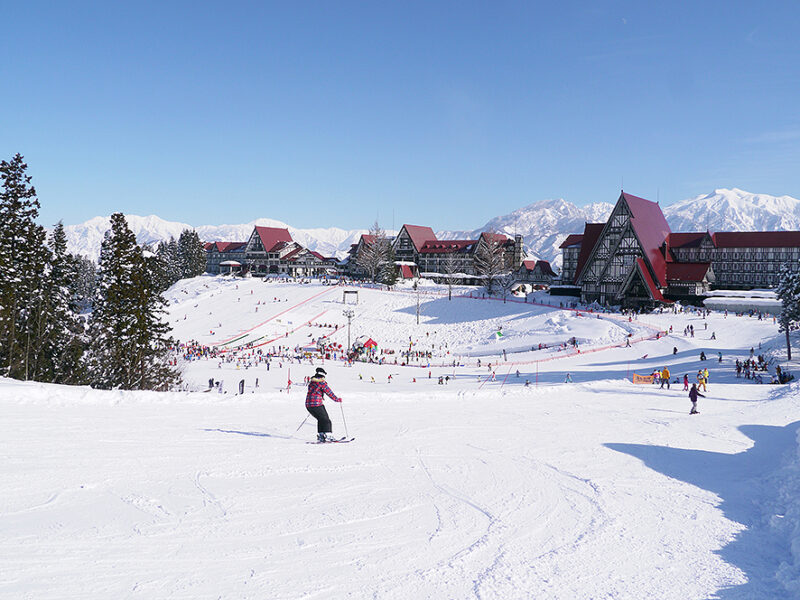 Address: 112-1 Kabanosawa, Minamiuonuma City, Niigata Prefecture
Tel: 025-782-1028
Access: <Car> About 7 minutes from the Shiozawa-Ishiuchi IC on the Kanetsu Expressway.
URL: https://jkokusai.co.jp/ski/